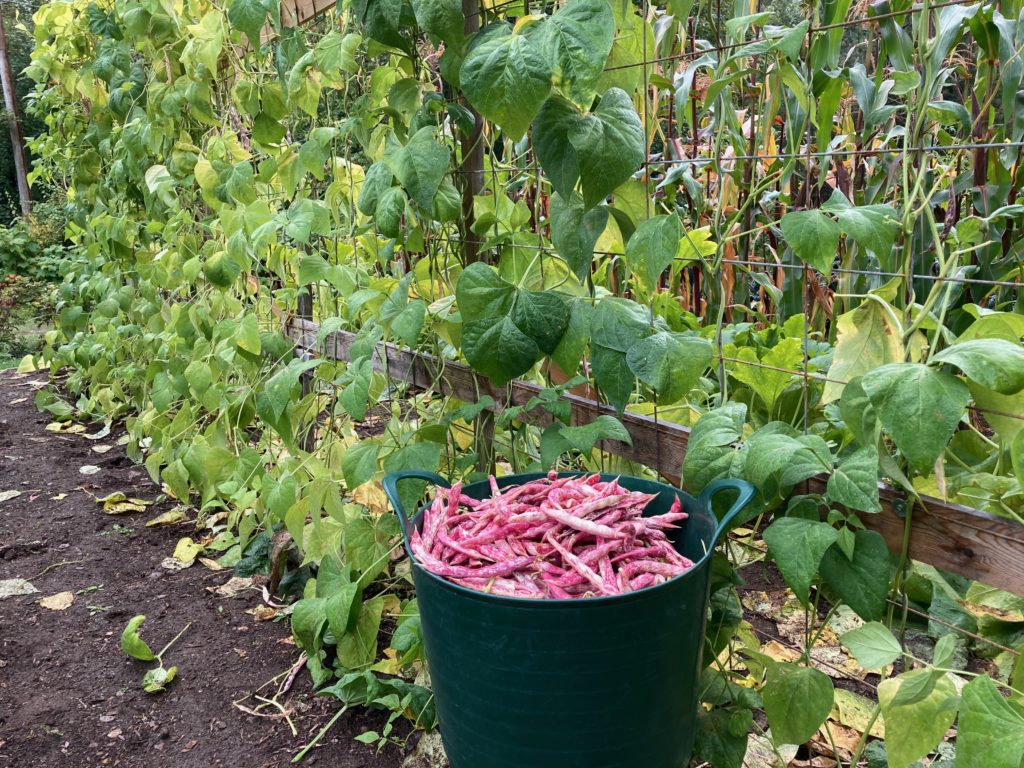 While most of the population loves meat, a growing number of people are becoming more aware of the need to adopt a healthier, plant-based diet and thus help mitigate climate change and protect the environment. University research has determined that protein sourced from legumes requires approximately 18 times less land, 10 times less water, 9 times less fuel, 12 times less fertilizer and 10 times less pesticide in comparison to protein sourced from beef. Overall, meat and dairy production uses over 80 percent of all agricultural land and is responsible for upwards of 18 percent of greenhouse gases, including methane and nitrous oxide.
A few years ago, after enjoying a meal of delicious home-grown Romano beans at our friend's home, we decided to try growing these in our large garden. We purchased a package of Borlotti Romano seeds from West Coast Seeds, which can grow upwards of twenty feet high. To accommodate the vines, I built a trellis using two 2.3m x 3m steel meshes made for concrete floors. The plants grew vigorously, and in the fall, we harvested over 10 pounds of nearly mature beans from an approximate 25-foot-long row.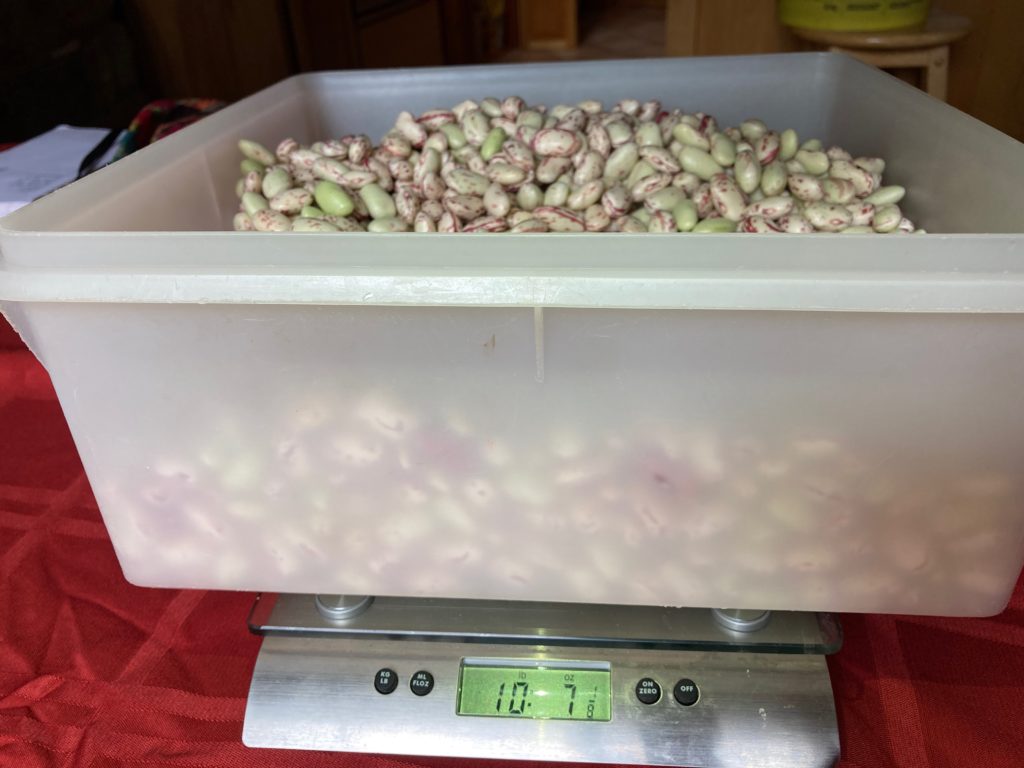 We followed the advice from our friends and picked the beans after they turned red, but before they dried out. Processing involved shelling the beans, then steaming them for three minutes, next drying them on paper towels and finally freezing the beans on cookie sheets covered with wax paper. Of course, some beans were left and picked later when dry.
Harvesting and processing the beans when mature, but not dry, improves their flavour and texture, plus the beans likely retain more vitamins and nutrients. We use the beans in a wide variety of meals by simply steaming them again for about five minutes and then adding them to sauces, stir fries, and homemade burgers. A second-row was added last year, and now Romano beans contribute a sizable percentage of our yearly protein requirements.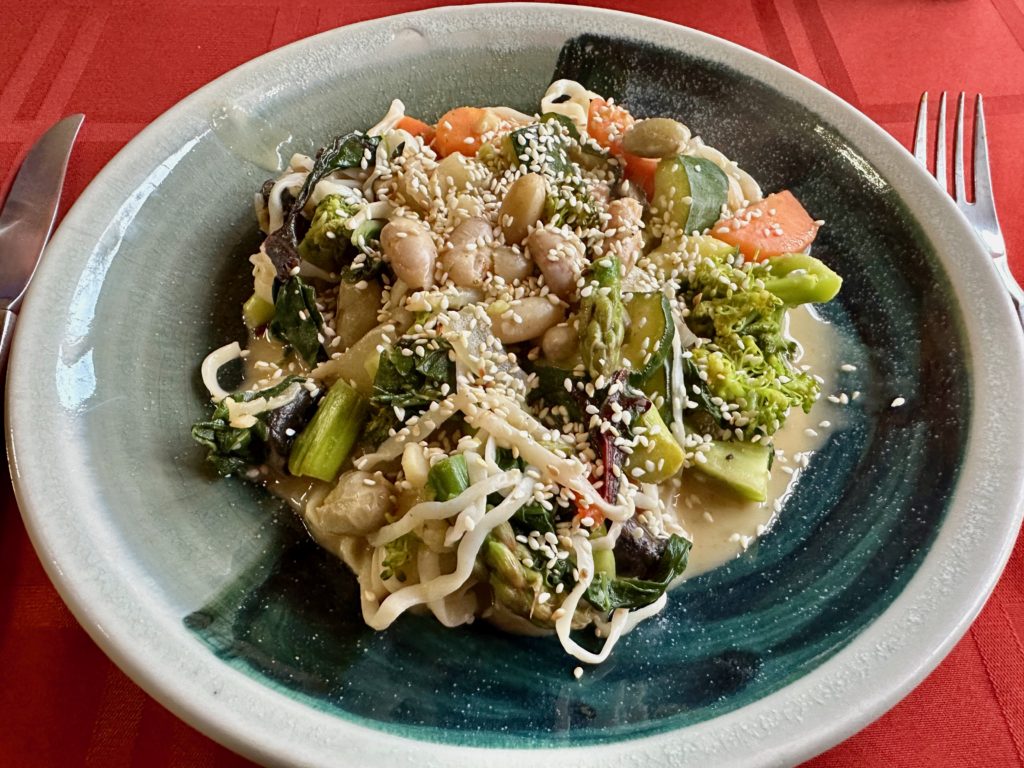 Botanist Richard Hebda has also become a passionate advocate for growing beans, and he has added another dimension to the campaign. As the former natural history curator for the Royal BC Museum and a University of Victoria professor who teaches ecological restoration, Richard has a deep understanding of how society needs to adapt to climate change, which includes ensuring food security. His key principle is resilience and one way to achieve this is to maintain genetic diversity by preserving heritage seeds.
Prior to his work with beans, Richard concentrated on protecting heritage varieties of potatoes, and that work continues through his website heritagepotato.ca. Given that upwards of 75 percent of the original varieties of potatoes have now been lost, he distributed many of the remaining heritage varieties far and wide.
Working with the Seeds of Diversity organization and coordinated by Valerie Huff, Richard began distributing heritage bean seeds last year. In addition to growing the plants, he and Valerie are encouraging the gardeners to be "citizen scientists" by recording and sharing their observations. This year, Seeds of DIversity has distributed seeds to 183 citizen growers across Canada. Each grower receives up to three varieties of either bush beans or pole beans. Growers are asked when they plant and harvest, how the plants do, and if they like them enough to grow them again.
In addition to encouraging people to grow more of their own protein, by crowd-sourcing information from a wide variety of climates, Richard and Valerie hope to identify varieties that are suitable to different regions of Canada. Fortunately, beans rarely cross-pollinate, so the beans from adjacent plants retain their distinct genetic characteristics. This way growers can save the seeds suited to their area and even share them with their neighbours.
The effort to preserve heritage plant varieties is akin to the ongoing campaign to protect old growth forests and forest biodiversity. Richard refers to maintaining agricultural biodiversity as an "insurance plan" because the older varieties of food crops may be needed in the future.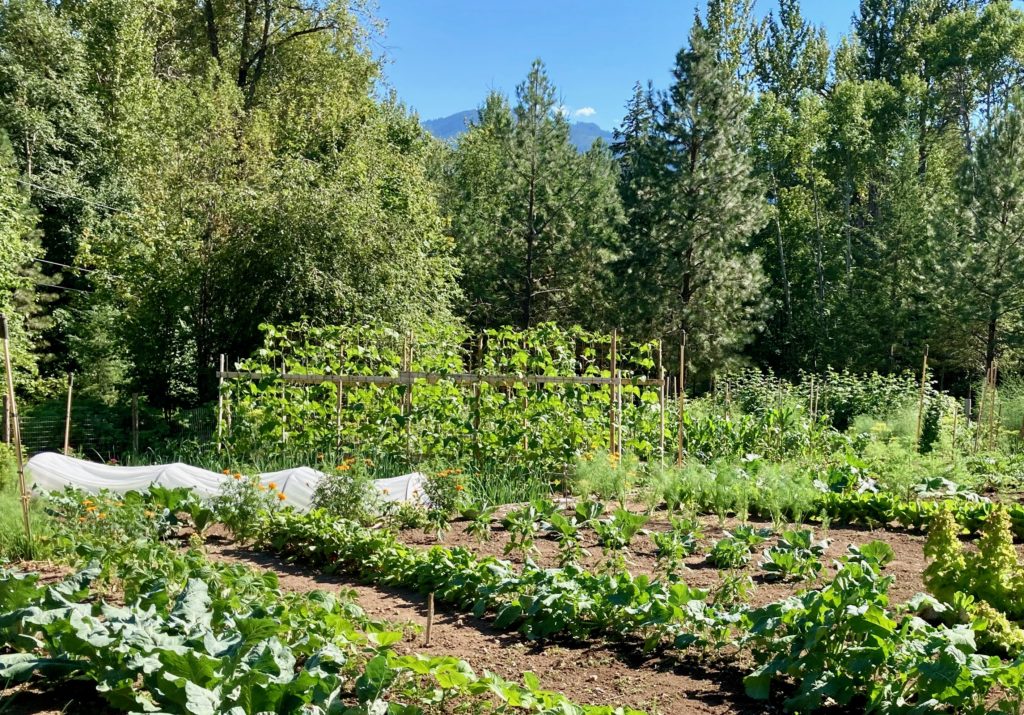 Given that only one-quarter of the agricultural land in use today would be required to feed the entire world's population with a plant-based diet, more efforts are needed to promote growing our sources of protein. Utilizing more flavourful varieties like the Romano bean and other heritage varieties will help, as will using these beans in a greater assortment of recipes. Restaurants, schools and institutions also need to know that using beans as a replacement for meat in many of their dishes will better serve vegetarians, vegans and those who wish to reduce their consumption of meat, plus help to protect the environment.
POSTSCRIPT
More information about Seeds For Diversity;
Since 1988, the Canadian organization Seeds for Diversity has been actively promoting seed saving and the protection of seed biodiversity. Its over 1000 members from every province participate by growing a wide diversity of vegetables, fruits and flowers and then saving the seeds for sharing with each other. A yearly seed catalogue is published that lists seeds for sale by its members. The organization maintains a seed library with over 2900 regionally adapted and rare seed varieties. Members plant these seeds to keep them viable and thus be available for future gardeners and farmers. Every spring the organization partners with groups across the country to sponsor Seedy Saturdays, where seed growers sell and share their seeds. Additional projects include a youth gardening program, a campaign to protect native pollinators, a monthly newsletter and two publications. Their website, seeds.ca, has a wealth of information about seeds and plant diversity.
Learn more from their website.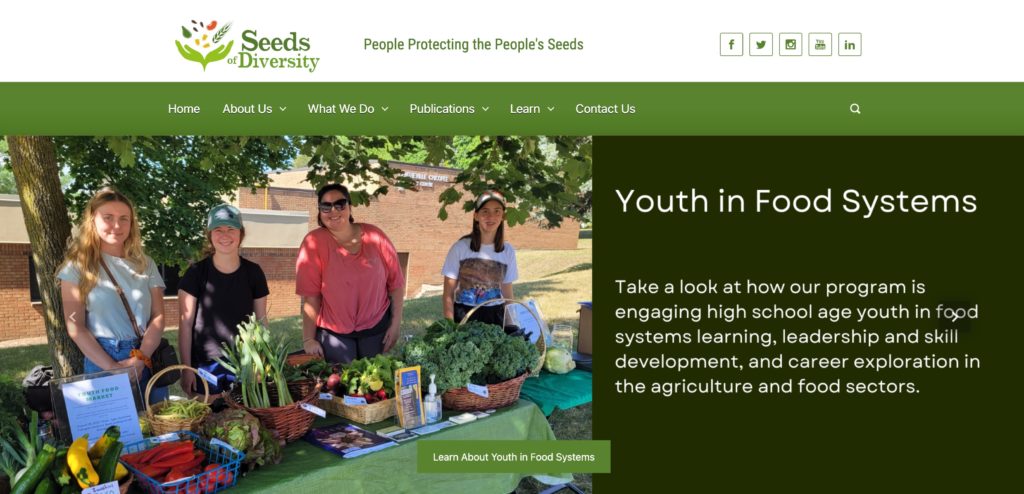 Here is one of our favourite Romano Bean recipes:
Pesto Romano Beans
Ingredients
1 cup of pesto (homemade, if possible)
2 cups of frozen fresh Romano beans (or cooked dry beans or heated canned beans)
1 large onion, diced
2 garlic cloves, minced
1 tablespoon avocado oil
1/2 cup water or white wine
Method
Sauté the chopped onion and garlic in the oil. Steam the frozen beans for five minutes. Add the beans to the onions and garlic. Mix in warmed pesto. Add water or white wine. Mix thoroughly.
Serve on quinoa, with roasted squash or with pasta