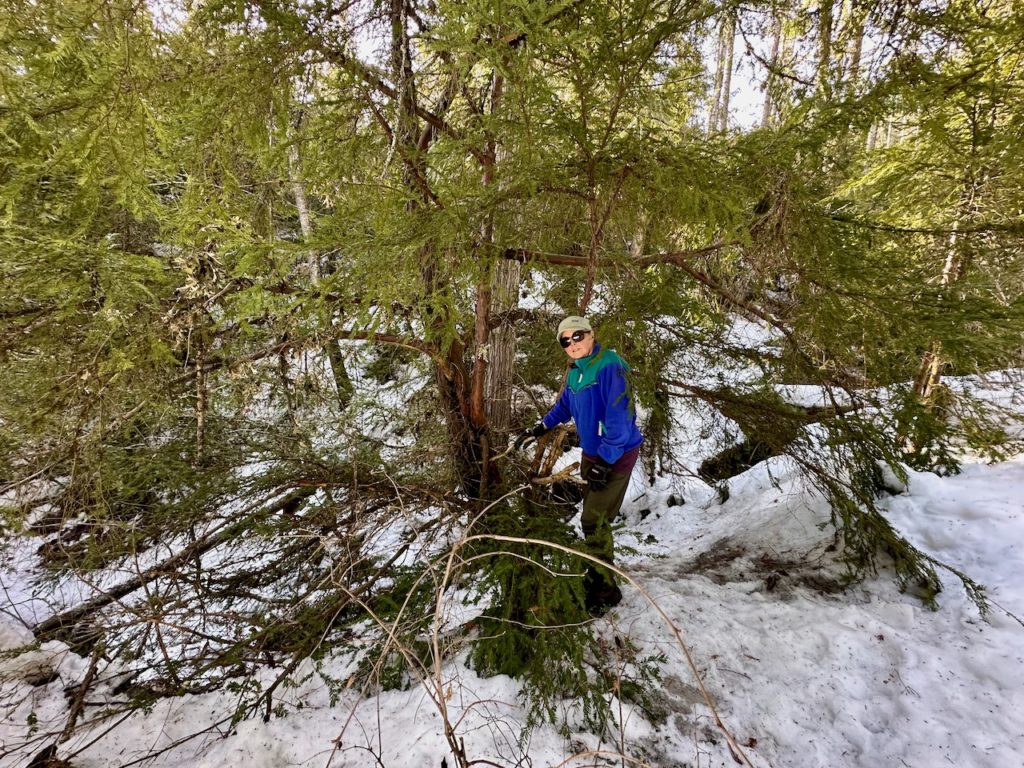 During a recent hike on the White Lake lookout trail, it was a pleasure to find a grove of Western yew trees next to the creek. While these shrub-like conifers are commonly found growing in wet areas of the Shuswap like the upper Adams Lake area and in Seymour Arm and Mabel Lake, it is unusual to find a healthy stand where Douglas fir trees predominate. Despite their small size, these slow-growing trees are unique and beautiful with dark flat shaped, glossy green needles that are yellowish green on the underside.
The yew can reproduce in two ways and individual trees can either be male or female or both. Males produce cones that provide the pollen for the flowers on the female trees, which form small red berries that are poisonous for humans. Each berry contains one seed, which birds and other small animals consume and thus help spread the seeds to propagate more trees. Additionally, the low branches can fall on the ground, become rooted and grow into new trees.
Western yews are typically classified as shrubs, but they can become trees up to 15 metres tall. The largest specimen was found on the coast and is 22.3 metres tall and 90 cm in diameter. Yew trunks have an outer reddish bark that is thin and scaly, with a rose-coloured underbark, similar to the coastal arbutus tree.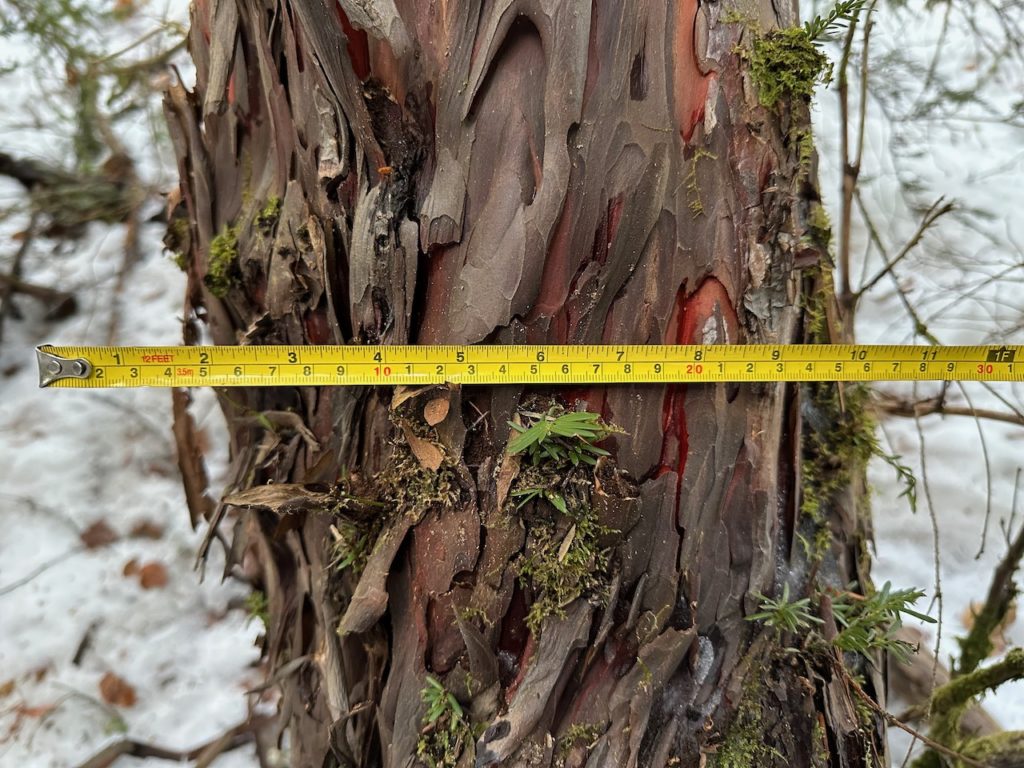 First Nations prized the yew tree for its extremely strong, hard, and resilient wood fibre. It was used for a wide variety of weapons, tools and implements, including bows, paddles, wedges, clubs, digging sticks, adze handles and harpoons. Branches were also utilized for snowshoe frames. There is also a European yew and the genus name, Taxus comes from taxon, the Greek word for a "bow." Some historians theorize that Robin Hood's bow was made from yew.
A most remarkable feature of the yew is that it contains paclitaxel or taxol, a powerful cancer fighting compound. The "discovery" of taxol began in 1955 with a National Cancer Institute screening program that included both synthetic and natural compounds. In 1960, botanists were commissioned to collect samples from up to 1,000 plant species per year. One of these samples from the bark of a single Pacific yew tree was found to be toxic to cells and in 1967 scientists had isolated the active ingredient and named this pure compound, taxol.
After nearly two decades of sampling and testing, taxol was shown to have promising effects in melanoma and ovarian cancer. However, concerns were growing over the impact to the forest environment, as collecting the material needed to produce taxol resulted in the destruction of 360,000 trees per year. It was finally approved for medical use in 1993 and is now listed as an essential medicine for a number of cancers, despite its risky side effects.
Efforts have been underway for many years to synthesize taxol, and despite some success there is not yet a synthetic medicine available. More sustainable harvesting methods that utilize the branches and needles are occurring and much of the supply is now coming from Europe. Unfortunately, many thousands of yew trees and shrubs have been destroyed and burned in slash piles, primarily on the coast, over the past decades as a result of logging.
While western medicine prides itself on its "discovery," First Nations have been using yew for many centuries to treat a variety of illnesses. The nearby Nlaka'pmx used the bark to treat many diseases and the St'at'imc actually ate small amounts of the berries. In an unpublished report, Don Plumb reported finding an island near Haida Gwaii where only yew grows, and the stems showed evidence of repeated harvests of lower branches over hundreds of years.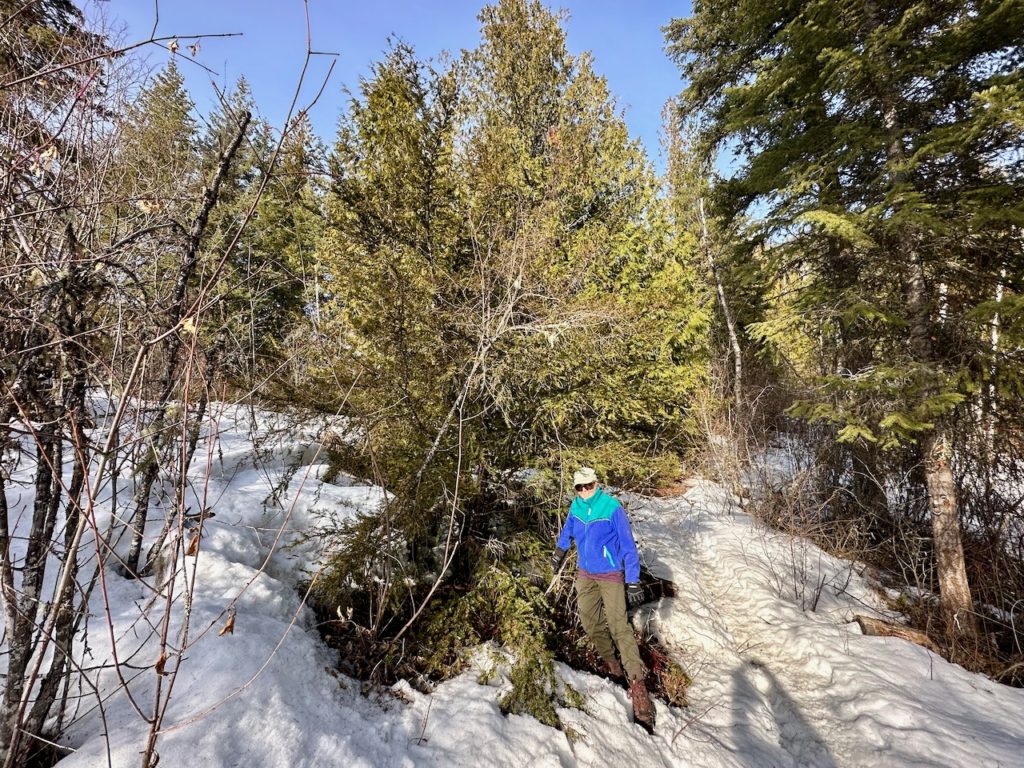 During another recent hike above White Lake, we counted approximately 150 yew trees and shrubs over 3 metres high on the lower trail and there was one large yew bush near the lookout on a dry hillside. The largest and most impressive tree had a 25 cm diameter and was nearly 15 metres tall. Having found this grove, it would be fascinating to find others in the Shuswap.
POSTSCRIPT
Large yew trees (with diameters over 62 centimetres) are protected under the Special Tree Protection Regulation across BC under a regulation brought into FRPA in 2020. Locally, Canoe Forest Products makes every effort to create machine free and no harvest zones to protect this species. 
The yew tree (shrub) is very slow growing, which likely is one reason it is so strong and hard. There can be upwards of 30 rings to the inch. The tree can be found at many elevations, from sea level up to 1,400 metres. Other places the trees can be found in the Shuswap include at the base of the Enderby Cliffs, Seymour Arm and there apparently is one along the trail at Little Mountain Park in Salmon Arm. A interesting project would be to map where there are accessible locations in the Shuswap where one could find yew trees.
In 1995, Don Plumb wrote a report called: The Pacific Yew Tree, Taxol, Sustainability and the Yakoun Lake Basin Ecological Reserve. You can read and/or download this report here:
There are many names for Pacific yew, as it was a prized tree for every First Nation where it grew in their territory. The scientific classification full name is Taxus brevifolia Nutt. and their are many more varieties in North America, let alone all the other types of yew throughout the world. The Secwépctsin word for yew is tskwínək, which also means 'bow.' The Okanagan name was nekwnúkw, which also meant 'bow.' In other languages:
Haida (Skidegate): hlgiid (łgiid) 'bow,"
Nuu-chah-nulth: tłatmapt 'wedge plant,' and
Nlaka'pamux: t'éʔxwełp (prob. borr. fr. Halkomelem); OR tskín'ek 'hew-weapon'; OR tskin'ek-éłp 'hew weapon or bow-plant' (Thanks to UVic professor, Nancy Turner for this information).