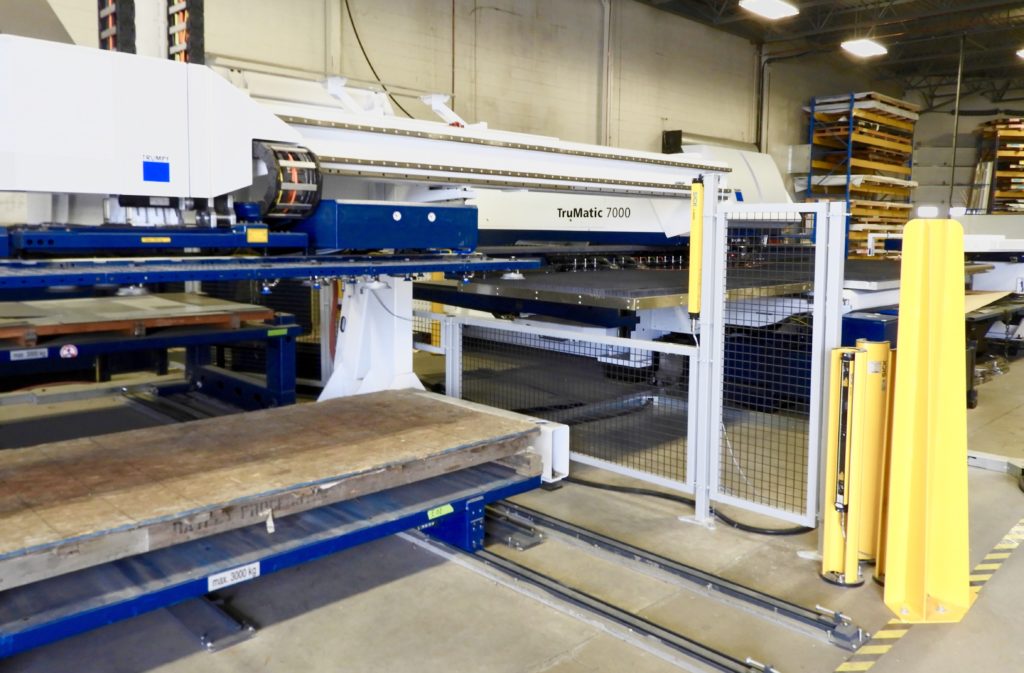 High-tech "lights-out" equipment, like this Laser Punch combo, are key to the company's success, given that the machines are fully automated and can be run when the lights are turned off. Photo by Jim Cooperman
The decision by Salmon Arm approximately 50 years ago to create an Industrial Park was indeed visionary, given the park is now full and there is effort underway to expand it or develop another park somewhere else. For many of the companies operating in the park, their success is due to remarkable, innovative processes and products that fulfill needs not being addressed elsewhere, as well as the expertise and ingenuity of the engineers and skilled workforce, many of whom came from the former Newnes sawmill manufacturer.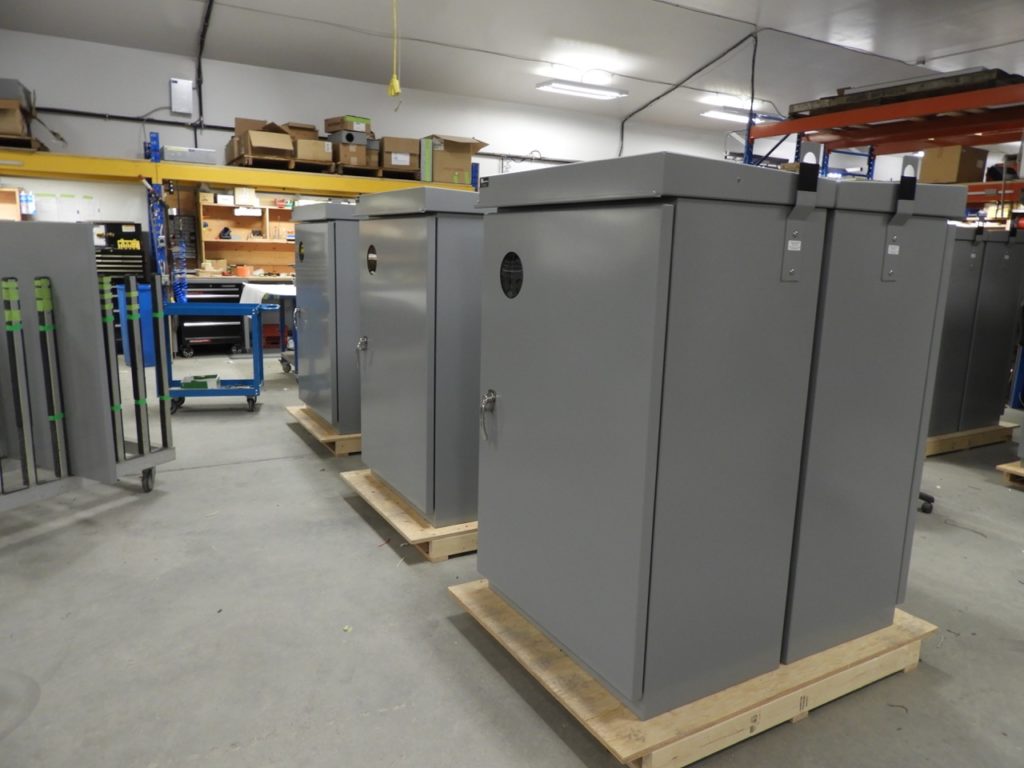 These electrical boxes are nearly ready to ship
Valid Manufacturing began as a standard, sheet metal and electrical integration shop that produced electrical boxes and cabinets primarily for streets and highways. The quality of their products has been recognized throughout the sector and now these units are in use in countless intersections throughout the province. Additionally, the company now manufactures a wide range of electrical products, including generators, control consoles, kiosks and dashboard flat screens.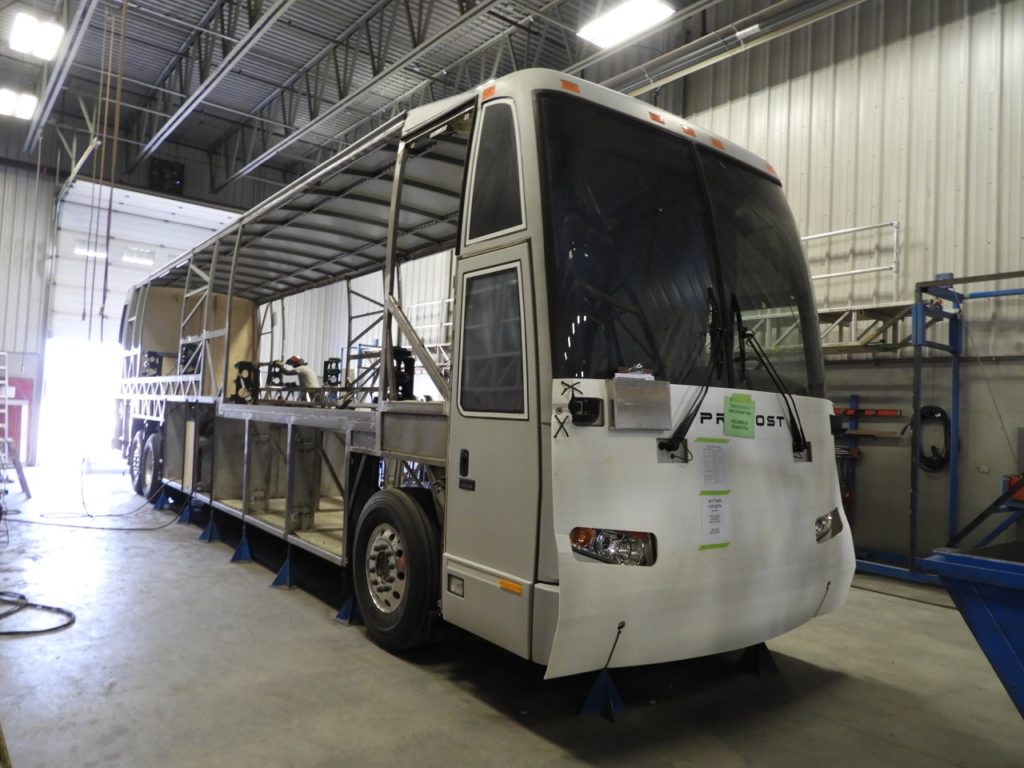 A gutted coach getting ready for slide-out installation
Custom coaches are in wide use for the film industry, concert tours and wealthy travellers. Slide outs are popular for these massive RVs and typically there were problems with these systems. Valid took on the challenge and now their slide outs are recognized as the Rolls Royce systems for the sector. Valid used their expertise to expand this product line to fabricate similar systems for other vehicles, as well as design, engineer and manufacture leveling systems, compressor systems and digital dashboards.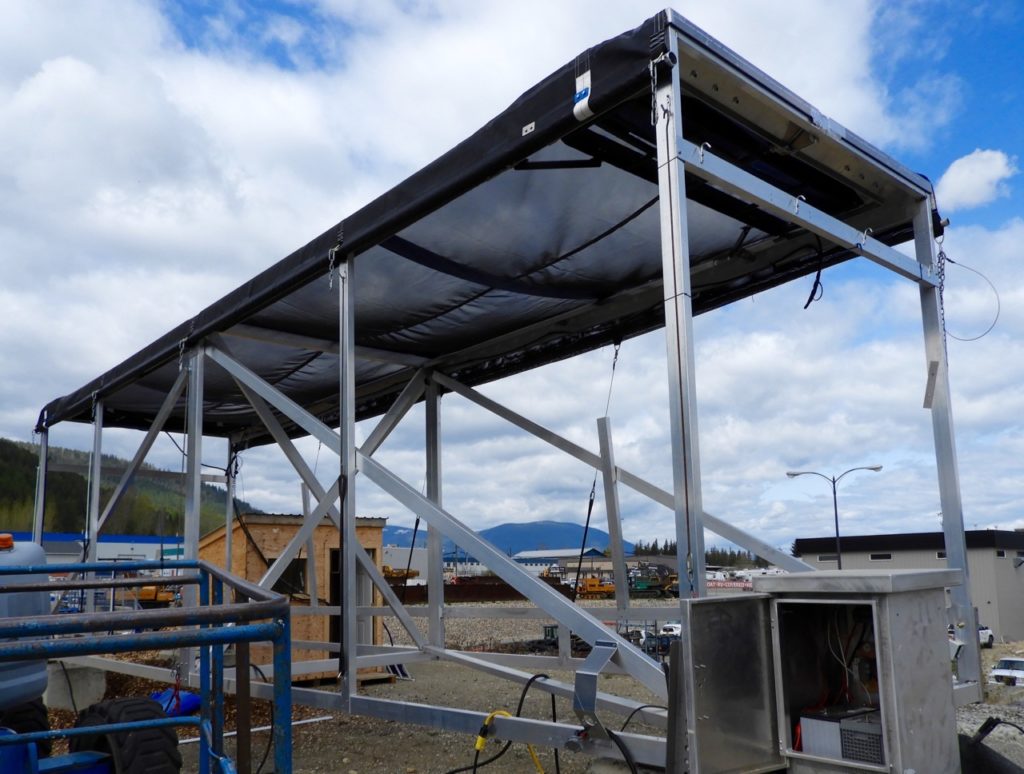 Valid built this full-scale model of a chip trailer to design and test the autotarp system
New products are being developed at Valid thanks to their well-funded research and development department and their partnerships with other companies. A few years ago, they met with the BC Forestry Council and inquired what was the most serious problem in the industry. Some of the most frequent injuries occur when chip truck drivers are covering their trucks with the tarps needed to keep the chips from flying out.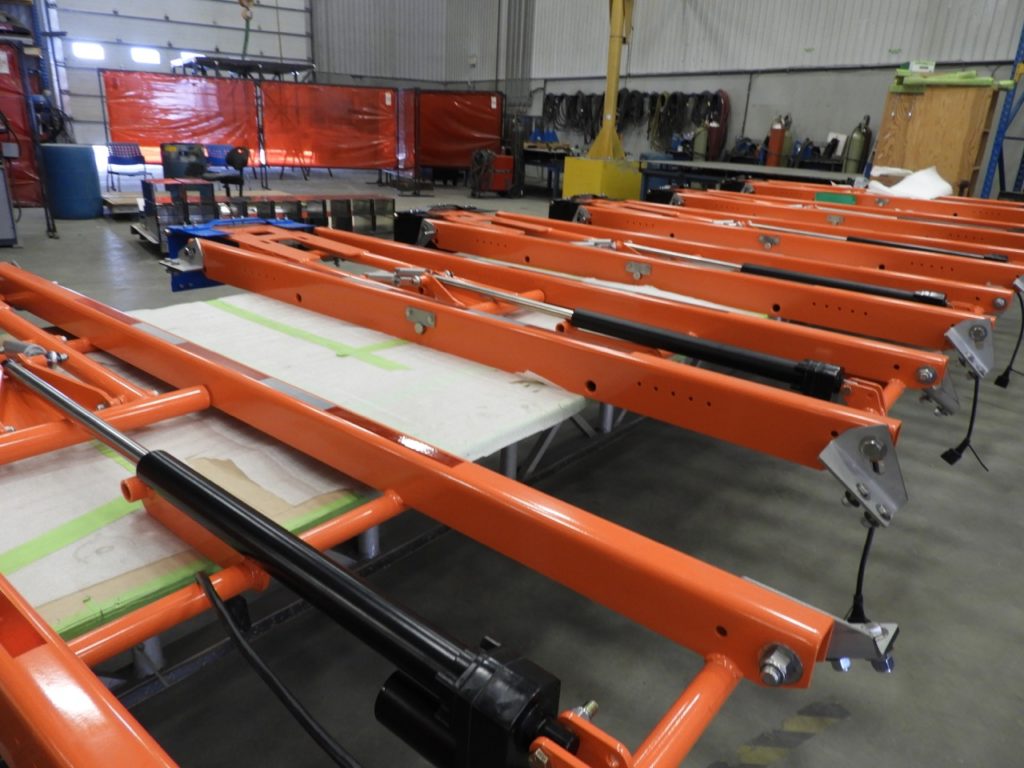 Autotarp hydraulic arms nearly ready for installation
Valid took on the challenge to build an automatic system to accomplish this task, which included designing an arm that had to defy gravity to reach out far enough to accomplish the job. They are now field testing the prototype and hope to be able to market the device this fall, with the hope that many of the 3,000 trailers on the road in B.C. will be equipped with this high-tech device that will cut down on injuries.
POSTSCRIPT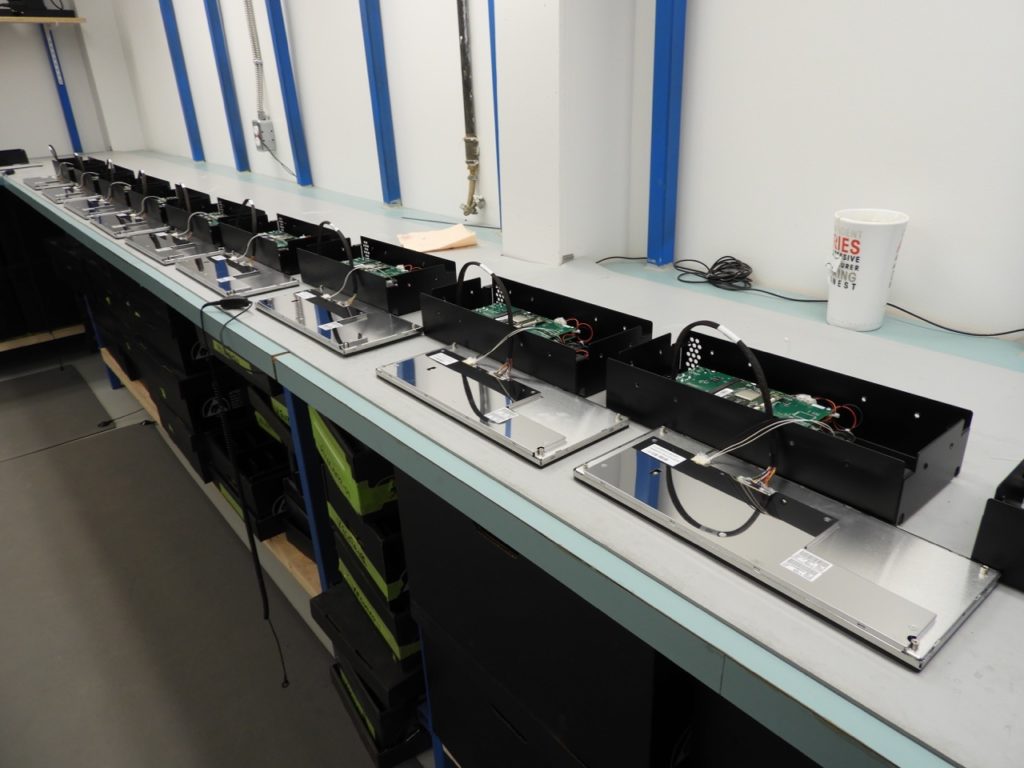 Dashboard flat screens being assembled
One can not help but be impressed when touring the Valid manufacturing facility. High-tech machines, including lasers, that cost upwards of a million dollars are busy punching and cutting metal to build both commonly seen equipment, as well as high-tech, futuristic control systems. It is obvious that the 120 employees are happy working there, given the relaxed atmosphere and their understanding that the products they are manufacturing will be most appreciated.
After visiting each of the factory buildings, my tour guide, Chad Shipmaker, pointed to the second floor of one of the buildings and explained that was where the engineers are busy designing new projects, such as the large battery packs that will be used by the film industry.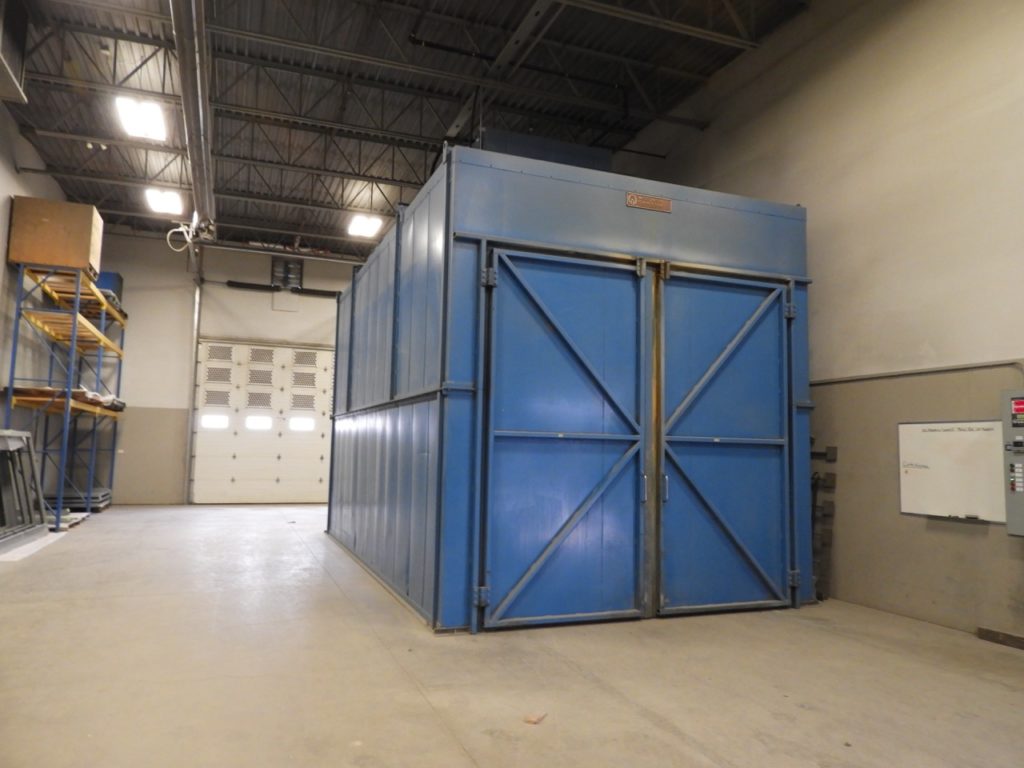 The giant oven used for powder coating
Many of the products are numbered and thus traceable, so that if repairs are needed, staff do not have to start over from scratch. to ensure that the equipment they manufacture will work at all temperatures, Valid has test chambers that can be set from minus 40 degrees C to plus 40 degrees. Many of the products that Valid builds are powder coated, and the size limitation is set by whether or not the equipment will fit inside the giant oven that bakes on the powder coat.
One of Valid's projects that is nearing the testing phase may help solve one of the Shuswap's major problems, water pollution from industrial dairy farming. Given that there are no restrictions on the number of cows per acre, large dairy farms produce far more liquid manure than the landbase can handle. One study shows how farmland is already super saturated with phosphorus. Consequently, too much phosphorus is leaching into waterways and thus impacting Shuswap Lake water quality, causing algae blooms.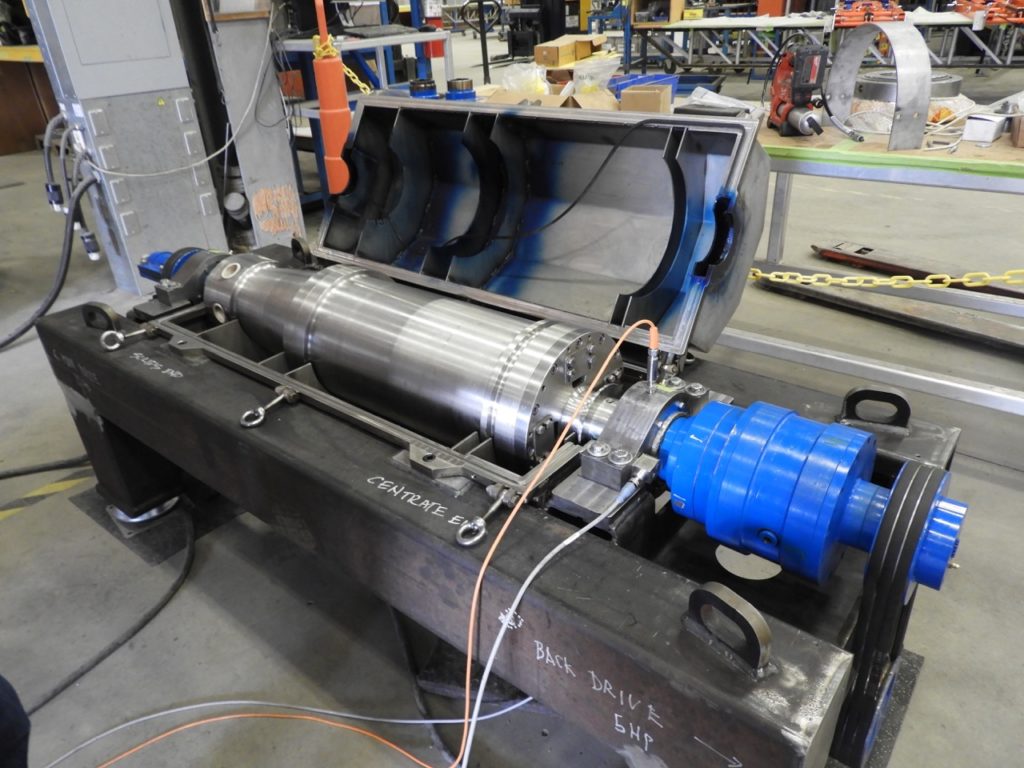 A prototype centrifuge that separates the solids from the liquid manure will be tested soon.
One solution used in other jurisdictions is a centrifuge that removes most of the nutrients, which can then be sold for a profit to be used on farms that need more nutrients. However, these centrifuges are enormous and expensive and thus are only suitable for massive farms in the U.S. and Europe. Valid now has built a smaller prototype centrifuge that would work well in local dairies.
Valid is always ready to find manufacturing solutions to solve problems by using its engineering expertise and high-tech equipment. Thus, Valid is at the forefront of innovation to create a better future, as well as to provide quality employment for engineers and factory workers.
These giant generators can power an entire mining camp.