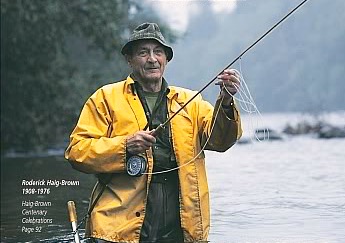 There is an effort underway to re-name Roderick Haig-Brown Provincial Park with a Secwepemc name. While it may be considered appropriate to recognize local First Nation's over 9,000 years of life here with a name change, it would also be disrespectful to reject the contributions of one of BC's most respected conservationists whose efforts led directly to the creation of the park. Although Haig-Brown passed away in 1976, his legacy carries on through the work of the Institute named for him that is based out of his well preserved home in Campbell River.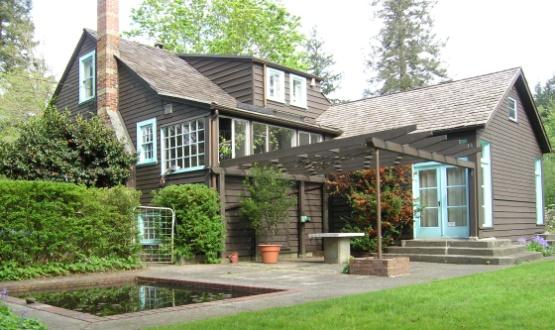 Since 2004, the Haig-Brown Institute has sponsored a writer in residence program at the Haig-Brown house. With support from the Canada Council for the Arts, some of Canada's best writers have spent the winters at the house and in the community. No doubt that they utilize Haig-Brown's library where there are thousands of books from floor to ceiling, including most of his over 25 published works about fishing, rivers and conservation. In addition to the writer's program, the Institute promotes watershed conservation, as well as local restoration and enhancement projects.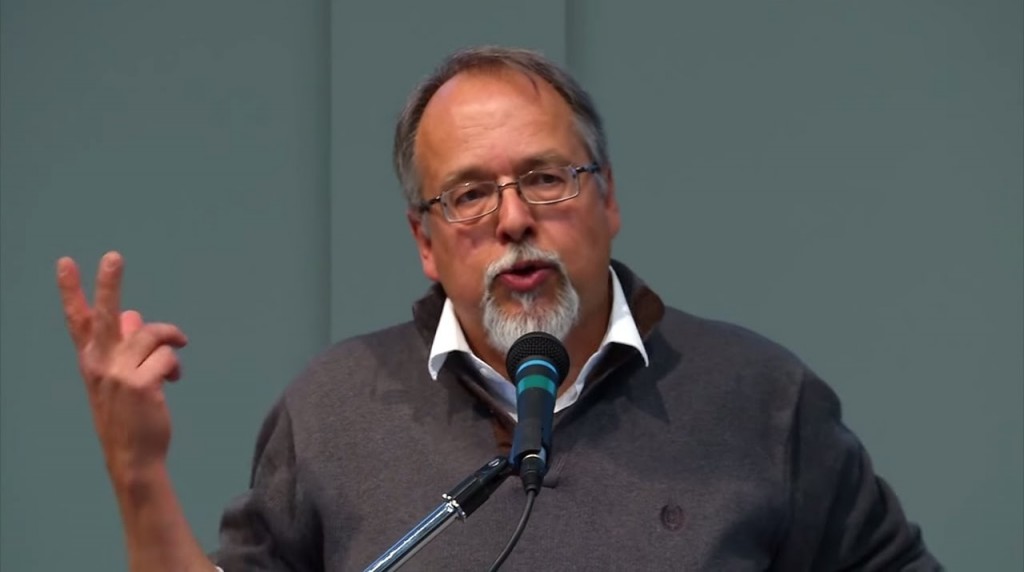 Andrew Nikiforuk
In 2016, the Institute's writer in residence was Andrew Nikiforuk, one of Canada's foremost and most prolific non-fiction authors, with books about the tar sands, mountain pine beetles, fracking, public education, and 21st century biological plagues. In December, Andrew delivered the seventh annual Haig-Brown Memorial Lecture entitled, "Why Haig-Brown Matters More than Ever." It is an extraordinarily perceptive essay that details the many reasons why Haig-Brown deserves greater recognition and why his vision resonates so well today.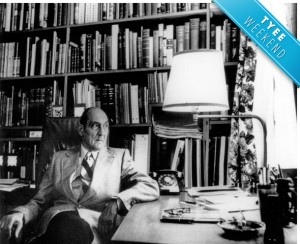 Haig-Brown was born in Sussex, England in 1908 and was the grandson of a famous educator. His first environmental battle was writing about the impact of road tar spilling into fish-bearing waters. He was groomed to become another member of England's managerial class, but his rejection of authority resulted in expulsion from the exclusive school his family had enrolled him in. Adventure beckoned him, thus he journeyed to the Pacific Northwest to work in lumber camps and then moved to Vancouver Island to work as a surveyor.
Enthralled by the richness of the region and the abundance of fish and wildlife, he soon became appalled at the destruction and waste of industrial logging. He married Ann Elmore, a Seattle girl who had a love of books and a deep sense of justice and community. They built a life together and raised four children on a small farm next to a stream where he spent so much time fishing. Haig-Brown became a bold critic of resource extraction, "No people have the right to act against its knowledge and damage and destroy the face of the earth for short-term gain."
Andrew emphasized how Haig-Brown was ahead of his time. For example, in 1938 he sounded the alarm about the pace and scale of clear-cutting on the Island. At a Board of Trade meeting in Courtney, he asked, "when and how reforestation was going to take place and just who the hell was going to deal with the unemployment, lack of revenue, disorder and environmental ruin when there were no more tall trees to fell." Three years before Rachel Carson published Silent Spring, Haig-Brown wrote about the harmful impacts of DDT on fish bearing streams, wiping out fingerling salmon in the Miramichi River.
Long before fishery scientists revised their attitudes about fish hatcheries, Haig-Brown wrote about how hatchery stocks degrade wild stocks with inter-breeding.  Instead, he promoted the need for stream restoration and better management of existing stocks. Yet the overuse of hatcheries in Alaska continues to be a major problem by producing too many fish that out compete BC sockeye for food in the Gulf of Alaska.
Haig-Brown fought many an environmental battle, including the Butte Lake dam in Strathcona Park, the damage from fuel spills and the impacts from fossil fuel use. His writings included many tirades against land fragmentation, pollution, overexploitation, invasive species and climate change. Above all, his books stressed the need to respect where you live; "One cannot know intimately all the ways and movements of a river without growing into love of it. And there is no exhaustion to the growth of love through knowledge, whether the love be a person or a river because the knowledge can never become complete."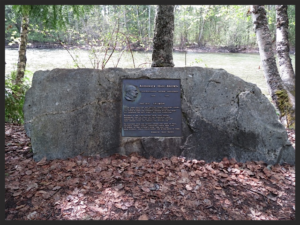 [Andrew Nikiforuk's lecture can be downloaded from shuswapwatershed.ca]
Plague honouring Haig-Brown alongside the Adams River
POSTSCRIPT
Feedback:
Place names carry significant meaning
It is important to add a Secwepemc perspective to the Jan. 13 article discussing the re-naming of Roderick Haig-Brown Park with a Secwepemc name.
Despite saying that it "may be considered appropriate to recognize First Nation's over 9,000 years of life here with a name change," Jim Cooperman's omission of any further reference to the Secwepemc perpetuates longstanding practices of marginalization and oppression.
Indeed, the use of the generalized term "First Nation's" instead of identifying the Indigenous people of this area as 'Secwepemc' (the word 'Shuswap' is a misnomer) can be seen as a form of cultural erasure.
It is understandable that the re-naming of an area has generated debate, since the naming of land is never a neutral act. The naming of places within Canada was among the first actions undertaken by colonizers to establish ownership.
Secwepemc place names for landforms, waterways and gathering areas have been unceremoniously cast aside and rebranded to suit the current agendas of Euro-Canadians.
Many of these new names were named after individuals, contrasting with Secwepemc place names that highlight physical characteristics of the land and/or the relationship between humans and the earth. Names embody the value of k'wseltknéws, or, 'we are all related.'
To commemorate Canada's 150th year, let us reconcile past practices and work towards a shared goal of earth stewardship. Haida Gwaii and Nunavut exemplify how the re-naming of places can be a positive experience for all. Certainly, a return to one of the original place names, such as "Kwlolecw," meaning "green earth," or the creation of a name that embodies the spirit and intention of the park, should not be seen as disrespecting the legacy of Roderick Haig-Brown. Re-naming the park can mark a new era of knowledge exchange that ultimately will reinforce Haig-Brown's environmental teachings.
Kathryn Michel
Shuswap Passion Response – PLEASE NOTE: My last column resulted in some controversy as well as coverage in the Kamloops This Week newspaper. The intention of the column was to educate readers about Roderick Haig-Brown's remarkable conservation work and was never meant to perpetuate Secwepemc marginalization and oppression as was described in Kathryn Michel's well-written letter. I have written many columns about the Secwepemc people, all of which have been highly respectful of their rich culture.
The Secwepemc place names that exist now, including Queest, Hunakwa, Sicamous, Squilax, Cinnemousun, Squam Bay and even Shuswap, enrich our region and help make it special, despite the fact that most of these names are not accurately spelled or pronounced. It would indeed be wonderful if more Secwepemc place names were recognized and used, including at the Adams River. We can never really undo the many injustices of the past, but we can move forward in a way that better recognizes Secwepemc spirit, culture and their over 9,000-year connection to the land we now share.
Haig-Brown relatives support Secwepemc name
I am writing to continue the conversation with Kathryn Michel regarding the renaming of the Roderick Haig-Brown Provincial Park. My first response to her suggestion was delight that the park should take on a name given by the people whose traditional territory encompasses it. I most recently have had a wonderful experience filmmaking in Chase. My niece Helen Haig-Brown and I co-directed two films that followed the children and grandchildren of some of the people I interviewed for my 1988 book Resistance and Renewal: Surviving the Indian Residential School regarding their shifting relationship to education, from residential school to Secwepemc immersion.
I have since contacted my three siblings to ask for their input and we all agree this would be an elegant move: to give the park a name based in Secwpemctsin. Definitely having Secwepemc representation at the table regarding the name is essential to choosing appropriately. I know that there are existing traditional names for many spots in the area and feel it would be great if the name chosen reflected this long-standing relationship of people, salmon, land and rivers.
I feel strongly that my father, who had deep respect for Indigenous peoples would also be delighted to hear about this change. Definitely, as Kathryn Michel points out in her letter to the Salmon Arm Observer, naming is not a politically neutral act: it is an act of reconciliation in the full sense of putting something to rights. And as she goes on to say, "Haig-Brown would celebrate this change since the Secwepemc worldview of interconnectedness complements his teachings about the importance of connecting to the natural world," We could not agree more.
I also want to acknowledge the important work he did in his lifetime working for rivers and salmon when so many others were exploiting the gifts our lands offer us. I do hope that the plaque with his poem can stay in its place of honour beside the spawning grounds.
Celia Haig-Brown, proud daughter of Roderick
Should park have Secwepemc moniker?
By
Cam Fortems, Kamloops This Week
–
January 19, 2017
MOE discussing rename of Roderick Haig-Brown park
B.C.'s Ministry of Environment is in discussions to rename the park at the heart of the Adams River salmon run, changing it from a tribute to an iconic Canadian to a Secwepemc name.
Roderick Haig-Brown park was established in 1977 and given the moniker of the famed conservationist and author of nearly 30 books.
During the dominant sockeye run every four years, it is visited by hundreds of thousands of people from around the world.
A B.C. Liberal government spokesman confirmed "informal discussions have taken place" but provided no other detail.
Kathryn Michel, a language worker at Chief Atahm school in Chase, applauded the idea in conjunction with Canada's 150th anniversary. She recently sent a letter to the Salmon Arm Observer newspaper.
"The many Secwepemc place names, including those referring to landforms, waterways, village sites and resource-gathering areas, had unceremoniously been cast aside and rebranded to suit the current agendas of Euro-Canadian settlers, with many of these places named after individuals," she wrote. "In contrast, Secwepemc place names highlight the essence of the land and/or the relationship between humans and the earth."
In an interview, Michel said she is concerned the idea will turn into a conflict over Haig-Brown's legacy on one side and recognizing Secwepemc history and culture on the other.
"We're not trying to kick him off in a corner and forget what he's about," she said of the conservationist whose work was important in recognizing a need to create the park four decades ago. He died the year before the park was established and named after him.
There are examples of renaming places in B.C., most notably the change from Queen Charlotte Islands to Haida Gwaii.
Shuswap environmentalist Jim Cooperman said removing Haig-Brown's name will be controversial. He suggests a compromise that retains Haig-Brown's name and includes a Secwepemc moniker, as well.
"Whatever happens, I don't want to see Roderick Haig-Brown lost in the shuffle. The park wouldn't exist without Roderick Haig-Brown."
Michel said she was surprised to read about the proposal through a column penned by Cooperman in Salmon Arm's newspaper.
"We need to be at the table when there's a name change," she said.
Michel suggested the name Kwlolecw (green earth) but added more appropriate names may come out in discussion. She also said she doesn't want Haig-Brown's name to leave the park, advocating it be retained in a future building or centre within the park.