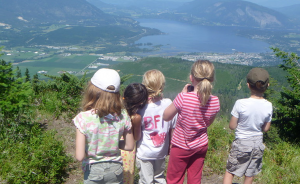 Photo courtesy of Shuswap Wild Wonders
Some of my favourite childhood memories stem from the three summers I spent at camp in Northern Minnesota and those experiences contributed to my decision to live a rural lifestyle in the backwoods of British Columbia. Given the current social problems of childhood obesity and what is termed the "nature deficit disorder," it would be wonderful if more children could experience the joys of summer camps. Here in the Shuswap there are seven summer camps, with most of them run by faith-based organizations.
In 1955, Dr. Hartly Grafton purchased a 46-acre property in Magna Bay on behalf of the Boy Scouts and the Kamloops United Church, which became Camp Grafton. At first there were boys' camps, then some girls' camps and finally coed camps were established. Activities at Camp Grafton include canoeing, hiking, environmental education, swimming and leadership training.  Last year, 7.5 acres of the property was subdivided off and is now for sale to raise funds for a major renovation and building project for the United Church in Kamloops that includes low-income housing.
Far out in Eagle Bay, the Christian and Missionary Churches of the Southern Interior operate the Eagle Bay Camp on 23 acres of lakefront property purchased in 1982 from Frank and Marion Adley who provided the property for a fraction of its market value.  The camp offers full days of adventure and fun for over 200 campers and staff each week with activities than include kayaking, climbing, paintball, archery, and field sports.
The Sunnybrae Bible Camp is a familiar sight along the highway to Herald Park.  The 30-acre facility is a Fellowship Baptist camp that offers a diverse schedule that includes camps for kids, for teens, and for families, as well as special camps for horsemanship and wakeboarding. Many of these camps are oriented to equestrian training and horse management.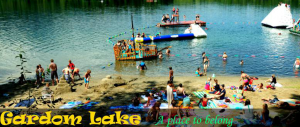 The largest camp in the Shuswap is the 72-acre Gardom Lake Bible Camp and Retreat Centre operated by the Mennonite Brethren Conference of BC, where the focus is on personal growth in an outdoor environment with plenty of adventure, fun and friendship making. Gardom Lake Camp offers regular camp programs for ages 6 to 16 as well as what they call Encounter where the campers live in tree houses and tents, cook over open fires, and learn survival skills. Paintball is a popular activity at the camp, as is trail riding and whitewater rafting on the Adams River.
It is boat access only at the MacKenzie Camp on Mabel Lake that is owned by the United Church of Canada and operated by a BC Camping Association Society of volunteers. Camping activities include canoeing and kayaking, low ropes, archery, arts and crafts, drama, hiking, fishing and environmental education. Special features of the camp are the one or two night canoe trips on Mabel Lake and the leadership training courses. The summer program brings 450 campers and during the spring and fall there are school programs and retreats that bring in an additional 300 young people.
The only non-secular kids camp in the Shuswap is the Girl Guide facility on Adams Lake, just south of Bush Creek called Camp Selhowtkan. This is a semi-wilderness camp with no electricity and just four buildings that can accommodate up to 36 campers, plus four camping sites closer to the lake. Campers spend much of the time on the lake canoeing, kayaking, and swimming. There are also side trips to Roderick Haig-Brown Park for hiking and whitewater canoeing on the Adams River.
There is one other small summer camp located at the far end of White Lake called the Cedar Creek Camp. It is operated by People in Motion and is rented to groups of up to 35 people and priority is given to people with disabilities. There are just two rustic cabins and there is no running water or electricity.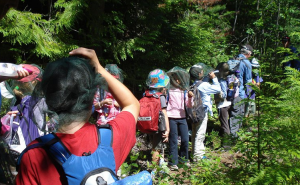 Photo courtesy of Shuswap Wild Wonders
A new science-based day camp for youngsters from grade one to grade six called Shuswap Wild Wonders offers three programs in July. The youngest campers spend three days in the White Lake region learning about local flora and fauna and gaining team-building, problem solving and leadership skills. The four-day camp for the grade 3-4 students includes one overnight tenting experience in the Larch Hills. Instructors for the camps include horticulturists, biologists, artists, and teachers and activities focus on hiking many of the routes established by the Shuswap Trail Alliance and learning about the Shuswap watershed.
POSTSCRIPT
There is one more camp in the Shuswap – the Sorrento Centre, which offers summer camps for kids.
I went to a YMCA camp called Camp Warren during the summers from 1957-1959 near Ely, Minnesota. Activities included sailing, drama, canoeing, swimming, rifle range, archery, games, gardening and chores. There was minimal religious education which was fine for me, since I am not a Christian and yet often I felt strong spiritual feelings during the Sunday service as they were held outside with a view of the lake. The best part of the summer were the canoe trips, sometimes lasting as long as 10 days.
Unfortunately, there are few opportunities for non-secular camping in the Shuswap, as almost all of the summer camps are operated by churches. So for families that do not belong to a religious group, the best option for children to gain camping experience is with their families. The onus is on the parents to ensure their kids experience nature and there is plenty of nature in the Shuswap to experience!