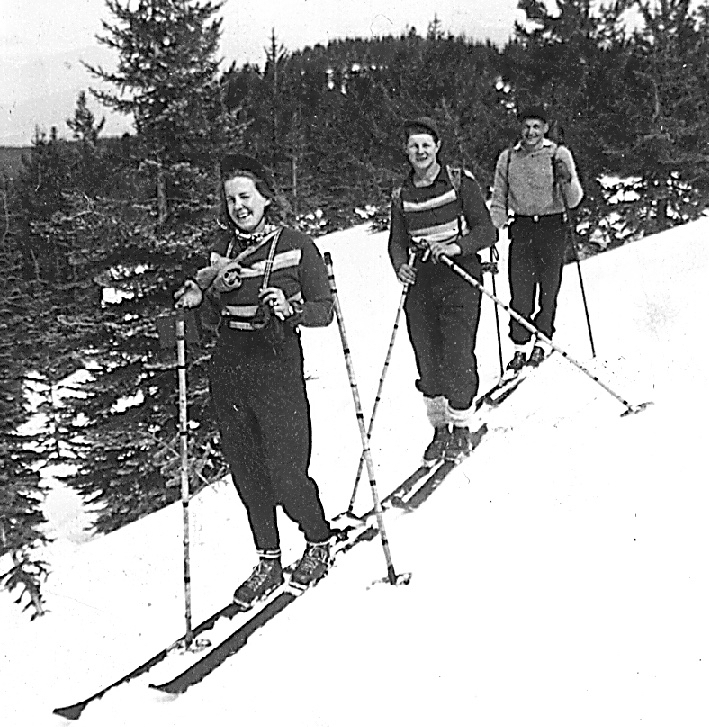 "After several hours of slogging, the snow at Granite Peak lookout lay under the skis of Mamie Hill, Matt hill, and Yuri Maki. the year was 1938." This Mamie Hill Reynolds photo appears in the book, "Fleeting Images." Courtesy of Salmon Arm Museum at R.J. Haney Heritage Village
The are many opportunities to ski in the Shuswap, including three tracked Nordic ski areas, backcountry ski options, three cat-skiing lodges, a downhill resort, a heli-ski lodge, and at any number of untracked logging roads, park trails or frozen lakes. Few people realize that a significant portion of Silver Star Mountain is in the Shuswap watershed, including approximately two-thirds of the Sovereign Lake trails and the backside runs at the resort in the Putnam Creek drainage.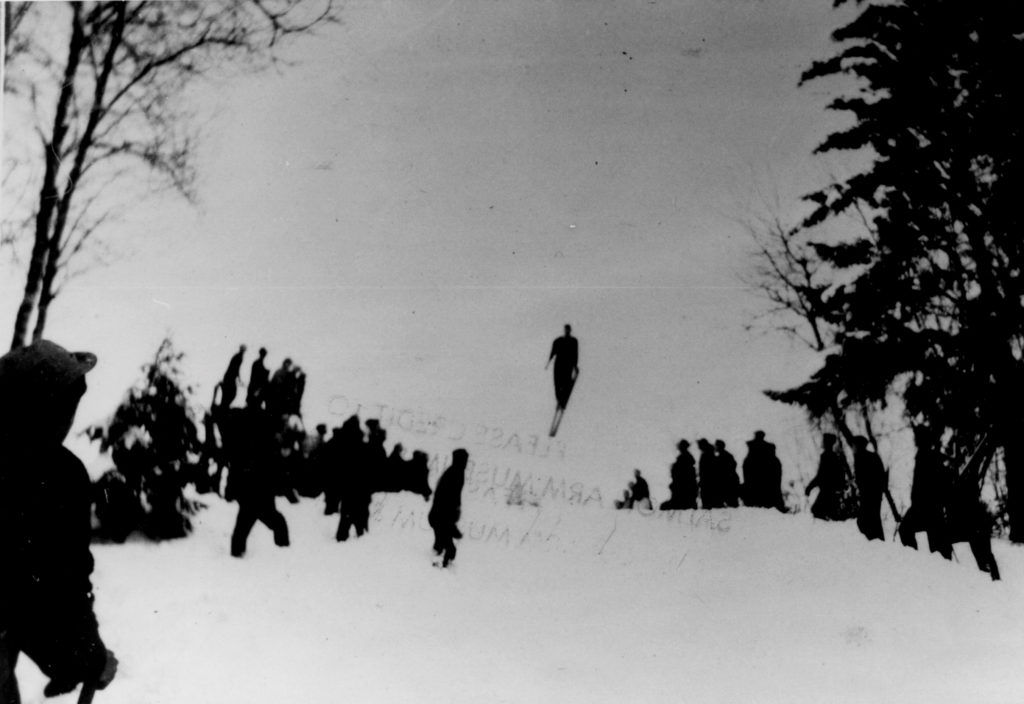 Ski-jumping event at the Gleneden Hall in the 1930s, photo courtesy of Salmon Arm Museum at R.J. Haney Heritage Village
The origins of our local skiing culture can be traced back to the arrival of the Scandinavian settlers who homesteaded at White Lake, Sunnybrae and Gleneden. They brought both their skills and their love of the sport with them and they built heavy, homemade skis out of birch with leather straps. In 1930, the Gleneden Finnish community formed a sport club that sponsored a variety of activities including ski jumping on "Boot Hill" just above the hall and cross-country racing with homemade skis.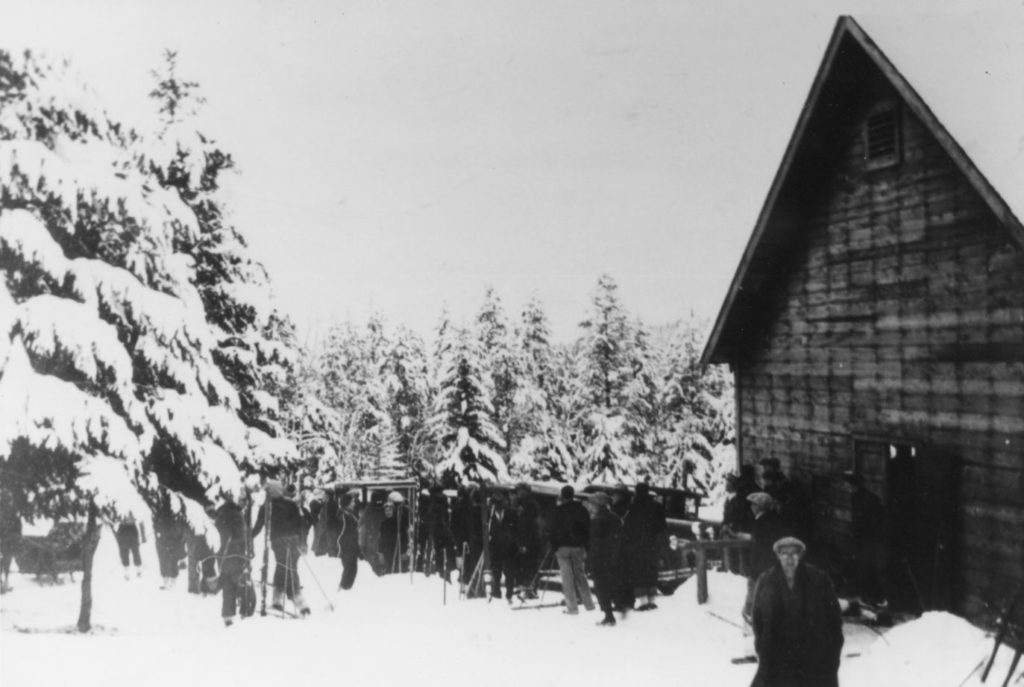 Ski-jumping event at the Gleneden Hall in the 1930s, photo courtesy of Salmon Arm Museum at R.J. Haney Heritage Village
In the late 1950s and early 1960s, there was a passion for downhill skiing and a club was formed that purchased land in Salmon Arm below Mt. Ida on 9th St. SE to build a small ski hill. A rope tow was built, but they soon realized that at this low elevation, snow conditions were not reliable enough for downhill skiing.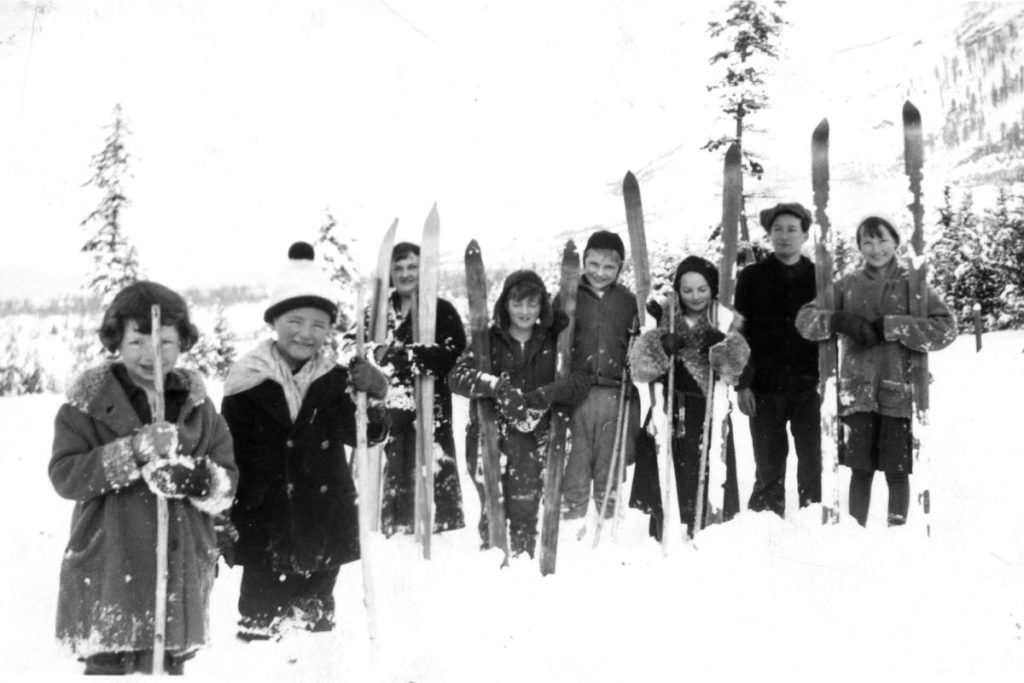 Four sets of skis and eight children from Carlin School in photo from February 1936. (Image from the Denis Marshall Collection in the archives of R.J. Haney Heritage Village )
Colin Spence learned to ski on at the club's ski hill and he remembers how a good skier would only do five turns from top to bottom. There was a mound of snow in the centre of the run that was used for a jump and after a good snowfall, the club would gather on a Saturday morning to pack the hill with their skis. Colin also skied at larger ski hill east of Sicamous that had two rope tows.
Gordie Lidstone built another downhill ski hill in the early 1970s on his property near the Industrial Park and it included both a rope and a cable tow. There was also a warming hut and a concession, but lack of snow ended the venture. In the late 1980's, a developer purchased the property adjacent to the cemetery on Foothill Road, cleared runs on the hill and used a snowcat to transport the skiers. Unfortunately, he had not consulted with any locals about the unsuitable snow and weather conditions, which resulted in closure after only one season.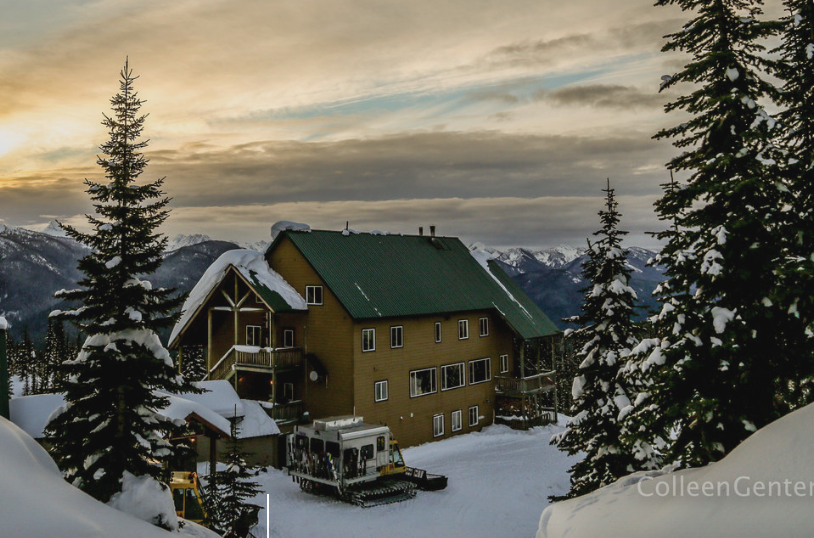 Monashee Powder, photo by Collen Gentemann
There are three cat-skiing lodges in the Shuswap's Monashee Mountains: Mustang Powder located northeast of Craigellachie, K-3 Cat Ski located northeast of Malakwa and Monashee Powder located northwest of Sugar Lake. This is a sport for very fit, experienced skiers and snowboarders who enjoy steep runs in deep powder. Eagle Pass Heli-ski has a lodge at Griffin Lake and much of its terrain is in the Shuswap.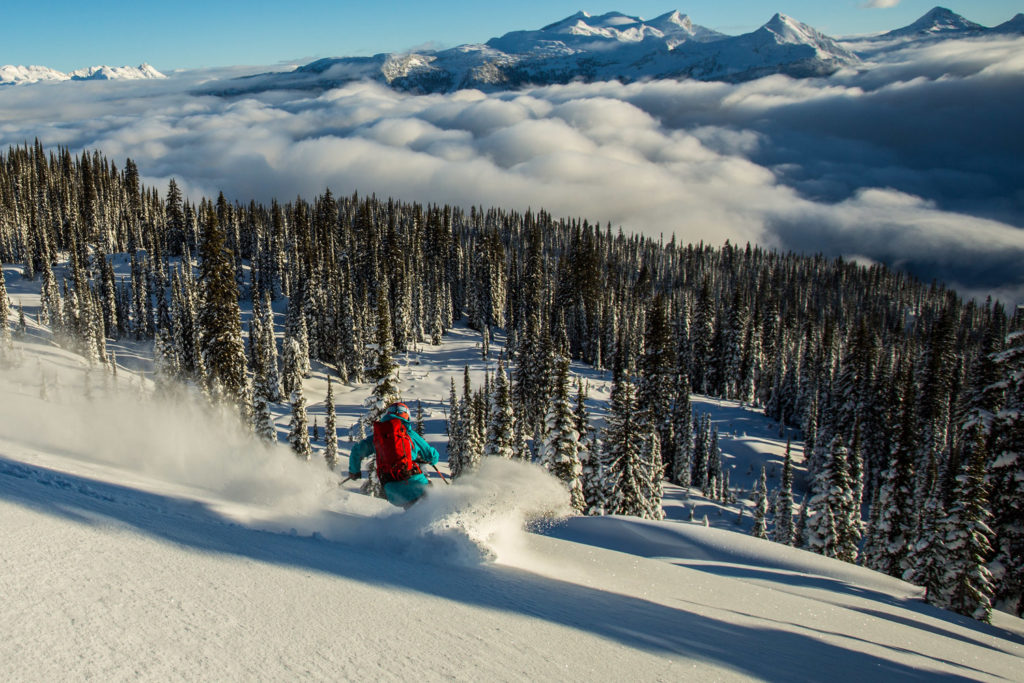 Monashee Powder terrain
For day trips, the premier ski touring area in the Shuswap is Gorge Creek below Queest Mountain, which attracts skiers and split-boarders from as far away as Kamloops, Kelowna, Revelstoke and Vernon. There is more than enough terrain to cover in a day and an abundance of steep slopes and bowls filled with deep powder. However, there is only good access if loggers are plowing the road and if not, then a snowmobile is needed. The area is included in the regional district's park plans and hopefully one day a parking lot will be established along with a publicly funded winter access plan.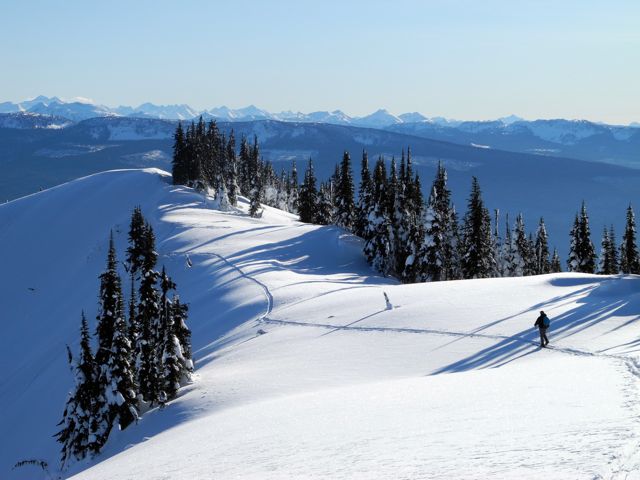 Ski-touring at Gorge Creek, photo by Jim Cooperman
There are two backcountry ski lodges in the Shuswap, where you fly in and out by helicopter, climb the hills using skins on your skis or split-boards and then enjoy your turns in deep powder on spectacular terrain. The Blanket Glacier Chalet, built in 1982 was originally a telemark base camp for the Nordic Ski Institute. Sol Mountain Lodge, established in 2004, has 12,000 hectares of diverse terrain and is also open in the summer for hiking and mountain biking.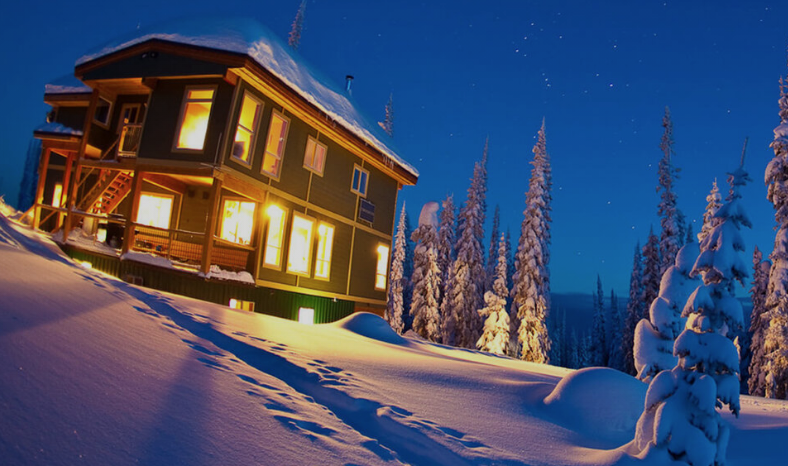 Sol Mountain Lodge, photo by Ryan Creary
POSTSCRIPT
I neglected to include other areas that was settled by Scandinavians, Cambie and Solsqua near Sicamous.  Here are some quotes from Abercrombie's history of Sicamous, "There were keen competitions in track and field sports in the summer, cross-country skiing competitions in the winter, and even our plays were put on a competitive basis between Cambie, Gleneden and White Lake."  "For enjoyment for the family there was swimming in Mara Lake in the summer time and skiing down the ski-hill Mr. Hyde had cleared on the farm. The cabin they had first occupied was their ski chalet."
Also from Abercrombie's history, here is the story of the Sicamous ski club:
"The Ski Club was started by a few skiers who organized in a group in 1959. They had been skiing on Buena Vista Hill behind Mr. and Mrs. Peer Paynter's property on an old logging road. In 1961 a new location was found at the Highway gravel pit. It was then The Sicamous Ski Club and was formed with Mr. A. D. Green, President; Mr. Bud Rokosh, Vice-President; Mr. Jay Simpson, Secretary; and Mr. Read, Treasurer. Before long they had improved the site with two powered tows and a warm-up building with essential conveniences. This hill was used until 1969 before there were any changes. In 1970 the property was purchased by Sycamora K.O.A. from whom the Ski Club obtained a lease for $1.00 per year. In 1973 the tow shack was moved to the centre of the hill and a concrete base poured. Electric power poles for wiring were erected for the two tows to be powered by electricity. The project for 1977 was to update inadequate tow poles, and pulleys, create cross-country trails, rebuild the jump and widen the hill. Also there was work planned on the warm-up hut."
There is also a few mentions of the popular ski hill at Queest Mountain (likely now the site of the snowmobile trails).
Here too is a mention from 1916 of a ski hill in Malakwa:
"All went well until February, when, after seeing a marvellous ski jump in Revelstoke, Christopher decided he wanted to try the sport. He did very well until making a wonderful jump on Malakwa Ski Hill, where they had held a ski-meet the day before. Here he landed on hard-packed snow, overbalanced and shattered his left arm. After going to the nearest hospital in Salmon Arm, he was sent to Kamloops Hospital and remained there until early June."
The Salmon Arm Museum has digital records of the Salmon Arm Observer and there are 36 entries about skiing since 1917, when the newspaper reported how Chris Mizon broke an arm on the ski jump in February was finally released from the hospital in May. Most are about ski-jumping, including this entry in February 1940: "Nearly 400 spectators attend annual Gleneden ski tournament. Melvin (Fowler) Maki wins a class jumping event.'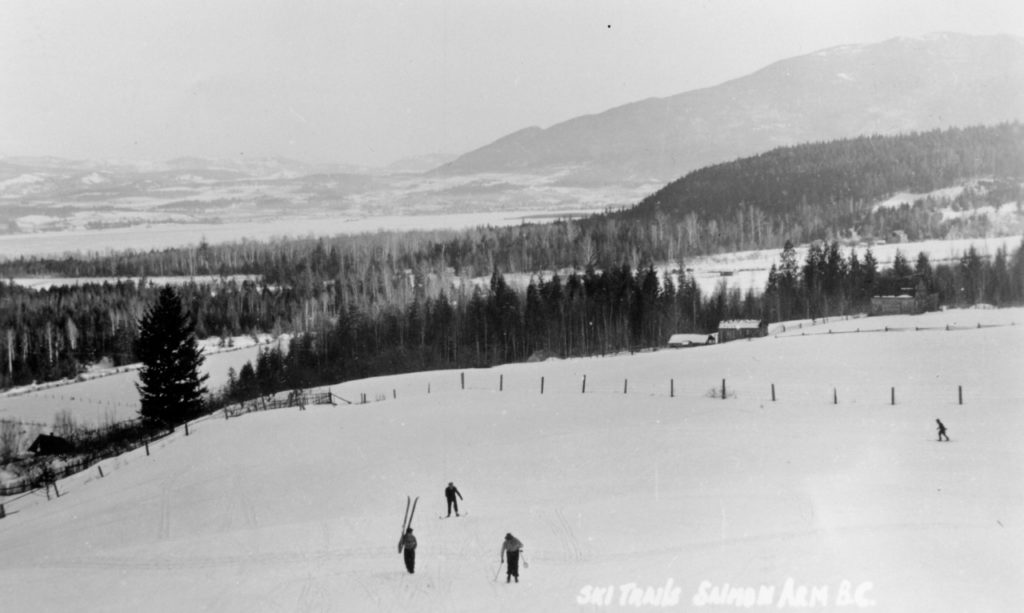 Skiing on Gleneden fields, circa 1925, photo courtesy of Salmon Arm Museum at R.J. Haney Heritage Village
The first annual Gleneden ski tournament was in 1934, then there was a breka for the war and it began again in 1944. The Salmon Arm Ski Club begin likely in 1948 when they held a tournament at the Kinsman's Club's run on the Riddle property on Foothill Road. In 1995, the first Shuswap Ski Tournament was held since 1948. A number of skiers are listed as participating in tournaments in Revelstoke and in the Okanagan.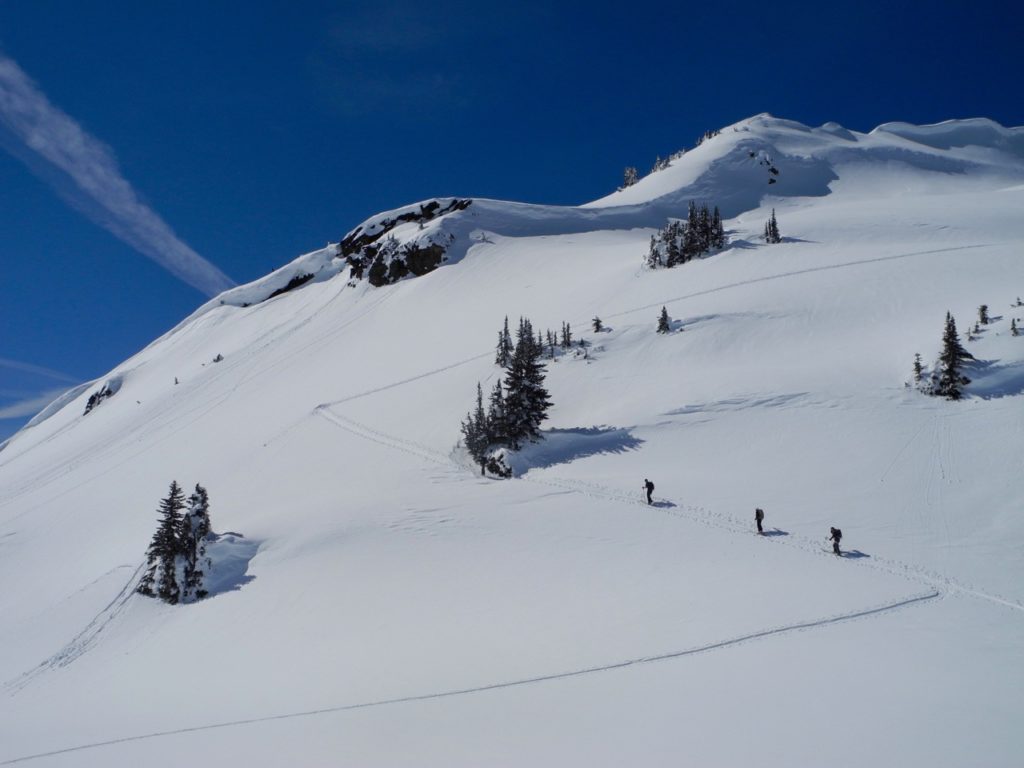 Sol Mountain terrain, photo by Jim Cooperman
Telemark skiing, which combines elements of Nordic and Alpine ski techniques and gear, originated in the Telemark region of Norway. It became popular in North America fifty years ago, as it allows skiers to travel into the backcountry using skins on their skis to climb the mountains. With the invention of lightweight alpine ski touring bindings, telemark skiing has declined in popularity, as it also requires bending a knee for every downhill turn, whereas with touring bindings, boots are locked on to the skis providing smoother and faster descents.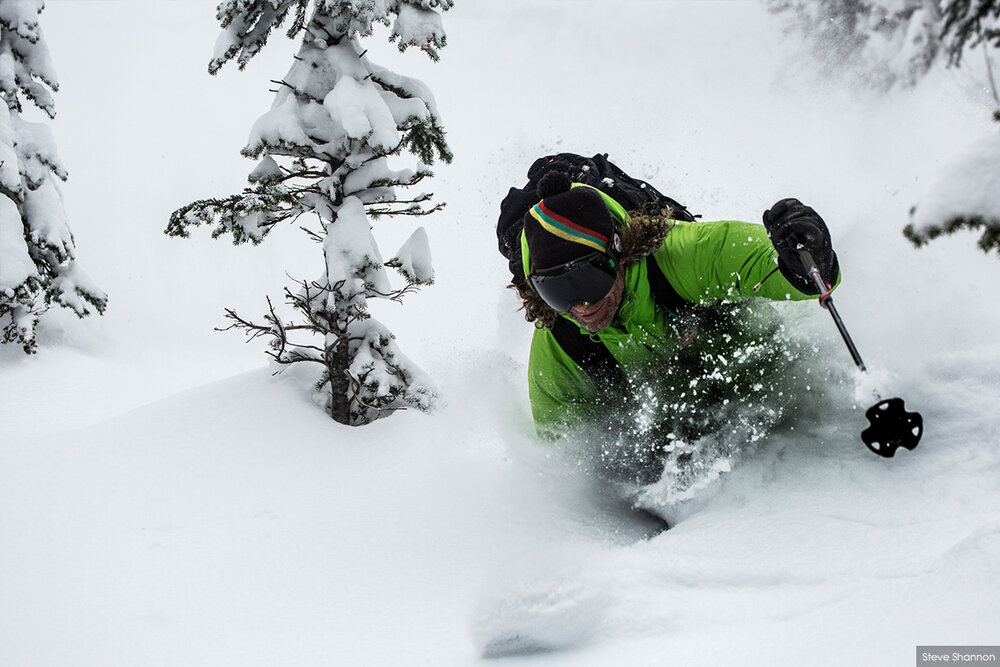 Deep in powder at Sol Mountain, photo by Steve Shannon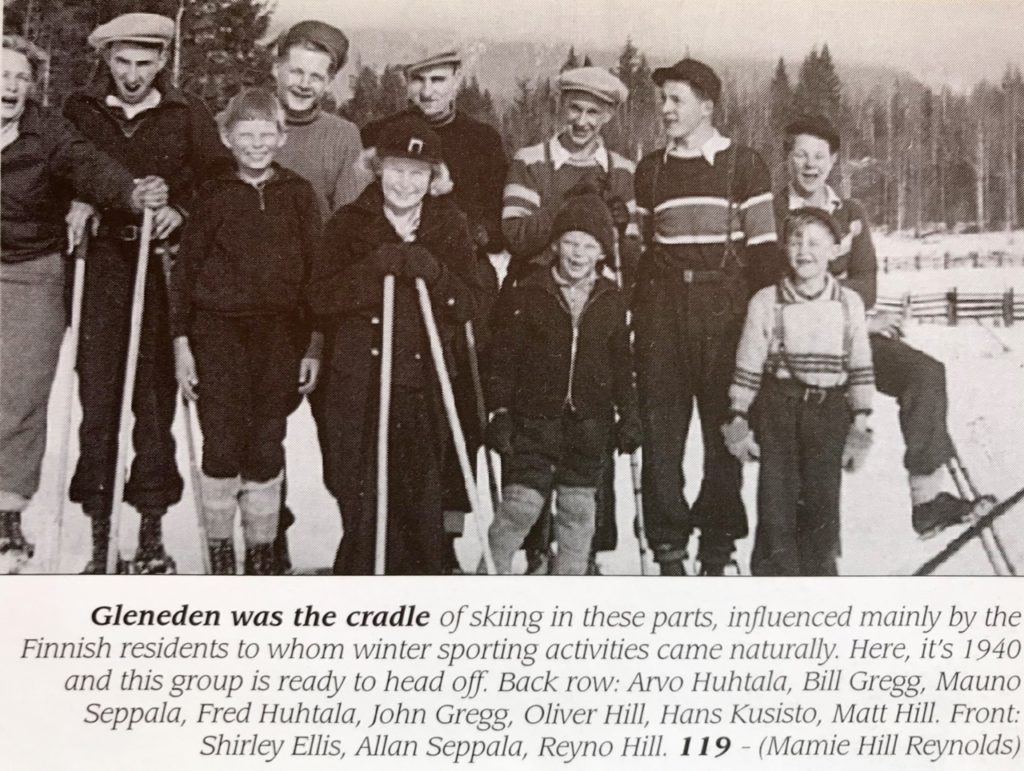 photo courtesy of Salmon Arm Museum at R.J. Haney Heritage Village