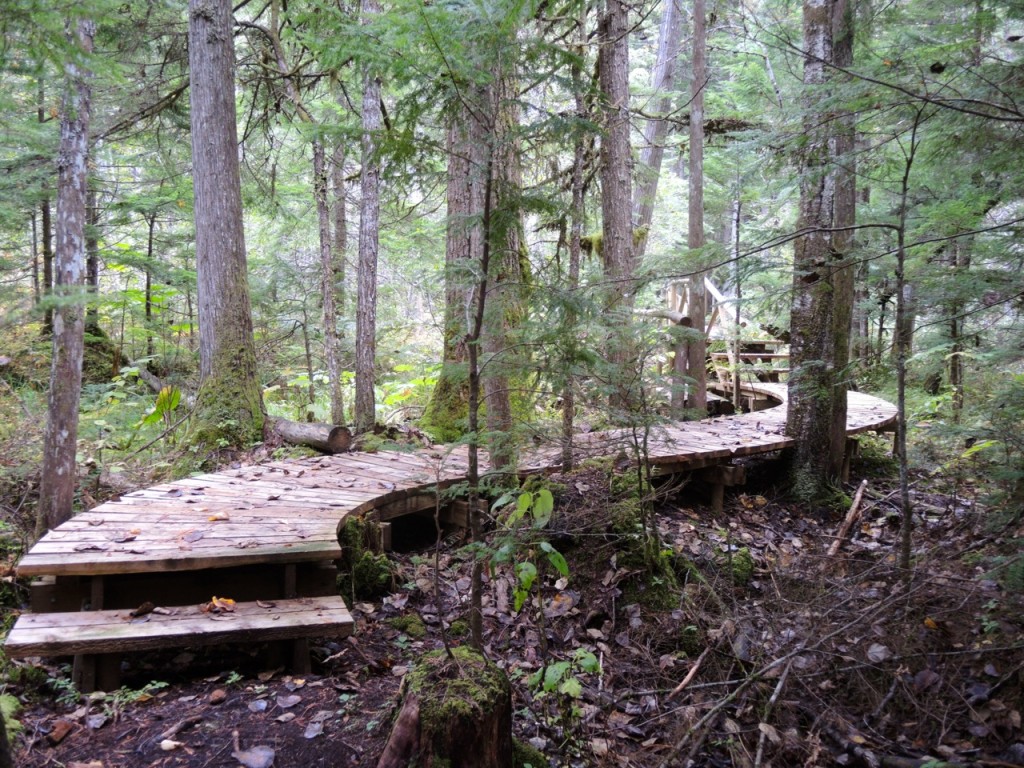 One of many new walkways in the park
Peter Jennings would be extremely pleased with the progress made towards his vision of North Fork Wild. The Shuswap is a richer place thanks to Peter's generosity and foresight, as he donated his 21 hectares to the CSRD in 2012 for a park. The network of trails constructed by Peter and his close friend Gerald King have been vastly improved and are already being well used by the public and school groups.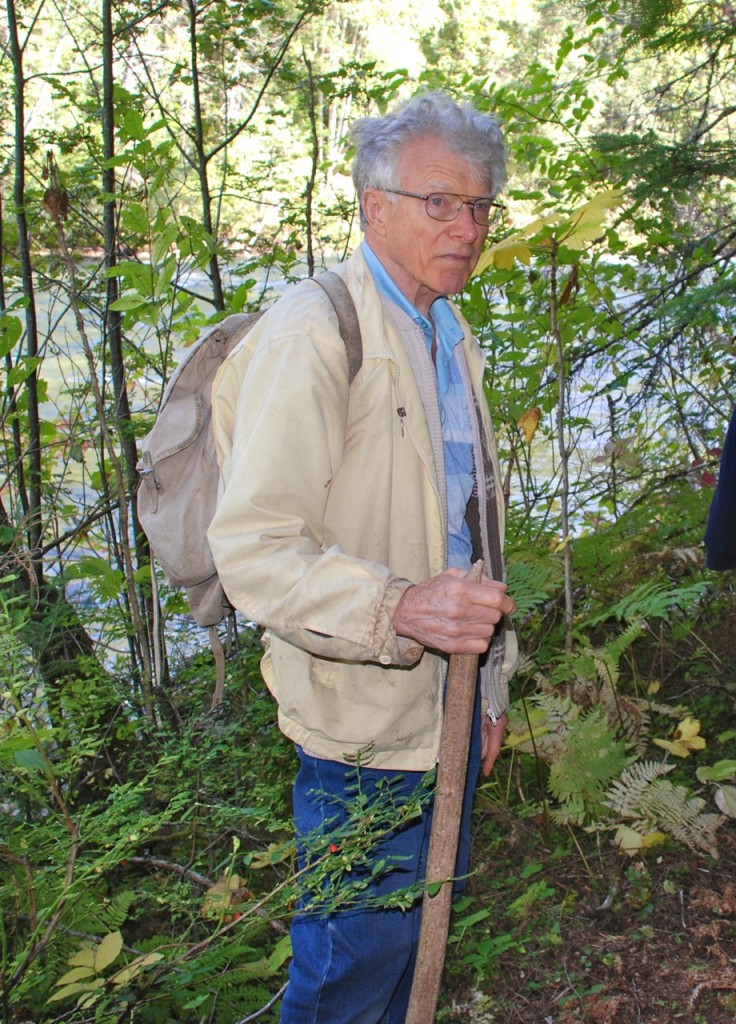 Peter Jennings in 2011
We first visited the area in 2011, when we met with Peter and joined him for a brief tour. We returned last week to hike most of the newly renovated trails and explore farther up the valley on the old packhorse trail that was built in 1929 for fire protection. It is mostly a second growth hemlock forest, with patches of Douglas fir, Red cedar and some deciduous trees. There is quite a diverse understory of shrubs, lichens and moss, plus a fascinating array of fungi, including the alien-like, bright orange lobster mushrooms.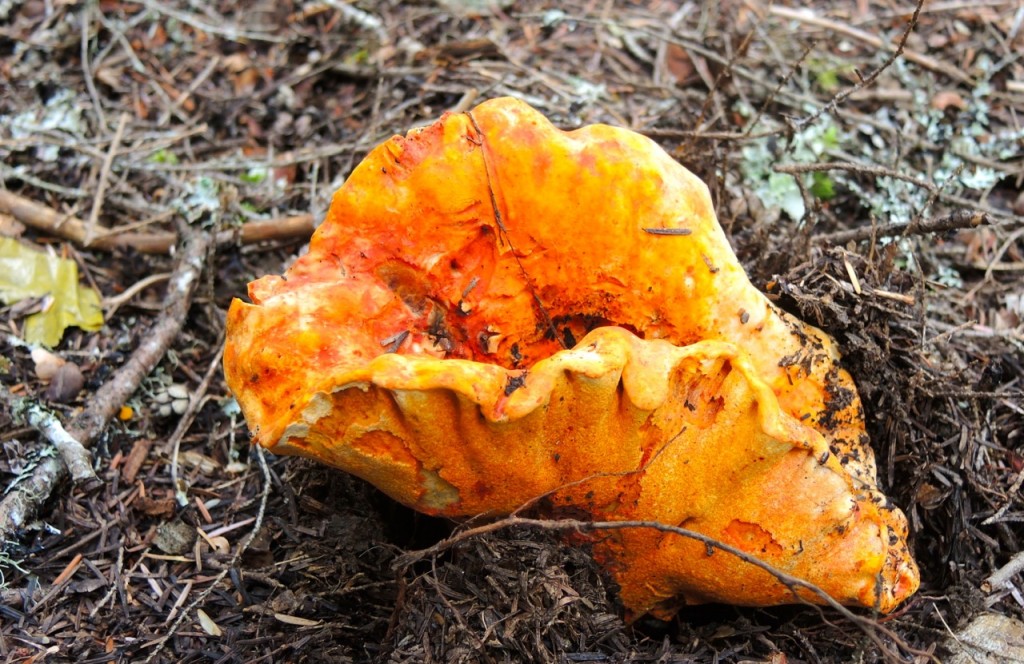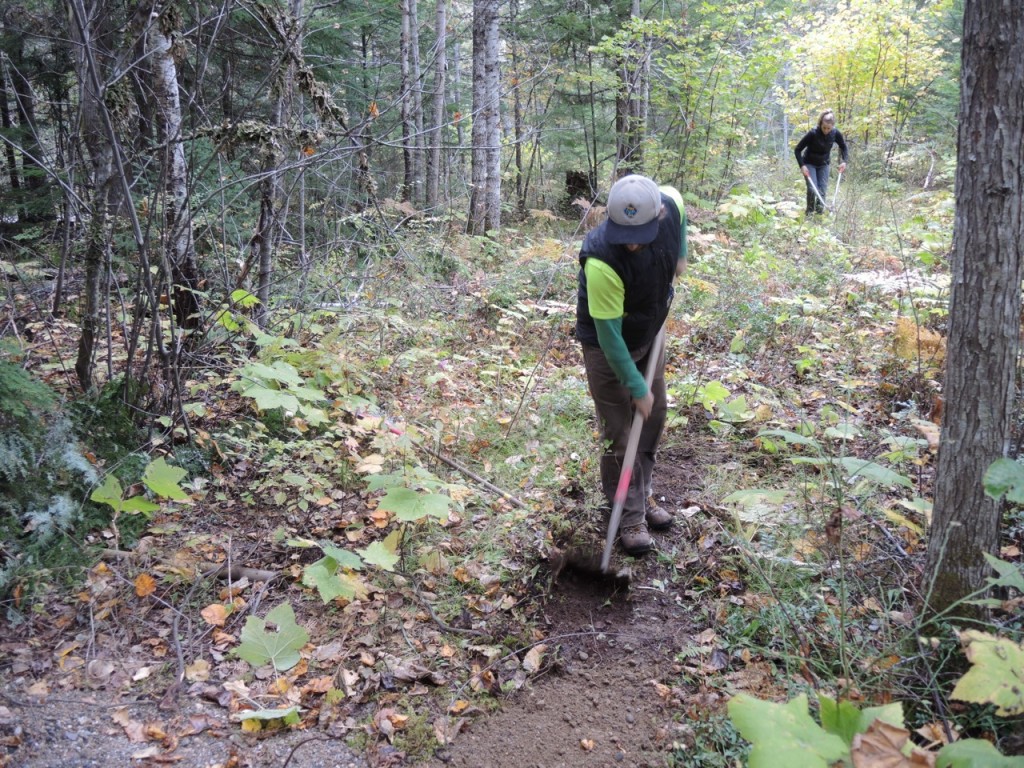 The Shuswap Trail Alliance in conjunction with the CSRD has done a fabulous job re-building the trail network, but it has been a long, complicated process that began nearly ten years ago with inventory efforts. The first steps included a full environmental baseline screening, wildlife and vegetation monitoring and archaeological assessments, all of which fed into a master management plan. The entire project has involved a number of groups, including the Splatsin, the Shuswap Outdoor Learning Foundation, the provincial government and the Okanagan Shuswap School District Number 83.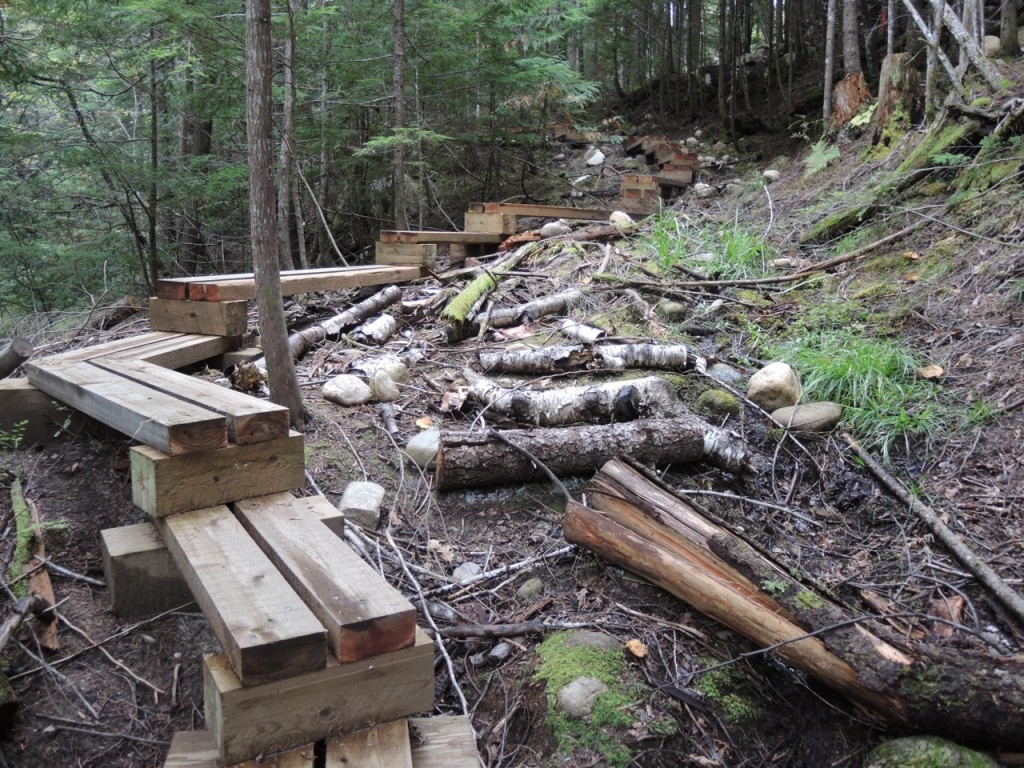 The first phase of construction began in 2014, with the fourth and final phase nearly completed now. A total of 11 bridges, 5 boardwalks, 2 sets of stairs and 8 rail fences have been built, using rough-cut cedar lumber. The stairs and walkways utilize a creative design with 3×6 inch planking and 6×6 inch risers. The craftsmanship is excellent and STA Project Manager Veda Roberge, Technical Design Specialists Sutra Brett and the crew deserve a heap of praise. Approximately half of the trails had to be re-located to utilize more accessible terrain.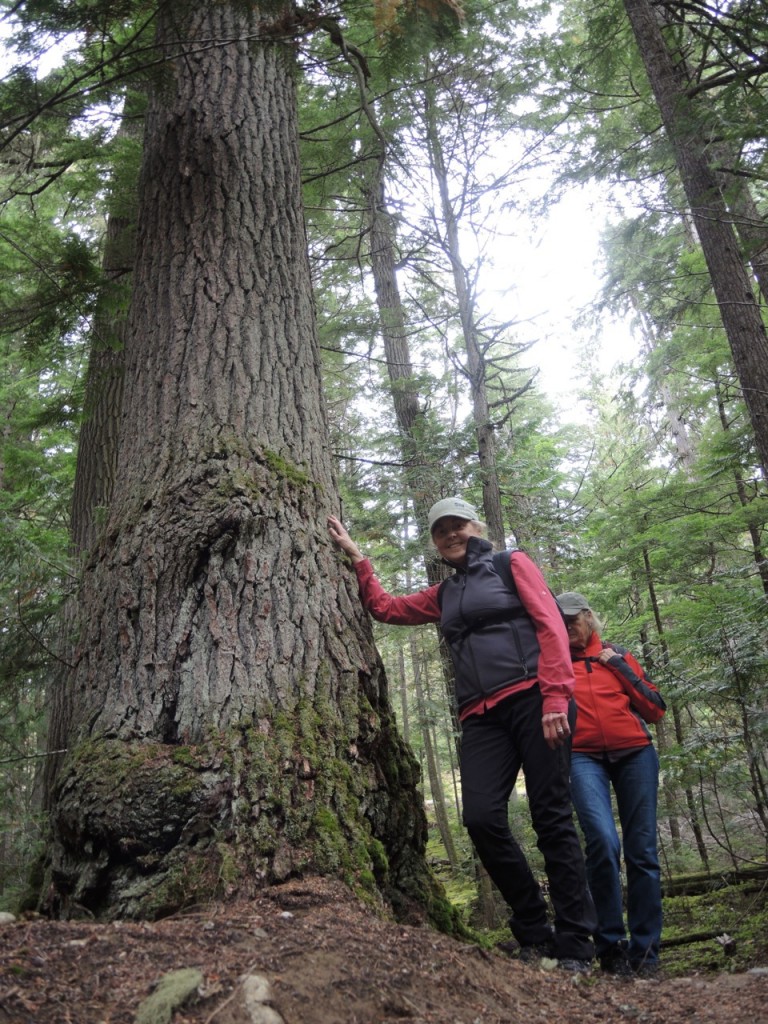 North Fork Wild is a magical place, a crown jewel in the CSRD parks system. And yet there is much more that could be done to provide more opportunities for hiking, for learning and for enjoying and appreciating this remarkable part of the Shuswap. To the north of the park is an old growth management area, where logging will likely never occur. Massive downed trees now block access along the packer trail, but these will be cleared during subsequent volunteer work parties.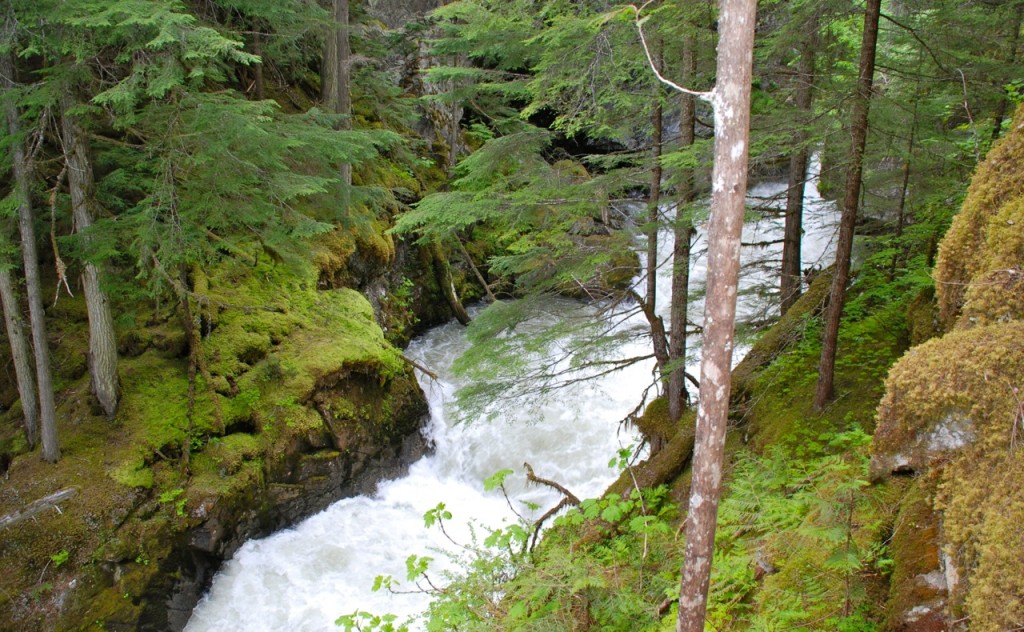 Perry River Gorge
Below the packer trail, the Perry River flows through an amazing, narrow rocky canyon and series of cascades that is even more spectacular than the Adams River Gorge. This area was once proposed for a provincial park and a trail was built in 1974 on the east side, but unfortunately it went through private land and thus was abandoned. Someday, a bridge could be built to allow access into this amazing feature that would likely help attract provincial, if not national attention.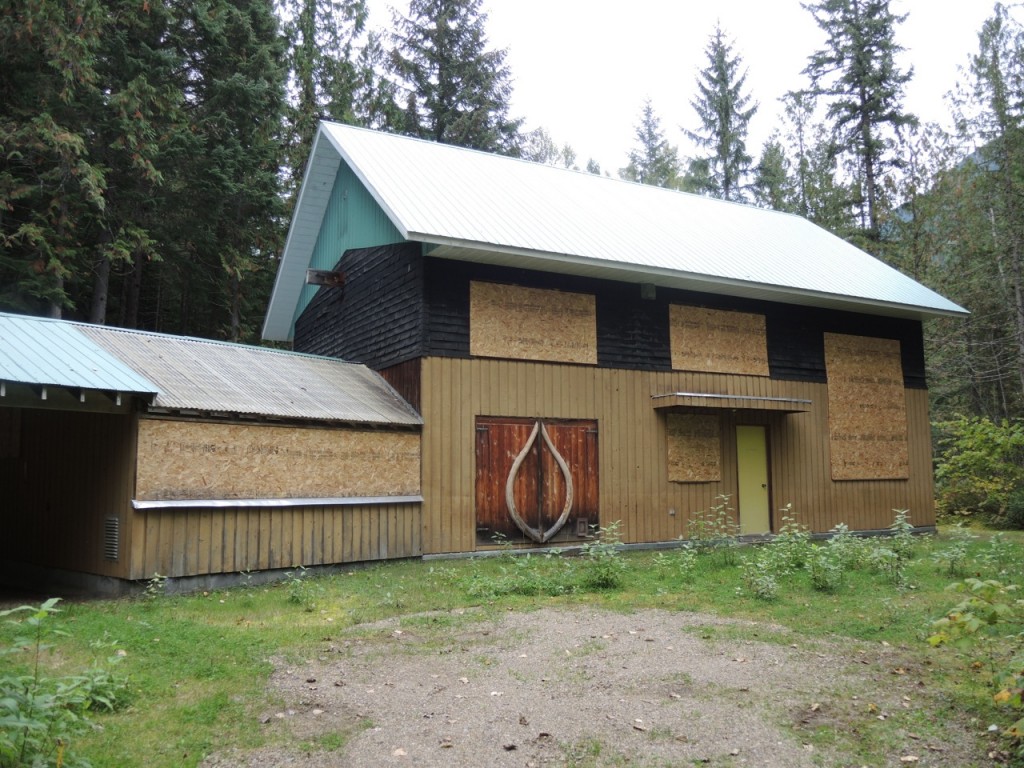 Peter built a rather large house with the goal that one day it could be used for educational purposes. Ideally, this structure could one day be renovated and utilized as a combination classroom, museum, research centre and bunkhouse for the school district. Outdoor learning is already taking place at North Fork Wild, with many classes using the trails and the site to experience and learn about nature. Many other B.C. school districts have outdoor learning centres, such as McQueen Lake above Kamloops, and the Shuswap deserves one as well.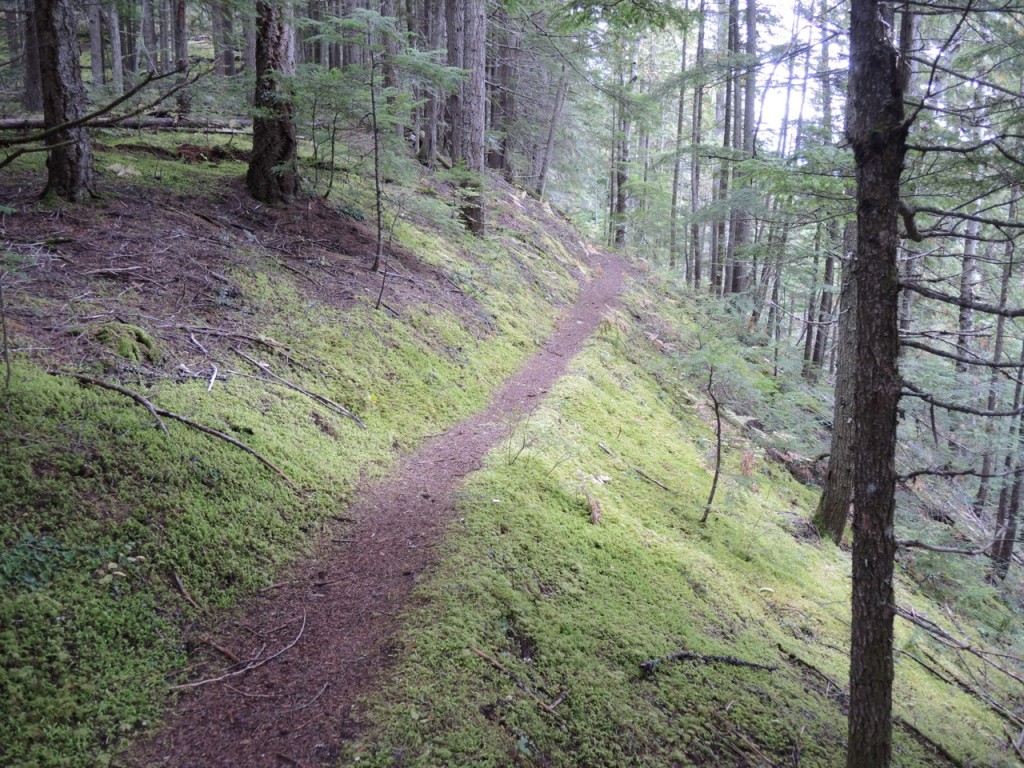 The packer trail
Peter Jennings passed away in June, but his legacy of respect for nature and love for all things wild live on at North Fork Wild. On October 15th, everyone is invited to a celebration of his life and the grand opening of the park he helped to create.
POSTSCRIPT
Learn more about the park and to get directions, visit Shuswap Trails
North Fork Wild is good example of what is getting accomplished in the Shuswap thanks to the efforts of the Shuswap Trail Alliance along with the cooperation and collaboration among a variety of organizations and individuals. Many students have already had the opportunity to visit the park and thus have gained greater appreciation and more respect for the natural world, which ever so more important now given the impact that screens have made to young and old alike.
One of the interesting observations we made during our most recent visit was that the river was quite high for this late in the year. Below our two photos of the end of the trail at the "beach" along the river:
Perry River in 2011                                           in 2016
Below is the obituary for Peter:
Peter H. Jennings
( Thursday, 16 Jun 2016 )
A remembrance of Peter Jennings. It is with deepest regret that I must announce the sudden passing of Peter H Jennings. Peter was born at The Warren, Stafford, England in July of 1923 and left us gently in the early morning hours of June 16th 2016. Peter immigrated to Canada as a young man and worked for many years as a researcher for Noranda Mines. In those years he lived in Montreal, and those he met there through his interest in hiking would shape the rest of his life. Peter wanted to retire to BC and with the help of a man who would remain his friend for life, Gerald King, he chose a beautiful rural piece of property that bordered the Perry River, east of Malakwa, and settled in to a completely different lifestyle there some forty odd years ago. With the help of visiting family and friends he built himself a sturdy house set in a pretty clearing where the only sound heard is the soft whooshing of the river nearby and the singing of the birds. Peter had a keen interest in the welfare of animals and played a large role as both a volunteer and a funder for many years with the Shuswap SPCA, an organization he was passionate about. Many, many rescue animals lived out the rest of their lives happily and well cared for at "Peter's Place". Peter was also a talented pianist and taught music to many Malakwa area children. He wrote several beautiful operettas, and two of them, The Last Spike, and The Champion were performed by what was then The Eagle Valley Music and Drama Company, to rave reviews. His love of classical music helped him to cope with his decreasing vision and mobility in his last years, and he spent many hours listening to his favourites. Peter and his friends built trails all over his land for hiking and a number of years ago he began to think about leaving the land as a park for all to enjoy. Working with Rhona Martin, the CSRD Area E Director, that dream became a reality and the park soon to be dedicated as "North Fork Wild" was born. The Shuswap Trail Alliance crews and administration, and the many groups that have used the trails since then gave Peter many new friendships during these last years. Peter was predeceased by his sisters Catherine and Hazel, and leaves behind his nephew Graham Henderson, and niece Anne Paget as well as other nieces and nephews, all in England. Though alone here in Canada, Peter retained strong connections with his family and friends in England, and was visited and called regularly by many. It was a great honour to have known Peter, and the gifts he gave this area will be enjoyed by many generations to come. There will be a celebration of Peter's life to follow the dedication of North Fork Wild this fall, and we would love to gather together the memories, stories and photos from those whose life he touched. Please call the Eagle Valley Community Support Society in Sicamous at 250-836-3440 or email evcrc@telus.net to let us know that you have something to share. Rest in peace my dear friend, though I knew you well for only a few years recently, your beautiful mind, spirit, and the thoughtful way you lived your life touched me deeply.
And here is the link to the report Peter wrote about North Fork Wild
Some more photos: