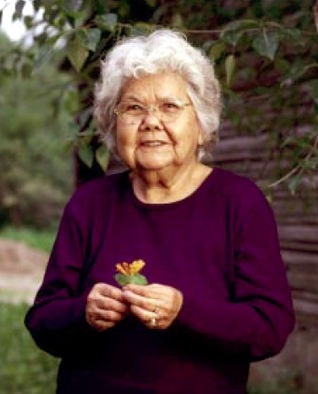 Dr. Mary Thomas
It is rare for a Shuswap resident to achieve provincial or national recognition for the contributions they have made to society. Famed Neskonlith elder and ethnobotanist Mary Thomas is one of these select few who will be remembered in history, as her remarkable accomplishments have been recognized widely across North America. And in 2010, some 490 hectares in the Wap Creek valley, known for both its spiritual and traditional use values, was protected as a cultural heritage feature in honour of Mary and her husband Frank Krauchi who passed away in 1997.

Mary was born in Salmon Arm in 1918 and fortunately much of her childhood was spent with her grandparents, from whom she learned a great deal about her Secwepemc culture. The joy of her childhood changed abruptly when she was shipped off to attend residential school in Kamloops, where she was forbidden to speak her language. "And we were told never to practice nor to believe the spirituality of our people. It was taboo," recalled Mary many years later.
When Mary's first first husband died young from a communicable disease, she married again and they had 15 children. After her husband, Mark, returned from WW II, his demeanour changed due in part to alcohol and she suffered abuse until he met an untimely end on the railway tracks. Five years later, she moved to Kelowna with Frank, who became her life-long partner. It was not until she was asked to help prepare some traditional materials for her youngest daughter Bonnie's class in school, that Mary began to find meaning in her life.
The school project led to work with a museum and she began interviewing elders and learning more about Secwepemc culture. Fortunately, she could speak Secwepemctsin and soon she learned how to make baskets, mats, moccasins, and how to tan deer hides. The more she learned about her culture, the more she began to change, which she called her "journey to healing." In time her focus changed from learning to teaching, as she had so much to share. From 1970 until she died in 2007, Mary worked tirelessly to promote the Secwepemc language and culture.
By 1977, Mary had returned to the Shuswap and with the knowledge she gained from the elders and the memories she had from her childhood, she became an authority on traditional plants and their uses. As an expert, she became more aware of the environmental degradation occurring near her home, especially in the Salmon River valley. Not content to ignore the growing problems, Mary worked with others in the community to create the Salmon River Roundtable, which has helped to restore many kilometres of riparian area, as well as end cattle grazing in the floodplain.
Her work was not limited to environmental issues, as she was also a pioneer in early childhood development and improving the lives of young people. In 2004, her work earned her the Medal for Exceptional Contributions to Early Childhood Development from the Centre of Excellence for Early Childhood Development. And the BC Aboriginal Child Care Society now awards two Mary Thomas Scholarships each year to the two top Aboriginal early childhood education students.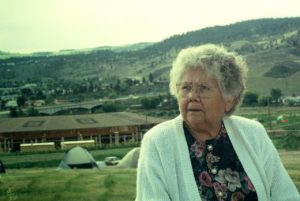 Mary worked on forestry committees, taught at Okanagan College, provided advice in her community and assisted University of Victoria ethnobiologist Nancy Turner with her research on traditional plants. Whenever Mary spoke, she conveyed feelings of spirituality and sincere love and everyone who listened could sense her closeness to nature, her years of wisdom and the connection she had to her heritage. As her daughter Bonnie remembers, "Mary's primary goal was to instill the need for everyone to respect each other as everyone is here for a purpose. And she emphasized the needs for education, for sharing and for making for a contribution instead of pursing the almighty dollar."
In 1998, Mary was one of the keynote speakers at an ecological restoration conference in Victoria that helped energize this movement. To a rapt audience, Mary spoke with simplicity and humility about the devastation she had witnessed and the intense need for everyone to work together to heal the land. Just as new research was coming out about the value of birch trees to the health of the forest, Mary explained how sad she was to see birch and berry bushes cut down in the forestry plantations. She described how they used the tree's nourishing sap for syrup and the bark for baskets and how the resulting leaf litter nourishes the soil and the forest.
There is not room to list all the awards that Mary has received. Some key achievements include being the first Native American to receive the Indigenous Conservationist of the year award from the Seacology Foundation and the recipient of two honorary degrees one from the University of Victoria and another from the University of North Carolina.
Mary's vision is now behind the plan by the Switzmalph Cultural Society to build a cultural centre and sanctuary. The Society currently operates a heritage village near the Salmon River mouth where events are held to celebrate traditional culture. Thankfully, the series of lectures on native culture that Mary gave at the University of Victoria were published as The Wisdom of Mary Thomas, and the Society plans to have it reprinted soon, as there are currently no copies available.