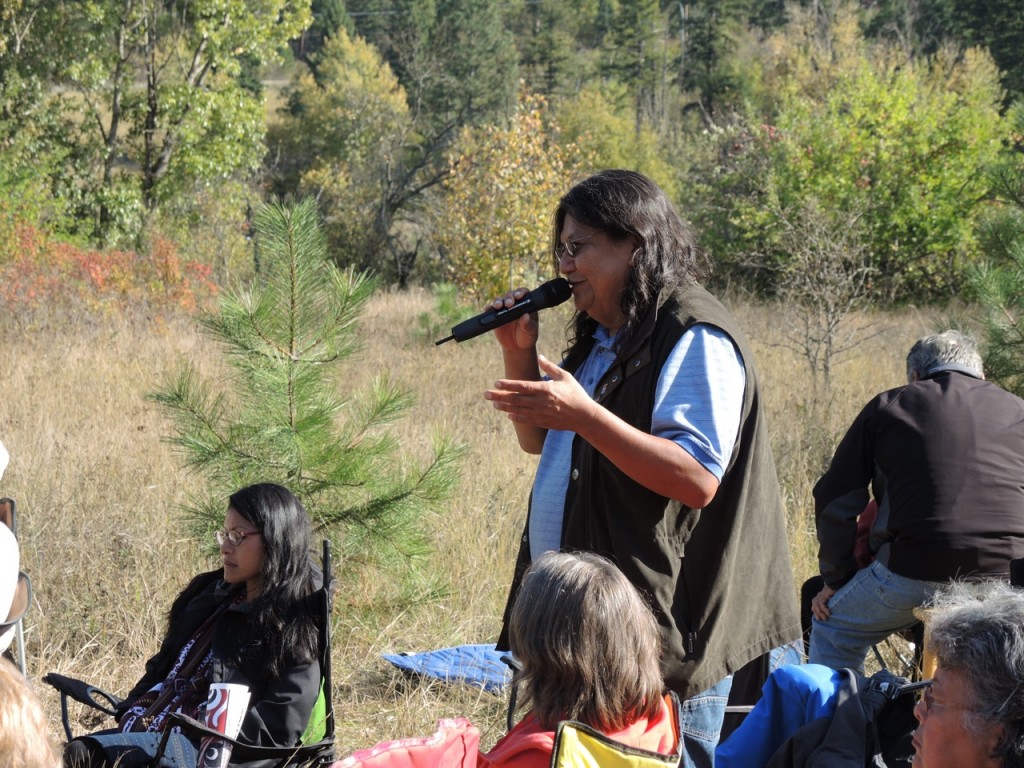 Arthur Manuel addresses a group of activists in 2014
The Shuswap lost a true community leader and a powerful, effective advocate for Indigenous rights and title last month, when Arthur Manuel passed away at the age of 66. Thankfully, he wrote two books that provide a better understanding of the over two centuries of Canadian injustice that First Nations have had to endure and what actions are needed to rightfully address the problems.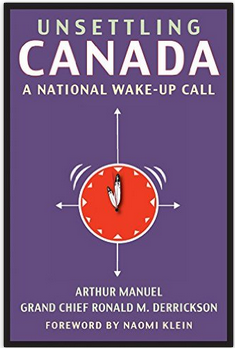 The first book, Unsettling Canada: A National Wake-up Call, written with co-author Grand Chief Ron Derrickson was released in 2015. The pair's second book, Settling Canada, is due to be released in April. Unsettling Canada is a stirring account that chronicles the history of the First Nations struggle for self-determination along with the history of his family and of his many years of activism. The stories that Arthur weaves into the compelling narrative make the book difficult to put down.
In many ways, Arthur followed in his famous father's footsteps, as he continued with the international work begun by George Manuel. But it was not an easy childhood, as with his father away working, he and his siblings were forced to attend residential schools. It was there, that Arthur experienced first hand the discrimination and unfair treatment that most Indigenous people have endured. When Arthur was caught riding a railcar during a summer escapade, he could not pay the $25 fine and wound up in an adult prison for 30 days, where the food served was better than in his residential school.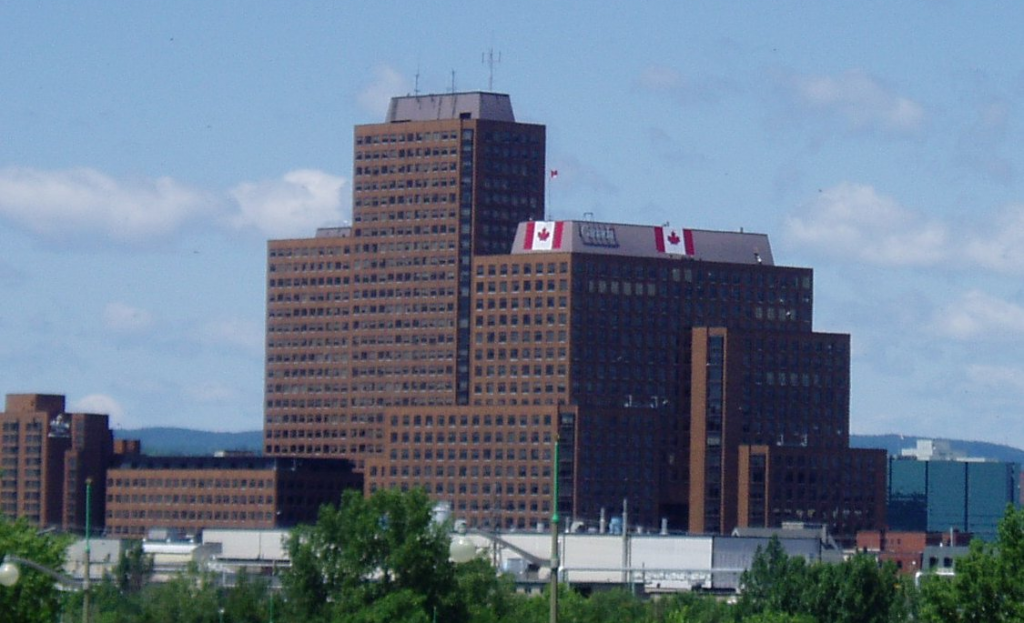 The current Indian Affairs Canada office building is in Gatineau, Quebec – one can only imagine what the massive number of office staff do to "manage" Indigenous people
One of the most captivating stories was the one-day take-over of the Indian Affairs office in Ottawa that he helped organize as the leader of the Native Youth Association. Fortunately, because the leased building was not federal property, the Ottawa police prevented the heavily armed RCMP from breaking up the protest. Inside, the young activists found locked file cabinets that they managed to open. A number of key confidential files that provided insight into the workings of the agency were secreted out in the sleeping bags of a number of young protesters who were allowed to leave early.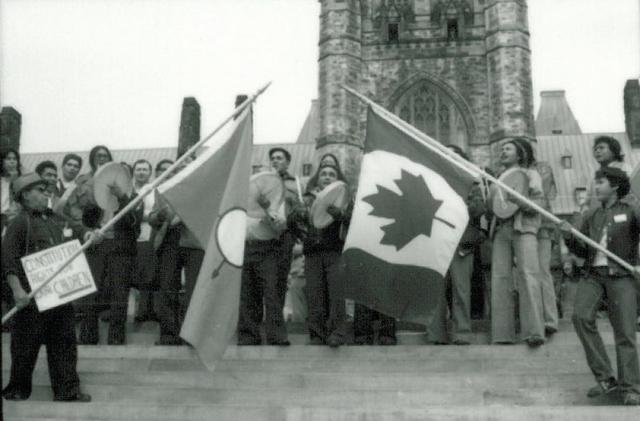 Although he left with just one course left to take, Arthur's years of law school in Toronto provided him with both the legal knowledge and skills that served him well. When his father visited him at the law school in 1979, Arthur tried to convince him to get involved in the Trudeau government's effort to repatriate the constitution. That effort began in earnest the following year with the Constitutional Express, a trainload of First Nation leaders that arrived in Ottawa to press their concerns. Further protests in England and support from the provinces helped result in this clause added, "The existing aboriginal and treaty rights of the aboriginal peoples of Canada are hereby recognized and affirmed."
Despite this success, in the following decade First Nation leaders were unable to negotiate a path forward and by 1987 the federal government simply dropped the file. During these years, Arthur took a break from activism and developed a gas station business on Neskonlith band property adjacent to the TransCanada Highway. But even this was a struggle, as he had to deal with massive amounts of red tape and convince Revenue Canada to reduce its withholding period.
A new threat emerged in the early 1990s, when the provincial and federal governments teamed up to offer a new treaty process that was blatantly unfair because it required the extinguishment of First Nation title. With some band members promoting participation in this new process, Arthur found it difficult to concentrate on the business. When highly respected elder Dr. Mary Thomas urged him to run for band chief, he could not refuse.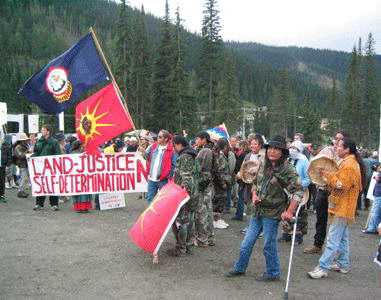 Sun Peaks protest, 2004, Photo: Skwelkwek'welt Protection Centre
Arthur served four terms as Neskonlith Band Chief and also chief of the Shuswap Nation Tribal Council. During these years, Arthur assisted with the frustrating protests at Sun Peaks that resulted in jail time for his daughters and other band members. Angered over the loss of forests to large corporations; the resulting widespread ecological damage; and the inability for First Nations to log or collect fees; the band proceeded to log themselves, which created a lengthy legal battle.
After serving as Chief, Arthur spent years working at national and international levels, where he was successful at working key pressure points. He allied with the Nobel Prize winning economist Joe Stigliz to show the US Commerce Department how Canada subsidizes its timber by logging the forests that rightfully belong to Indigenous people without giving them a cent.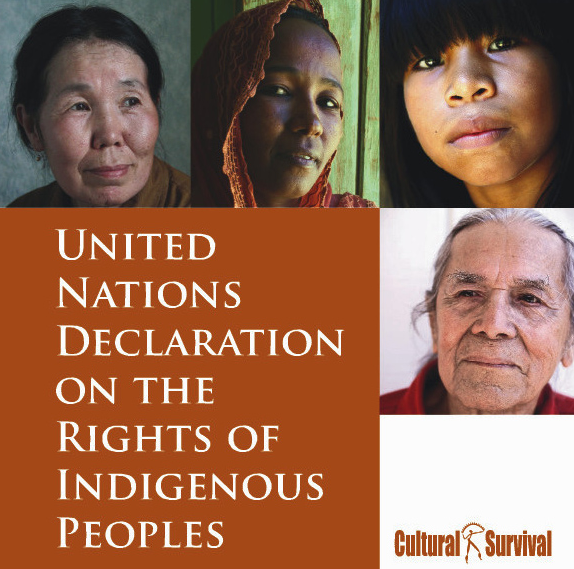 In 2007 the United Nations Declaration on the Rights of Indigenous Peoples (UNDRIP) was adopted by the General Assembly.
Arthur's work with the United Nations helped result in the UN Declaration on the Rights of Indigenous Peoples that was eventually ratified by Canada. The intellectual blueprint he left for the work needed to decolonize countries and finally achieve justice and self-determination for Indigenous peoples is part of Arthur Manuel's significant legacy.
POSTSCRIPT
There was not enough space in the column to adequately describe Unsettling Canada. It is a very perceptive, well written expose' of the tragic history of colonization in Canada that encourages the reader to have more empathy for the plight of the first peoples of this land. Arthur tells it like it really is and holds back no punches. I strongly recommend for everyone who is concerned about Indigenous people to read this book.
Some of the key points that are missing above include the participation of Arthur's second wife, Nicole Shabus, who is a law professor at Thompson Rivers University in Kamloops. Ms. Shabus first helped him as an advisor and then they teamed up to work together internationally.
Throughout the book, the authors condemn the 'doctrine of discovery," which has long been used to justify colonialism. Europeans claimed they discovered lands where no one lived, as if the Indigenous people that greeted them when they arrived were not human.
The authors extend their criticism beyond the pr0obems caused by colonialism, as they find fault with many band chiefs, councils and administrators who work too closely with the Indian Affairs. A particular concern is the BC Treaty process, which many bands have embraced and now find themselves financially trapped. Governments have pushed the process on First Nations offering them wads of money to participate that are actually loans to be paid off by the funds provided upon signing the treaty. If the bands decide to drop out of the process, because they do not want to relinquish their title, they are stuck with huge bills. And in come cases, the funds offered are not even sufficient to pay the bills for the expensive lawyers.
The book is quite comprehensive and covers all the key court decisions that have boosted the ability of First Nations to gain greater control over their territories. Beginning with the Calder decision, followed by the Delgumuukw decision in 1997, the Haida decision in 2004 and the recent Tsilhqot'in case, First Nations are achieving more through the courts than in the frustrating negotiations with governments. As well, the book provides insight into why First Nations are not always supportive of park creation with examples of how parks exclude their traditional use of their territory and how environmental groups make end-runs around First Nation ecosystem protection efforts such as with the Great Bear rainforest.
In the afterword, Chief Ron Derrickson provides solutions, that include First Nations receiving a percentage of the money made by corporations that remove resources from their territories. As well, Indigenous people should have the ability to issue permits for logging, trapping and hunting in their territories, so that they can help ensure that resources activities are environmentally sustainable.
On February 8th we attended David Suzuki's sold-out talk in Kamloops at Thompson Rivers University. It began, as many events do, with the recognition that we were on unceded Secwepemc territory, which was followed by a elder providing a welcome and a prayer. After reading Unsettling Canada, I have a much better appreciation for why it is important to recognize that we live on unceded Secwepemc territory.
Tributes:
Indigenous leader and activist Arthur Manuel dies at 66
VANCOUVER — The Globe and Mail
Published Thursday, Jan. 12, 2017
First Nations leader and activist Arthur Manuel has died at 66, after a lifetime of standing up for indigenous rights in B.C., Canada and around the world.
Mr. Manuel, known for his advocacy on issues such as land and water rights, was a long-time chief of B.C.'s Neskonlith Indian Band and leader and spokesman for the Interior Alliance, a group of British Columbia First Nations that clashed with government over logging rights in the early 2000s.
He co-wrote the 2015 book Unsettling Canada: a National Wake-up Call with Ronald Derrickson and connected with indigenous people's movements around the world.
His death brought an outpouring of tributes, including one from B.C. Premier Christy Clark, who in a statement Thursday called Mr. Manuel a "steadfast, courageous champion for Indigenous people across Canada."
For decades, Mr. Manuel pushed governments and international bodies such as the United Nations to pay more attention to indigenous concerns when it came to trade agreements or events such as the 2010 Olympic Games in Vancouver.
"Arthur Manuel represented a very powerful force and presence in regard to our ongoing struggle to seek a full measure of justice in relation to indigenous land rights and human rights," said Stewart Phillip, president of the Union of B.C. Indian Chiefs.
"He was a champion of our rights to self-determination – and rejected any notion that we should be required to extinguish or diminish or modify our rights in an effort to seek any measure of recognition from the government of Canada or the province of B.C.," he added.
"He never took a step backwards."
In B.C., Mr. Manuel was part of the considerable opposition to the proposed Trans Mountain pipeline, which this week won an environmental certificate from the provincial government.
The $6.8-billion project, which had previously received a green light from the federal government, would triple capacity of the Kinder Morgan pipeline that runs from Edmonton to Burnaby.
Opponents, including the Tsleil-Waututh First Nation in Vancouver, say the risk of an oil spill is too great and maintain the pipeline will never be built.
Mr. Manuel objected to the pipeline's route through Secwepemc lands.
In an open letter to Prime Minister Justin Trudeau, dated Nov. 28, 2016, he wrote, "I would like to remind you that this pipeline requires the consent of the Secwepemc people. We do not accept that the federal government can make this decision unilaterally and without the prior informed consent of the Secwepemc people as the rightful titleholders."
Agreements between pipeline proponent Kinder Morgan and a few Indian band councils do not represent the rightful titleholders, he added.
"In fact, the agreements are made with Bands whose reserves cover less than one per cent of the Secwepemc Territory along the existing Kinder Morgan Pipeline and they appear to be little more than cynical attempts to divide and conquer our people – as we have seen on so many other occasions," the letter said.
Mr. Manuel's father, George, founded the National Indian Brotherhood, the predecessor of today's Assembly of First Nations, and a brother and sister were also politically active.
Arthur Manuel "did a lot of work internationally, he broke ground and led the way – he was very articulate in the international community," said Wayne Christian, chief of the Splatsin First Nation.
"He's left a trail that's a real good foundation we can build on, but it's just a shock that he's actually gone," Mr. Christian said.
That work included submissions to the World Trade Organization in relation to the softwood lumber trade between Canada and the United States.
"He would have been right out front and speaking his mind and very articulate on things like the Kinder Morgan [pipeline]," Mr. Christian said. "That's just the way Art was – he was just front and centre."
B.C. aboriginal leader Arthur Manuel fought tirelessly for rights
JODY PATERSON
Special to The Globe and Mail
Published Thursday, Jan. 19, 2017
Arthur Manuel was born into indigenous activism. Working with the seeds his father, George, first sowed in the 1970s in the early days of Canada's indigenous rights movement, the tireless B.C. aboriginal leader was on the front lines of the international fight for aboriginal title and self-determination right up until he drew his last breath.
"Art went into hospital on Jan. 5 and went from talking about organizing his next meeting to being on a respirator," said his spouse, Nicole Schabus, a law professor at Thompson Rivers University in Kamloops, B.C. "He was sending people messages about the February meeting on the very day he went into the intensive care unit. He had been in North Dakota at Standing Rock just a couple weeks before that. He didn't know how sick he was."
Those who have worked alongside Mr. Manuel during a lifetime of indigenous activism were in awe of his commitment, strategic thinking and persistence, says indigenous policy analyst and long-time friend Russ Diabo. "Like his father, he definitely wasn't in it for the money," Mr. Diabo says. "The Manuel family is the closest thing we have in Canada to the Mandela family in terms of what they have sacrificed and contributed to First Nations rights."
Mr. Manuel died of congestive heart failure on Jan. 11, at the age of 65. His shattered family and friends around the world say the Secwepemc Territory leader is irreplaceable. Ms. Schabus says his unexpected death galvanized his many supporters to carry on his legacy of activism. The Vienna-born Ms. Schabus first met Mr. Manuel in Geneva, Switzerland, in the late 1990s, when Mr. Manuel took his concerns with the Canadian treaty process to the United Nations to make the case that the process contravened UN principles regarding self-determination.
Community organizing was such a big topic of conversation at Mr. Manuel's funeral on Sunday in Kamloops that one visitor noted to Ms. Schabus later that the service felt more like an educational opportunity than a funeral, especially with so many of the country's highest-profile rights activists in attendance. (Mr. Diabo says the service was a powerful call to action, "more like a symposium.")
Arthur Manuel was born Sept. 3, 1951 to Marceline (née Paul) of the Ktunaxa Nation and Grand Chief George Manuel of the Secwepemc Nation. He grew up on the Neskonlith reserve in the B.C. Interior, and went on to be educated at residential schools not because the government ordered him to, but because his impoverished father told his son he'd have to pick between residential school or a foster home. "[Arthur] didn't have an easy life as a child," Ms. Schabus says.
Mr. Manuel was at residential school when he first started organizing, to protest the terrible food. By his 20s, he was president of the national Native Youth Association. Over the years he went on to be a four-term elected chief of the Neskonlith Reserve, six-year chair of the Shuswap Nation Tribal Council, spokesperson for the Interior Alliance, and co-chair of the Assembly of First Nations' Delgamuukw Implementation Strategic Committee.
He continued as a spokesperson for the Indigenous Network on Economies and Trade until his death, and was a director with the Seventh Generation Fund for Indigenous Peoples. He was a popular interview subject in the indigenous media; numerous video interviews can be found online of the unassuming and soft-spoken Mr. Manuel arguing passionately for indigenous self-determination and title.
Mr. Manuel's father was president of the fledgling National Indian Brotherhood in the early 1970s – the foundation for what ultimately became the Assembly of First Nations – and of the World Council of Indigenous People. Arthur followed his father into indigenous activism from a young age and raised his own five children to do the same.
His twin daughters, Mayuk and Kanahus, have both served jail time for land-use protests at the Sun Peaks Resort, near Kamloops, in 2000 and 2001, and they continue to be involved in actions related to land use and resource management in their nation's traditional territory. Arthur's sister Doreen Manuel is a filmmaker who teaches and co-ordinates the Indigenous Independent Digital Filmmaking program at Capilano University.
Mr. Manuel's family first attracted media attention in B.C. in the mid-nineties, when he and his then-wife, Beverly Manuel, owned a gas station and store on the Neskonlith Reserve. They successfully fought the federal government's plan to create a complicated "coloured tag" system for cigarette sales, an attempt by Ottawa to combat cigarette smuggling by sorting buyers by race.
But it was his family's long protest against Sun Peaks Resort that brought him the most headlines. Angered by the ski resort's expansion plans and water-main construction on Neskonlith territory, Mr. Manuel and his supporters organized road blocks and protest camps for more than a year around the resort, 56 kilometres northeast of Kamloops. The case was in and out of B.C. Supreme Court for many years after that.
The foundation of Mr. Manuel's activism was fighting for indigenous people's rights to acquire and control traditional lands and the resources they hold.
He rejected the modern-day style of treaty negotiation, believing that it was more likely to lead to municipal-style governments under federal and provincial control rather than free indigenous nations controlling their own lands. Canadian law recognizes the inalienable right of indigenous people to their land, and Mr. Manuel pushed back hard against a B.C. government treaty strategy that envisioned First Nations agreeing to give up those rights in exchange for getting a treaty.
"It was the rise of the B.C. treaty process and the push to terminate Aboriginal title throughout British Columbia in the early nineties that drew Arthur into the struggle in a way that he would never turn back from," wrote Dawn Morrison, chair of the Working Group on Indigenous Food Security for the B.C. Food Systems Network, in Mr. Manuel's memorial booklet.
Mr. Manuel made the point in all his public presentations that as long as indigenous people in Canada control just 0.2 per cent of the land base, aboriginal poverty will never be addressed.
"Self-determination is the international remedy for colonialization," he told CBC Radio in an interview about his 2015 book Unsettling Canada: A National Wake-up Call. "The big issue is to deal with this 0.2 per cent so we can become more self-sufficient in our own territories. The land is big. There's no reason why indigenous people should be totally impoverished generation after generation after generation when the land is that large."
Mr. Manuel co-authored the book with his lifelong friend Ron Derrickson, a Kelowna developer and six-time elected chief of the Westbank First Nation who is known for being one of the wealthiest indigenous people in the country. (Mr. Derrickson funded much of Mr. Manuel's international travel, and recently described his friend as "the most intelligent person I've ever known.") The book won the 2016 Canadian Historical Association Aboriginal History Book Prize. The pair's second book, Settling Canada, is expected to be released in April.
In addition to his writing, Mr. Manuel typically worked long into the night on organizing. "We all don't have his endless energy," Ms. Schabus says. "I lived with him. I saw that he was constantly working. But he was also a good dad and a good granddad. He was a good sle7e, which is Grandpa in his language. He used to come home from a meeting saying he didn't want his grandkids to have to experience the same struggle."
The Manuel family's principled activism came at a price. Ms. Schabus recalls nights after the Sun Peaks protest when she and Mr. Manuel struggled to comfort his four-month-old grandson after his daughter Kanahus was jailed for four months for her part in the protest and wasn't allowed to take the baby with her. The family was vilified as trouble-makers in some media accounts, and in the late nineties, Mr. Manuel often found himself on the wrong side of other indigenous leaders who supported the proposed B.C. treaty process.
For much of the past 15 years, Mr. Manuel's activism focused increasingly on the international community. In 2009, he returned to Geneva to petition the UN Committee on the Elimination of Racial Discrimination to review the B.C. treaty process. In 2003, he sided with the U.S. lumber industry in front of the World Trade Organization to successfully argue that logging on traditional aboriginal territory constituted a form of trade subsidy because the real owners of the land weren't being compensated. Frustrated with his inability to sway the thinking of Canada's federal and provincial governments, he opted to ignore them instead.
"Going to Ottawa is a waste of time," he told Red Rising Magazine in an interview published last summer. "You have to quit crying on the shoulder of the guy who stole the land. … Take lawful action, but back it up by going all the way to Geneva."
But even while on the world stage, he remained committed to regional activism, according to those who knew him. The February meeting he was organizing at the time of his death was to plan the next steps for stopping the expansion of Kinder Morgan's Trans Mountain pipeline, which runs 1,150 kilometres between Strathcona County (near Edmonton), Alta., and a marine terminal in Burnaby, B.C.
"He gave us the map," Ms. Schabus says of her late spouse's recent work. "We've just got to keep pulling the pieces together. My world is shaken, but at the same time I've learned so much from these years with him. We must keep it going."
In the hours after his death, friend and fellow activist Naomi Klein tweeted: "Arthur Manuel had a beautiful and transformational vision for the world we need. But he died fighting in the world we have. Heartbroken."
Mr. Manuel leaves behind Ms. Schabus; sisters Emaline, Martha, Doreen and Ida; brothers George, Richard and Ara; children, Kanahus, Mayuk, Ska7cis and Snutetkwe; and nine grandchildren. He was predeceased by his son Neskie Manuel, who died in 2011.
Unsettling
Obituary: Arthur Manuel died on January 11th
A leader of Canada's indigenous "First Nations" was 65
Jan 28th 2017
http://www.economist.com/news/obituary/21715631-leader-canadas-indigenous-first-nations-was-65-obituary-arthur-manuel-died-january-11th
THE fine for trespassing on the railway was only $25, but the 16-year-old knew nobody with that kind of money, so he accepted the 30-day jail sentence instead. He shouldn't have been sent to an adult prison at all, but he lied about his age. Anything was better than the dreaded Child Protection officials, who wrenched children like him from their families.
The inmates at Spy Hill jail were a frightening bunch—made of cement and iron like the building itself, he recalled. But the food was the best he had ever eaten: meat and potatoes, pork chops, broiled chicken, sometimes steak, sausages for breakfast. Better than at home, where the food money all too often went on his father's political campaigns. And so much better than the monotonous "mushy macaroni" at his state boarding school.
Arthur Manuel fumed. Canada treated even its prisoners better than its original inhabitants. He secretly planned a food strike. But his schoolmates, many of them institutionalised since the age of five or six, were too scared of confronting the white man. He wrote secretly to an outfit he had only read about, the Native Alliance for Red Power (NARP). Weeks passed. He began to think nothing would happen. Then he was called for an eye test. He was puzzled. His vision was perfect. But the technician, a fellow-Indian, whispered. "Don't say anything. I'm from NARP. We will support your strike."
The protest fizzled, but his spirit had fired. Opposition to chicanery and injustice ran in his veins. His father George had been a tribal chief and activist, negotiating in a suit, paid for by a whip-round among the Secwepemc Nation, drawn tight round his tubercular frame.
This land was your land
Mr Manuel went to law school. In his 20s he was leader of the Native Youth Association, four times chief of his home reserve and for six years chief of his tribal council. A wily litigator and effective lobbyist, he supported direct action—occupying buildings, mustering demonstrations, and picketing building work that desecrated sacred sites. But he also knew the game was rigged. Canada's colonial thinking was too entrenched. The answer lay abroad.
That was a masterstroke. A country so conscious of what he called its "boy scout" reputation in international affairs could, with teeth-grinding reluctance, be shamed into righting the wrongs of the past.
Like previous generations of indigenous leaders, he sought help in London: King George III, after all, had proclaimed that Indians should not be "molested or disturbed". It was later generations of colonists who had so shamefully taken advantage of the original inhabitants' friendliness, weakness and ignorance.
One victory came in 1981, when he drummed up opposition in Britain to a sneaky attempt to omit the Indians' rights—nothing more than "historical might-have-beens"—from the Canadian constitution. That won a promise to "affirm and recognize" the First Nations' status. But in reality, he wrote sadly afterwards, it was more a case of "ignore and deny". Logging and mining continued unchecked; Indians remained dispossessed, with shortened, sickly, jobless lives, tolerated as wards of the state rather than full citizens, paid a pittance, with shrinking rights over their despoiled lands.
Commercial pressure worked better. He pestered Standard & Poor's until the credit-rating agency agreed to a meeting, where he pointed out that Canada's unpaid, unquantified debts to its indigenous peoples were a contingent liability that should affect its sovereign rating.
With allies such as the Nobel prize-winning economist Joe Stiglitz, he turned American protectionism to his advantage, too. It was bad enough that Canada's loggers cut the forests from top to bottom, "scarred the land, changed the course of our streams and rivers, and choked off the salmon runs…with their sluices and booms". They also benefited from a hidden subsidy, he argued to the Commerce Department in Washington, because they cut trees on land that rightfully belonged to the indigenous peoples, without paying them a cent. It seemed a long shot, but America's retaliatory tariffs were upheld in arbitration in NAFTA and the World Trade Organization. In 2007 came his biggest triumph: a UN declaration on the rights of indigenous peoples, grudgingly signed even by Canada.
He shunned violence and bitter rhetoric, for which he was dubbed Canada's "Nelson Mandela". It was "reductio ad absurdum", he insisted, to portray his demands as a denial of the settlers' rights. They had built a country that was the envy of the world. They could stay. Nor did it make sense to demand "astronomical" sums in compensation for the epidemics of smallpox, measles, influenza and tuberculosis, for the apartheid-style abuses and repression, and for the actions of officials who had aimed to rid the country of the "weird and waning" Indian race.
But Canada could treat his people justly. It could give them their fair share of profits made on their land, and above all it should drop "discovery": the obnoxious notion that a white man, merely by sailing past a river mouth, could legally claim ownership of an empty space, as if it had no human inhabitants.