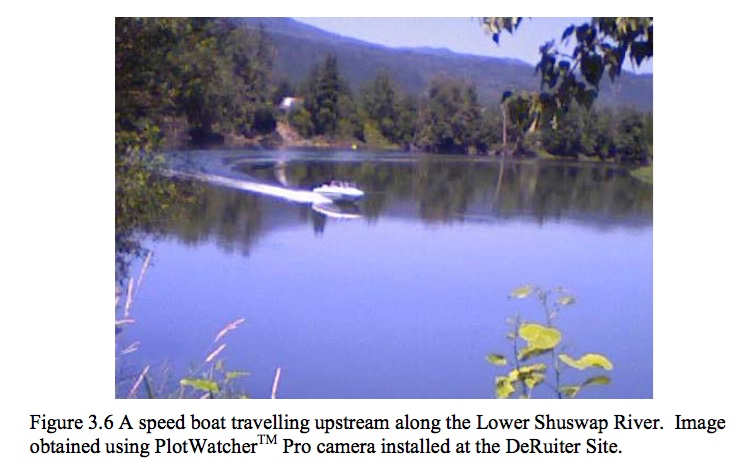 Environmentally conscious Shuswap River residents have been advocating for improved boating regulations since 1994, when the first application was made to the federal government for a 10 horsepower motor restriction. The regional district initially supported the restriction, but they capitulated soon after the powerboat community began lobbying for no changes. Since then, the problems have swelled with an estimated 2 metres or more of riverbank in some areas lost to erosion, as the number and size of speed boats continues to increase.

Organic farmer Hermann Bruns grew up alongside the river where he has witnessed the problems first hand and he has been a strong advocate for improved protection. In 2010, he made a presentation to the regional district, on behalf of the Mara River Group, about the rising impacts of motorized recreation that called for a planning process to address all the concerns in the watershed. As a result, the Shuswap River Watershed Sustainability Plan process began and four years later after extensive public consultations it was completed.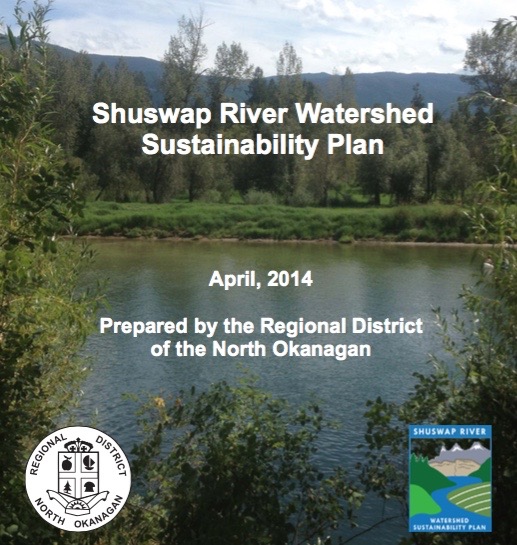 One of the key strategies in the plan is to establish boating regulations that include either a no wake zone or a speed restriction between Mara Lake and the Trinity Valley Bridge and a non-motorized zone between the bridge and Mabel Lake. The first step to achieving this goal is more public consultation, including the online survey that can be filled out up until August 28th.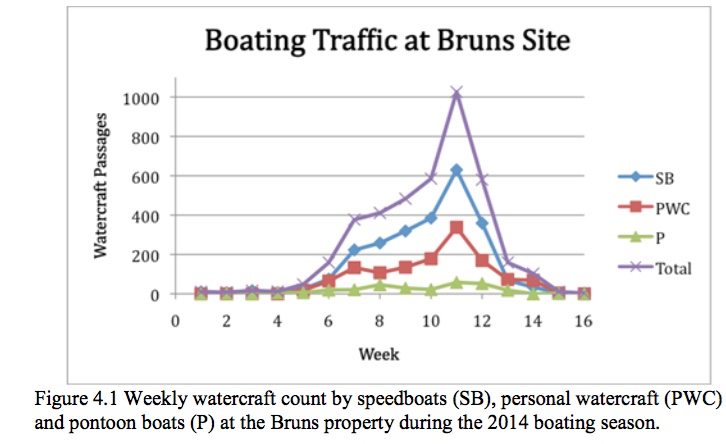 A number of studies have been conducted to determine the level of impacts to the river from motorboats. In 2013, two remote cameras installed along the river provided some statistics on the growing number of boats. The numbers are highest during the weekends in July and August, when hundreds of high-powered speedboats, personal water craft and pontoon boats cruise up and down the river, some towing water skiers and wake boarders.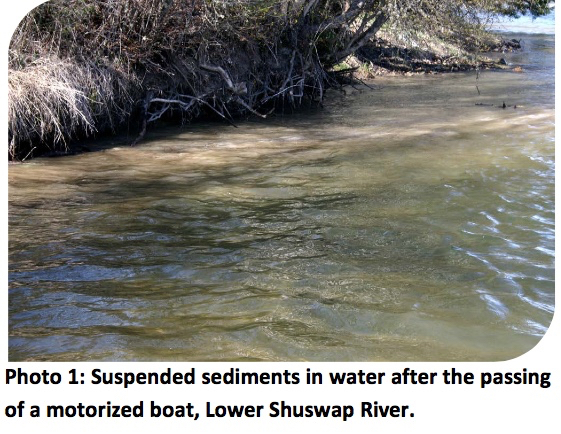 Scientific studies done in other regions do show how motorboats can cause erosion of riverbanks, which can result in sedimentation and turbidity of water, destruction of riparian vegetation, damaged waterfowl nests and the loss of land. Vessels especially wake boats, create amplified wave action that is far more erosive than wind generated waves or natural currents and these problems are intensified during high water.  A 2013 study at the Shuswap River showed how the impacts vary in different locations depending on the amount or types of riparian vegetation, the presence of protective barriers such as islands or the actual shape of the river.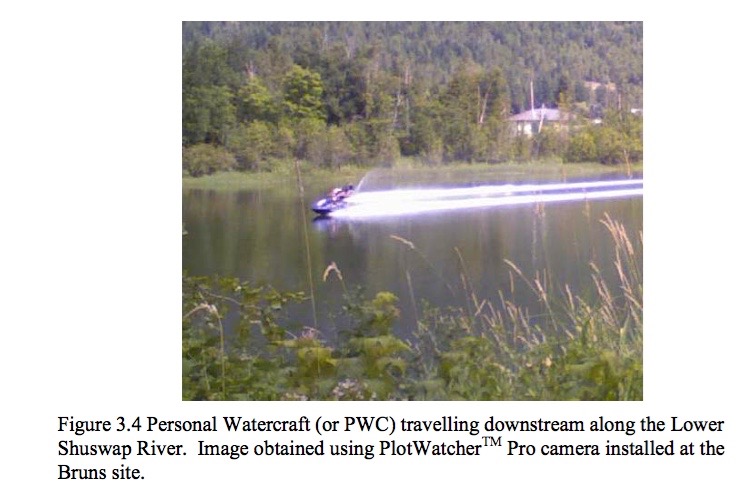 The final 2014 report on Shuswap River erosion processes describes how the shear stresses during the spring freshet are too small to cause erosion, whereas the peak period for erosion is during July when the river level is still high and boating traffic is extremely busy. The influence of boats later in the year is less because the water levels are too low to erode the banks. Overall, the authors noted that results were inconclusive in regard to the overall impact of boating because there was only one year of data and more efforts are needed to understand the natural factors involved, however the report does conclude that boat wakes do cause impacts.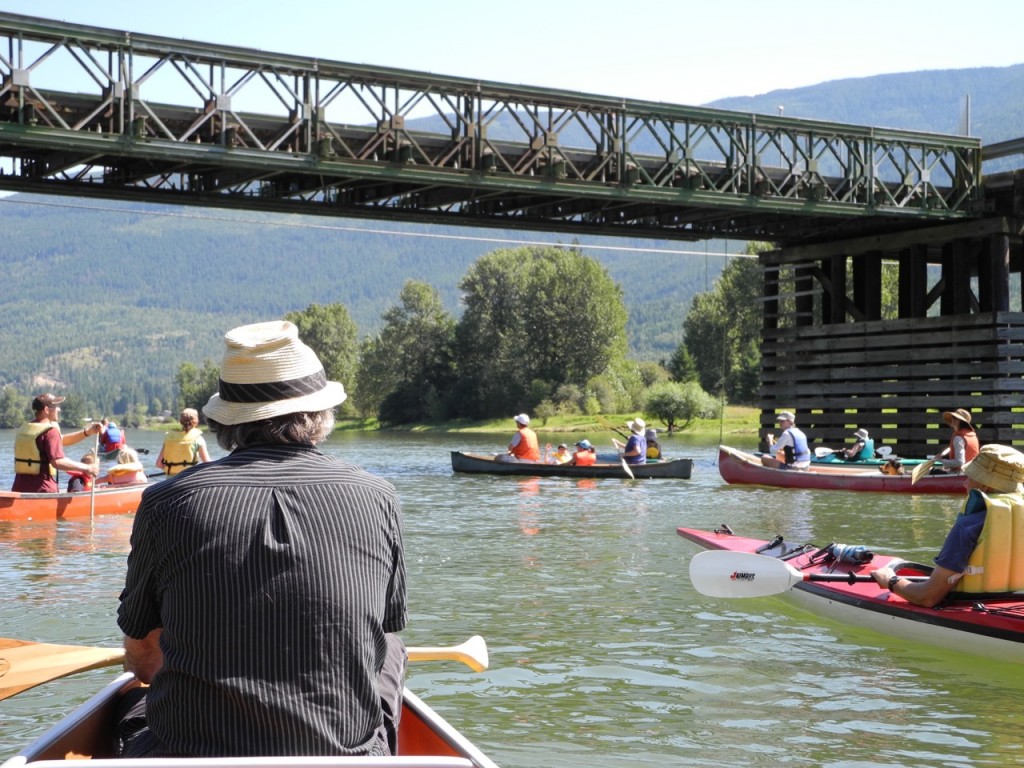 Every year the Lower Shuswap Stewardship Society sponsors the No Wake Flotilla to raise awareness of the need for boating restrictions on the river
Another major issue regarding boating on the river is that of safety, as the chance for collisions with non-motorized river recreationists increases as the size and number of motorboats increase. On a busy summer weekend day there can be upwards of 800 tubers floating down the river to Enderby and there have been reports of near misses.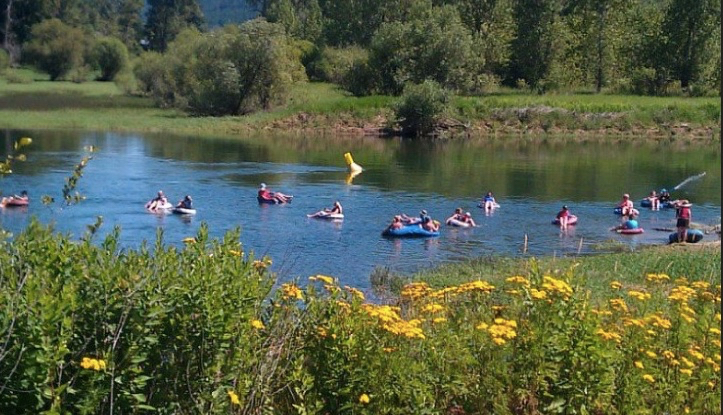 There is a growing trend in recreation that shows a shift from motorized activities to non-motorized, including hiking and cycling, to water sports like canoeing, kayaking and paddle boarding. Yet the motorized recreation community can be strong lobbyists and already there is a very active effort to convince the regional district to maintain the status quo. Given that motors also pollute and add more carbon to the atmosphere, it only makes sense that the shift to non-motorized recreation should be promoted and that restrictions be created to better protect the Shuswap River.
Since the campaign began over twenty years ago, voluntary measures, including signage and recommended speed limits, have been largely ineffective. Existing laws governing waterways only address safety and do not cover the environmental impacts from the proliferation of powerboats. The only solution now would be stringent regulations and effective enforcement, but concerned residents need to get involved. You can help by filling in the survey at www.rdno.ca.
POSTSCRIPT
To learn more about this issue, use the link above and download the reports on the topic. Here is some additional information as well:
THE SHUSWAP RIVER NEEDS YOUR HELP
A strong lobby from the motor boating sector is putting proposed boating restrictions for the Shuswap River at risk; the boating restrictions are intended to protect the environment, salmon and many other values on the Shuswap River.  Your help is needed to ensure democracy prevails by completing the survey and writing letters of support described at the end of this document.  It took us 20 years to get to this point and 3 ½ years of hard work to come up with a balanced proposal.  This opportunity will not come again.
The Regional District of North Okanagan (RDNO), with support from local citizen groups, commenced the watershed sustainability planning process in 2010.  There were open houses, media releases, public announcements and the formation of working groups to identify the issues, concerns and solutions.
The single most important issue arising from this process was the protection of the Shuswap River.
After examining all possible solutions, the Sustainability Plan calls for restricting power boat activity on portions of the River.
These restrictions will:
1)    reduce the negative impacts of power boats on the natural environment including fish and wildlife,
2)    increase safety for all users,
3)    protect water quality,
4)    reduce erosion of private land, and,
5)    promote the benefits of non-motorized recreation.
Natural environment: Many different aquatic and land species rely on the river and the critical adjacent riparian area.  The Shuswap River supports one of the largest salmon runs in the province.  It also suffers high pre-spawning mortality losses.  Power boats disturb salmon resting in critical holding locations; they collide with the salmon in the shallow spawning grounds; they produce shock waves that kill salmon embryos in the gravels; they dislodge eggs from their protective covering; and, they produce waves that throw salmon fry onto shore and cause stream bank erosion, leading to siltation and suffocation of salmon eggs.
Safety: One power boat travelling up and down the river at high speed can be a risk to hundreds of other users such as canoeists, kayakers, tubers, paddle boarders and swimmers. Regulations will reduce the ongoing conflicts between power boaters and other users by zoning for compatible uses such as a non-motorized zone, a restricted motorized zone and an unrestricted motorized zone.  Power boats will continue to have full usage of all the lakes in the system.
Water quality: Power boats cause pollution because up to 30% of the fuel is discharged unburned and additional toxins enter the water through the exhaust.  Of particular concern are certain carcinogenic hydrocarbons and MTBE that do not evaporate.  Boats also stir up fine particles on the bottom and erode stream-banks causing siltation and turbidity.  This is a major concern for many residents, the City of Enderby, and farmers who draw drinking water and irrigation water from the river.  It is also detrimental to the survival of fish and other aquatic life.
Reduce erosion: A recent study found that river bank erosion was greatest during the periods of highest use by power boats.
Promote non-motorized recreation: Creating a zone on the river for non-motorized recreation will promote healthy life-styles, reduce the impact on the environment and reduce the consumption of non-renewable energy.  Currently there are no accessible and safe rivers in Southern BC where paddlers, floaters and swimmers can enjoy the peaceful, natural beauty of our rivers without the noise, pollution, environmental damage and safety impacts of motor boats.  Governments have created separate zones and trails to separate skiers from snowmobilers, hikers from ATVs, and cyclists from motor vehicles.  It's time they separated paddlers from boaters on rivers.
Why Regulations?
Over the past 20 years, voluntary speed restrictions and signage promoting avoidance of sensitive salmon rearing habitat have been ignored by power boaters.
Let's remember, the rights of a single user group such as power boaters are no more important than the rights of others. We must act to also ensure protection of habitat for fish and wildlife, protection of water quality, and safety for all.
What can you do?
You can help by filling out the Shuswap River Vessel Operating Restriction Regulations Survey at www.rdno.ca/boating by August 28th, 2015.  Postage-paid paper surveys are also available at the Regional District, Enderby City Hall, and numerous other organizations.  Be sure to include your name and email address to identify your residency.  In addition, you can also help by sending letters of support to the following:
·       RDNO Electoral Area B: Bob Fleming, 6040 Butters Road, Vernon, BC, V1B 3L5.  bob.fleming@rdno.ca. Phone: 250 558-9653.
·       RDNO Electoral Area C: Mike Mcnaab, 5656 Neil Road, Vernon, BC, V1B 3J5.  Mike.mcnaab@rdno.ca. Phone: 250 545-8138.
·       RDNO Electoral Area D: Rick Fairbairn, PO Box 525, 292 Trinity Valley Road, Lumby, BC, V0E 2G0.  rick.fairbairn@rdno.ca. Phone: 250 308-9543.
·       RDNO Electoral Area E: Hank Cameron, 92 Begbie Road, Cherryville, BC, V0E 2G3. hank.  Cameron@rdno.ca. Phone: 250 547-2445.
·       RDNO Electoral Area F: Herman Halvorson, c/o RDNO, 9848 Aberdeen Rd, Coldstream, BC, V1B 2K9.  herman.halvorson@rdno.ca. Phone: 250 838-7407.
·       Greg McCune, Mayor of Enderby, 33 Preston Crescent, Enderby, BC, V0E 1V1.  gregmccune@telus.net. Phone: 250 550-5930.
·       David Sewell, Chief Administrative Officer, Regional District of North Okanagan, 9848 Aberdeen Rd, Coldstream, BC, V1B 2K9. david.sewell@rdno.ca. Phone: 250 545-3700.
·       The Honourable Lisa Raitt, Minister of Transport, 330 Sparks Street, Ottawa, Ontario, K1A 0N5, Phone 613 991-0700.
·       Greg Kyllo, MLA, PO Box 607, Suite 202A – 371 Alexander St. NE, Salmon Arm, BC, V1E 4N7, greg.kyllo.mla@leg.bc.ca. Phone: 250 833-7414