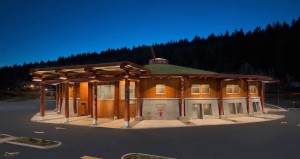 Splatsin Community Centre, image by George Williams
Peace, harmony and goodwill are integral to the holiday season and these ideals are also part of the spirit behind the new Splatsin Community Centre, which was officially opened on December 5th. A massive round building with room for upwards of 2,000 people, the magnificent building is designed in the shape of the traditional underground winter lodge with a sod roof. There are 24 huge log posts and beams surrounding the multi-use main floor, and on the upper level there is a circular balcony running track along with offices and meeting rooms.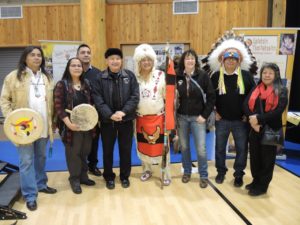 Chief Wayne Christian with Council and honoured guests
The grand opening was a huge celebration with speakers, music, drama, dancing and food, all organized by former Splatsin chief, Gloria Morgan. The day began with a pancake breakfast, followed by a welcome and an honour song. It was inspiring to watch both elders and young people wielding the scissors to cut the rawhide ribbon.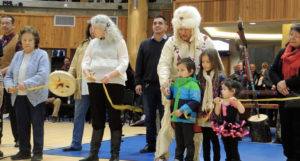 As in a Pow Wow, there was a grand entry circle march with elders and honoured guests including First Nation and political leaders.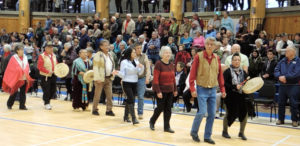 The grand march
The speeches began with welcoming words from Splatsin Chief Wayne Christian, who explained how the project took decades of dialogue and input from the community and that there were many people involved in its creation. He emphasized how the building is dedicated "not to those who are here now, but to those who are not here, the yet unborn." Both Regional Chief of the BC Assembly of First Nations, Shane Gottfriedson and Grand Chief Stewart Phillips provided congratulatory words and praised the Splatsin for their efforts to create a better life for their community and neighbours.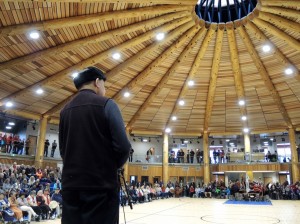 Grand Chief Stewart Phillips addresses the crowd
There were additional words about the brighter future thanks to the new centre from Shuswap MLA, Greg Kyllo, Enderby mayor Greg MacEwan and regional district director Hermann Halverson. Then the entertainment began, beginning with Neskonlith storyteller Kenthen Thomas who acted out the legend about the struggle between coyote and bear to create day and night.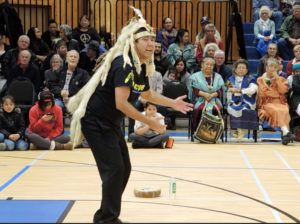 Neskonlith storyteller Kenthen Thomas
After more dancing, drumming and singing there was bannock and chili.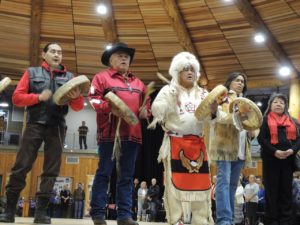 After lunch, we were treated to more entertainment by Shihiya School students, who sang five songs in the Secwepemc language.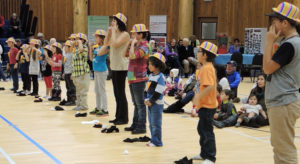 The new centre is a state of the art facility, with efficient LED lighting, stage lighting, a sound system, a cushioned gymnasium floor, showers and change rooms and numerous smaller, multi-purpose rooms. The water flowing off the green roof is captured and then used to water the grounds. Heat is delivered to the building from an emissions free, waste-wood fired boiler located in the nearby Fink Machine operation.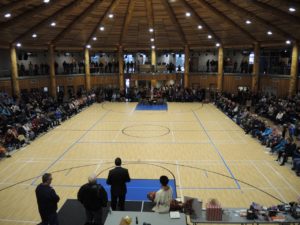 Upcoming activities at the centre include Secwepemc Nation ceremonies, banquets, as well as ongoing sports and recreation for the school and the community. With its large side doors that can accommodate trucks, the building is designed for many uses, including trade shows and car shows. Cultural events could include both theatre and live music. Perhaps one day it could be used for an Aboriginal Music Festival.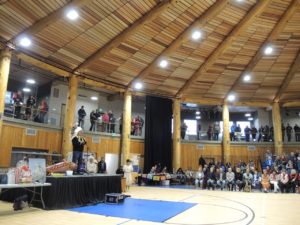 The new centre is just the latest in the list of successful projects and services in the Splatsin community. The Shishiya School has been in operation since 1973. There are currently 43 students in grades one to six and there is also a half-day pre-school program. Other services include the day-care and the health centre.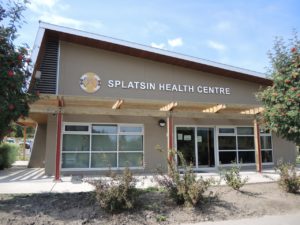 Economic development is another key focus for the community. The Splatsin Development Corporation includes four companies that operate a diverse set of enterprises. Quilakwa Investments runs the popular convenience store and fuel station now located in a new magnificent, carved post and beam building that includes a gift shop and a Tim Hortons.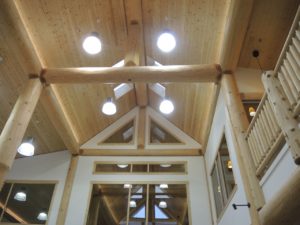 The new Splatsin store and coffee shop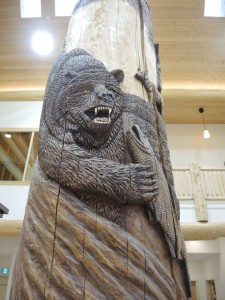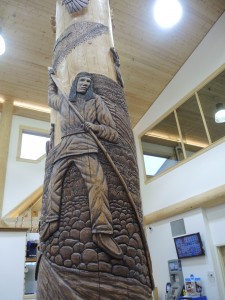 Additionally, there is a forest management company, a heavy construction and environmental services company, and a community forest.
The new community centre will no doubt become a regional landmark and a showcase for the growing Splatsin community, where shared events and activities will spread goodwill and bring people together in peace and harmony.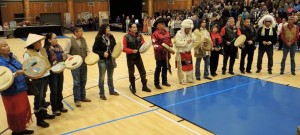 POSTSCRIPT
Some statistics –
total cost – $15-million
size – 33,581 square feet over three floors
The centre features a basketball court and a running track, and the goal is to host events ranging from banquets and conventions to indoor car and boat shows. It can accommodate 2,000 people.
More photos from the fabulous grand opening: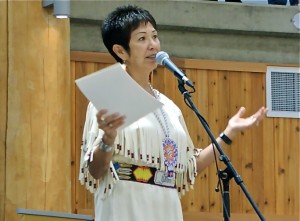 Former Chief Gloria Morgan