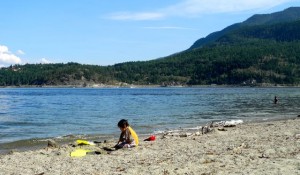 The Shuswap's defining features are its lakes and rivers with warm water that is ideal for swimming. Yet, if you visit any one of the Shuswap's many beaches, you will find many sun worshippers who love floating on tubes and rafts, but fewer people who are actually swimming. What happened to the crawl, the sidestroke, the breaststroke, the backstroke and the underwater frog kick? And you cannot you even find a diving board at any of the Shuswap beaches anymore.
For the motorized crowd there is the seemingly endless water parade of speedboats, wake-boats, personal watercraft, and houseboats. Thousands of tourists flock here every summer to enjoy our luscious warm waters, but the number of people swimming is on the decline.
Non-motorized water recreation is also booming, with many more kayaks, canoes and dragon boats in the water. And the new sport of paddle boarding is now taking off with an added twist of doing yoga and Pilates on these tippy long-boards. Floating down the Shuswap River is also gaining in popularity to the point that it is creating problems such as parking and garbage issues.
While non-motorized forms of recreation are indeed experiencing some degree of a renaissance in the Shuswap with the expanding number of biking and hiking trails, the sport of swimming seems to be losing popularity. Somehow, the twenty-first century obsession over safety has resulted in the loss of most of the swimming rafts at public beaches except in Sorrento and Blind Bay.
The decline in swimming was not always the case, as a look back in time reveals that water sports were a very popular form of recreation for the pioneers. During the early decades of the last century, regattas were held in Sorrento, Salmon Arm (likely in Canoe), Sunnybrae, Sicamous, Chase and Blind Bay. In addition to the boat races, there were swimming races and diving competitions. In later years, water skiing competitions were also very popular.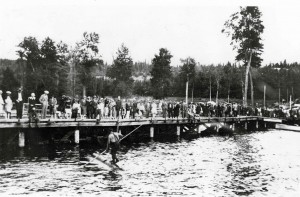 Log rolling competitions were popular at the Sorrento Regatta
A 1912 issue of the Chase Tribune reported, "For people of leisure, the Blind Bay Regatta robs the Sorrento School of most of its pupils for the day." The Sorrento Regatta was held on July 1st and hundreds of both spectators and participants came from as far away as Kamloops and Kelowna. After the daylong series of race and show events, the celebration ended with a dance party.
The Reverend Grice-Hutchinson, who was an accomplished athlete, as well as a very sociable gentleman, organized the first Sorrento Regattas. He supervised the construction of a twenty-foot high diving platform from which he won the contest with his famous swan dive that he always performed with "grace!"
Lee Creek pioneer, Barbara Wood, has fond memories of the Regattas. She recalls how everyone came from miles away. "I entered a ladies rowing race and there were just three boats."  She drew straws to see who got which boat. "I came in second with a big rowboat, the first place winner had a canoe! The motorboats raced to Copper Island from the wharf. There was ice cream, pop and running races for the kids."
The town of Clearwater has revived the tradition with an annual regatta held at the tiny Dutch Lake. Last year we participated in the fun, daylong event that included many types of canoeing and swimming races. In one race, we had to swim to the raft holding a spoon with an egg in it! In another race, we had to paddle to the raft and then put on dresses and wigs before canoeing back to the finish line at the beach. Every participant won one of the fun prizes donated by area businesses.
Since water defines us in the Shuswap, we could do more to celebrate our warm, clean lakes and get some good exercise to boot. Regattas could be revived that focus on non-motorized events that include swimming races. Efforts should be made to add more swimming docks to our beaches to entice beachgoers to get off their mats and beach blankets and into the water.
Another idea to celebrate our lakes would be for communities or organizations to sponsor group swims across the lake, which could serve as fundraisers for worthwhile causes. There are a number of ideal locations where the distances are relatively short such as between Scotch Creek and Sorrento, Magna Bay and Eagle Bay and Sunnybrae and Canoe. With all the extreme sport challenges that are popular now, why not add a swim across Shuswap Lake!
POSTSCRIPT
There is at least one annual long distance swim in the Shuswap. A group of family and friends do a yearly swim across Blind Bay every BC Day long weekend. They have a number of boats to protect the swimmers and the boats are marked with balloons.
Admittedly, an increasing number of people do have a good reason to avoid swimming because they are impacted by Duck Mites – an irritating itch from miniscule worm-like parasites. Apparently, the prevalence of these parasites in Shuswap Lake seems to be increasing. Thankfully, not everyone is susceptible to to this skin irritation.