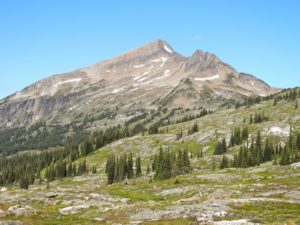 Mount Fosthall is the second highest mountain in the Shuswap
The Shuswap region is defined by its watershed, which includes the rivers and streams that all eventually empty into Shuswap Lake and the South Thompson River. However, it is the Monashee Mountains that actually direct much of this flow of water. These mountains in turn form part of the Columbia Mountain Range that also includes the Selkirks, Purcells, and the Cariboo Mountains.
Within the boundaries of the watershed is the distinct Shuswap Range that includes Queest Mountain and lower peaks and ridges. There is also the Hunters Range that extends north and south of Mara Mountain. The tallest peak within the Shuswap is Mount English, at 2701 metres and the second tallest is Mount Fosthall at 2679 metres in Monashee Provincial Park.
At one time, the Monashees were called the Gold Range, but were renamed by an early prospector, David McIntyre, Monashee, which is commonly considered to be Gaelic for 'mountain of peace,'. However, local historian and writer Don Elzer has a new theory, since mountain in Gaelic is actually sliabh, pronounced shleeve and peace is sith. Elzer believes that Monashee more accurately describes the mythical fairy inhabitants of the island of Mona and this theory corresponds to a movement in the late 1800s to restore the old Gaelic culture.
The Monashee Mountains extend some 320 kilometres from Valemount in a narrow band all the way into Washington State and are made up of some of the oldest rocks in British Columbia. Unlike the Rocky Mountains, which are primarily made of sedimentary rock, the Monashees are mostly metamorphic rock, with some bands of granite or igneous rock. And while we often think of most mountain tops as difficult to access except by the most experienced climbers, most Monashee peaks are relatively easy to access by hiking or even driving, especially those peaks within the Shuswap watershed.
Perhaps one of the most appreciated features of the Monashee Mountains is its ability to trap the moisture from the Pacific and thus create consistently high snowpacks that not only supply our lakes and streams with ample water but also provide some of the best skiing conditions in the province. Whether one enjoys sledding, Nordic skiing, alpine skiing, or backcountry touring, there are plenty of opportunities to find great snow in the Monashees from late fall to spring.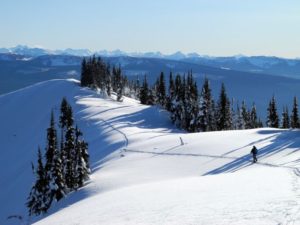 Gorge Creek, in the Anstey Range, is a popular backcountry ski area near Malakwa
In addition to the high snowpack, all of the moisture trapped by the Monashee Mountains helps to create a type of forest ecosystem that is unique to British Columbia, the inland rainforest. Massive cedar, hemlock and spruce trees, some older than 1,000 years, can be found in these forests, along with species of ferns, lichens, and shrubs adapted for the cool, very wet climate found in the Shuswap. Fortunately, some of these forest stands have been protected as parks, although most of these giant, ancient trees were turned into lumber due to relentless logging for over 100 years.
One section of the Shuswap Range, the Anstey range, is currently a no-staking mineral reserve due to its extremely unique status. These mountains contain syenite, a rare coarse-grained intrusive igneous rock similar to granite but without the quartz. As well, there is carbonatite, another rare igneous rock that can also include rare earth metals. Consequently, this portion of the Monashee Mountains has been set aside for research purposes.
Most of the igneous minerals, including those that are so important for our advanced societies, were at one time molten liquids that were formed into veins or deposited in layers mixed with other compounds. The most sought after, gold, often eroded and became deposited into creek beds and ended in gold pans or was removed with placer mining. Scattered throughout the Shuswap, as in many other regions, are veins of quartz, a very commonly found igneous mineral.
Typically missing throughout the Shuswap are igneous-formed, granite-type rock formations that climbers prefer, but there are exceptions and many of these areas have become destinations for the local climbing community. An easily accessible example can be found adjacent to the Syphon Creek waterfall in Gleneden, where there are grano-diorite cliffs that have many bolted routes. Other areas include Kault Hill, Haines Creek near Silver Creek and a massive rock face on the east side of Adams Lake.
It is also rare to find sedimentary rock like limestone, shale and sandstone in the Shuswap, but once again there are a few exceptions. The famous pillar above Pillar Lake near Falkland, is a 30 metre tall hoodoo of conglomerate sandstone capped with a rock.  It was likely created by erosion from a glacier.  And the gypsum located above Falkland is a lightweight sulfate mineral associated with sedimentary rocks that is deposited from lake or seawater or from ancient volcanic hot springs.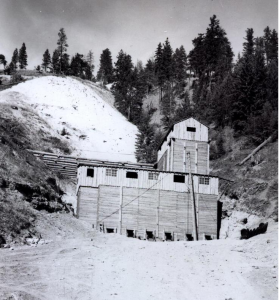 Falkland Gypsum mine, circa 1938