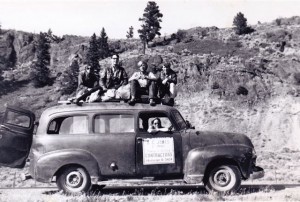 'Lovely Rita, the meter maid' – my first vehicle on its long trip in the summer of 1967  from Berkeley, north to Vancouver through the Shuswap to Jackfish Lake in Northwestern Ontario near the border where we spent 10 marvelous days canoeing, fishing and mostly camping in one cool spot atop a rocky knoll above the lake with our puppy, Dillweed. Atop the truck are four hitchhikers, likely on their way to Expo 67 in Montreal.

PREAMBLE
I began a little history project about our Lee Creek community on Facebook and challenged everyone to write a description of their first visit. Here is what I wrote:
The story begins in 1959, when it was my third season at summer camp, near Ely, Minnesota. Every year we went on week-long canoe trips, and after enjoying the latest adventure I yearned for the following year's two-week long trip in Canada. But in 1960, our family moved from Minneapolis to San Diego where I soon forgot about canoeing as I spent long summer days at the pool or the beach.
Camp Warren, Ely, Minnesota
Flash-forward to 1967, when Debby and I headed off in a battered 1949 Chevrolet Panel truck with windows we called Rita.  We were on a month long circle trip through to Northwestern Ontario and back home to Berkeley, California through Minnesota, so I could fulfill my childhood dream of canoe camping in the wilds of Canada.
We immediately fell for British Columbia and we were heading for Shuswap Lake to camp at Scotch Creek when a wicked rainstorm dashed our plans. We pulled into a small campground along the river at a farm in Pritchard, where we quickly became friends with the owners, the Stewart Campbell's. We swam in the river, rode horses, explored the area, so it was easy to fall in love with the Shuswap.
We were on our honeymoon in the summer of 1968 when we arrived back in the Shuswap. I was a new graduate from the University of California at Berkeley, a radical anti-war activist, and a wild-eyed, back-to-the-land idealist with a little nest egg to buy land, where we could live the idyllic, Mother Earth News lifestyle that we dreamed about and enjoy our freedom.
Of course we stayed at the Campbell's in Pritchard and they directed us to the local realtor in Chase. I remember sitting there in his office and describing our desire to purchase enough land for large gardens, a cow and horse. He suggested two listings. The first was two acres in Le Beau Flats for $3,000 or 80 acres on a hillside about the lake for $4,000. I replied we will take the 80 acres, upon which he replied, "Don't you want to look at it first?"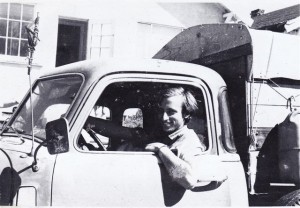 April, 1969 – The day that we left Berkeley in Lucy, with the homemade Conestoga wagon style camper to settle in Lee Creek, B.C. on 80 acres above Shuswap Lake – our first visit was the year before
It was either that same day, or the next one that three Campbell kids, Willy, Hamish and Heather, piled into our truck (now a '49 pickup named Lucy) with us, and we followed the realtor up the steep gravel logging road that took off the highway just after where Emil Martinowski used to have part of an old bomber parked. I can remember that my biggest impression of the trip was how plentiful and thick the trees were and even back then, I was a tree-hugger. The driveway into the property was narrow, muddy and iffy; but we managed to pull into a small yard next to a little log cabin.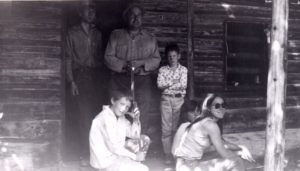 July or August 1968, Our first visit to Lee Creek
Earl and Andrew White, shakecutters and Willy, Hamish and Heather Stewart (Pritchard kids), and Debbie

We eyed the yard that was filled with the debris from cutting shakes, as two grimy guys, Earl and Andrew White came out of the cabin to greet us. They were classic gypo loggers, who would make enough shakes to keep them in booze, food and gas and this cabin was perfect for them as they were just squatting there.
We noticed the windows had recently been boarded over and we asked them why? As it turns out, a black bear had been harassing them, as no wonder; on the other side of the cabin was a large pile of their garbage! The bear ended getting shot just the day before and we were told where we could view the carcass. The kids posed with the men for this photo, which I still treasure today.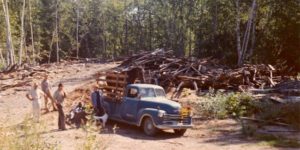 Circa June 1970, The slab pile with Lucy either loading or unloading old Judd, a workhorse we transported for Bob Foster, another gypo logger that Bode and I worked for. Judd spent the winter with us.
There really was not too much to see, as the cabin was nearly surrounded by bush. Over the last two decades, there had been at least two small stud mills on the property so there were piles of stumps, slaps and sawdust everywhere, including a massive pile, 120 feet long, 40 feet wide and 10 feet high not far above the cabin. In front of the house was a hole, with stumps and a car wreck. Of course we loved it anyway and we told the shake cutters that we were buying the property, but that they were welcome to stay until we returned. Oh, and we did check out the dead bear in the ditch on our way out.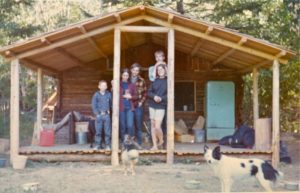 Early summer, 1970, Hamish Campbell, Debbie, Me, Bode and Madeline in our unfinished addition to the cabin for the kitchen, dining room and living room! Notice the kerosene fridge. All construction was done with hand tools as we had no power saws in those days. The floor is made of slaps from the giant slab pile, each one had to be notched to be level on the log beams below. The posts are in the ground and the floor beams are on rocks. Many generations of dogs were born between the beams underneath this addition to the cabin.