In 1912, a new post office in what was then called Trappers Landing first used the name Sorrento for the cancellation stamp. Early land developer James Kinghorn had chosen the community's name because the area reminded him of Sorrento, Italy. The 100th anniversary is being celebrated this year with a variety of events, beginning with "Gates Open," a tour of pioneer homes on July 19th followed by a street party on July 21st.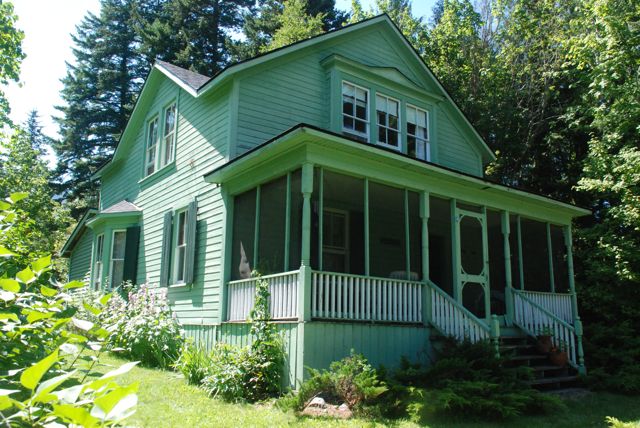 Coubeaux home
Many of the original homes and buildings in Sorrento and Notch Hill were built by Lee Creek homesteader Alex McKay, including the Walter Dunne Home, the Coubeaux home, and St. Mary's Church. McKay also designed the original church, while the log work was mostly done by Tom Foster, who was half Blackfoot Nation and whose half-sister was married to another Lee Creek pioneer and remittance man, Harry Hopwood.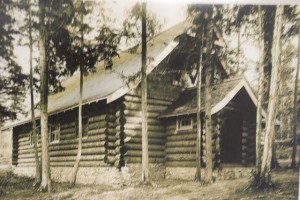 Original log St. Mary's Church
In 1986 and 1987, I interviewed Alex McKay's daughter, Barbara Wood, who lived at the time in Chase. She provided some fascinating stories about the lives of the first settlers in this part of the Shuswap. Her father's skills as both a carpenter and mason became well appreciated throughout the region, as he was often away constructing homes and buildings in Salmon Arm and Kamloops, including the CNR Station and the Masonic Hall. When he first worked in Sorrento, he traveled there by boat, as there were no roads in those early days.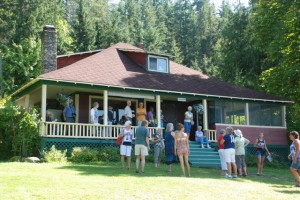 The Walter Dunne Home
The first, long-term settler at Lee Creek was Oliver Freeman, a bachelor from Ontario who arrived in 1906 by sailing up the Thompson River. He was joined briefly by his sister, Isabel, who returned in 1910 to homestead an adjacent section of land with her husband Alex. A few years later, Alex's brother Bill arrived with his family to homestead the property where the Cottonwood Campground is now. The last family member to join the group was Oliver's father, James, who arrived to homestead here at the remarkable age of sixty-three.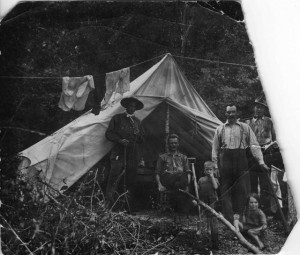 Alex McKay with two of his children, Rory and Barbara, circa 1915
Just as the old saying goes, Alex was too busy building other people's homes to do a decent job on his own, although his family was also plagued by calamities. They spent their first winter in a tent on the beach, when Barbara was a baby. He then built a rather rugged looking log home that unfortunately burned down in 1921. Although he quickly built a new house, his youngest son Kenneth, was playing with matches and burned it down after they were only in it for a few weeks. Fortunately, the house he had built for his brother Bill was available, which at the time only had three rooms. He spent years finishing it. This house later became known as the Hunt Gallery and is still there today.
Lee Creek, in those days, was like a suburb of Sorrento, as it was the closest community, accessed by boat during most of the year and by crossing over the ice in the winter. Lee Creek families bought their supplies in Sorrento and Blind Bay and the children attended school there until they built the Lee Creek School in 1919.
Sorrento and Blind Bay were also where the Lee Creek settlers often went to attend parties, dances and other social gatherings. As Barbara recollected, "The big Do's in those days were the box socials. I remember going to one in Sorrento once, it was a concert as well as a dance. In those days there were no babysitters, so people used to take their children to the dances. Once we came home in a wagon in the daylight."
One of the social highlights of the year was the July 1st Sorrento Regatta. "Everyone came for miles," remembered Barbara. "Once I entered a ladies rowing race. There were just three boats, so we drew straws to see who got which boat. I came in 2nd with a big rowboat and the winners had a canoe!"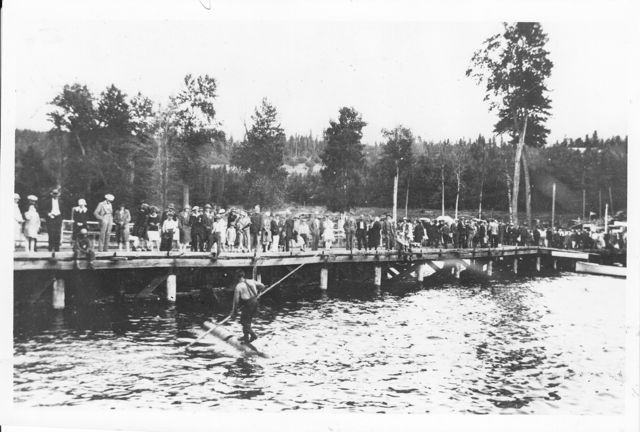 Sorrento Regatta, circa 1930s
The Shuswap has certainly seen many changes over the last 100 years. As we take time to reflect on Sorrento's anniversary, it is also important to understand the role of the nearby community of Lee Creek in its development and how small communities were often linked together with strong social ties. Could it be that in those days, before mass culture distractions and high-speed communication and travel that people had more fun and knew each other better?
POSTSCRIPT
I participated in the "Open Gates" tour on July 19th. It was an excellent, well attended event. My favourite house was the Courbeax home. At 102 years old now, it is well preserved and looks like a very comfy home for the current owner.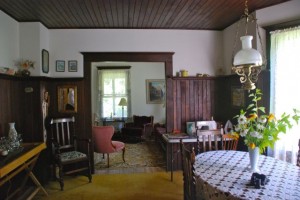 Courbeaux Home living room
On display is a copy of the original March 10, 1910 contract between Charles Courbeaux and Alex McKay. The total cost was only $1125, including materials! Alex likely built this house at a time when he and his family had just moved into their first, rough log cabin at Lee Creek.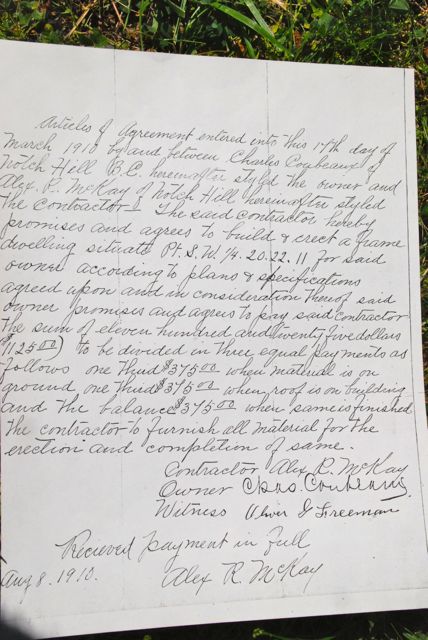 Copy on Courbeaux Home contract
Another connection between Lee Creek and Sorrento, was the Anglican Church minister, Rev. Grice-Hutchinson, who provided Sunday school classes and church services about once a month at the Lee Creek school, followed by afternoon tea at the McKay home. Here is what Barbara Wood (nee McKay) had to say about the Reverend:
He helped everyone and was outgoing, accomplished and  could do almost anything He had a launch and a horse and cutter in the winter. He visited everyone, he was an entertainer and would sing and play the piano for dances. he was involved with amateur theatricals.
Once I remember him balancing a dust pan on his nose to entertain the kids. another time he picked up some cards and dropped them behind him just like a cow!. One time a fellow's boat engine had frozen up and he was cursing away he turned to see Grice-Hutchinson who remarked, "Better to think it that to say it!" He loved the Shuswap, but his wife, who was very well-to-do and had a huge estate in England, wanted to return. and then his mother demanded they return, so off they went.