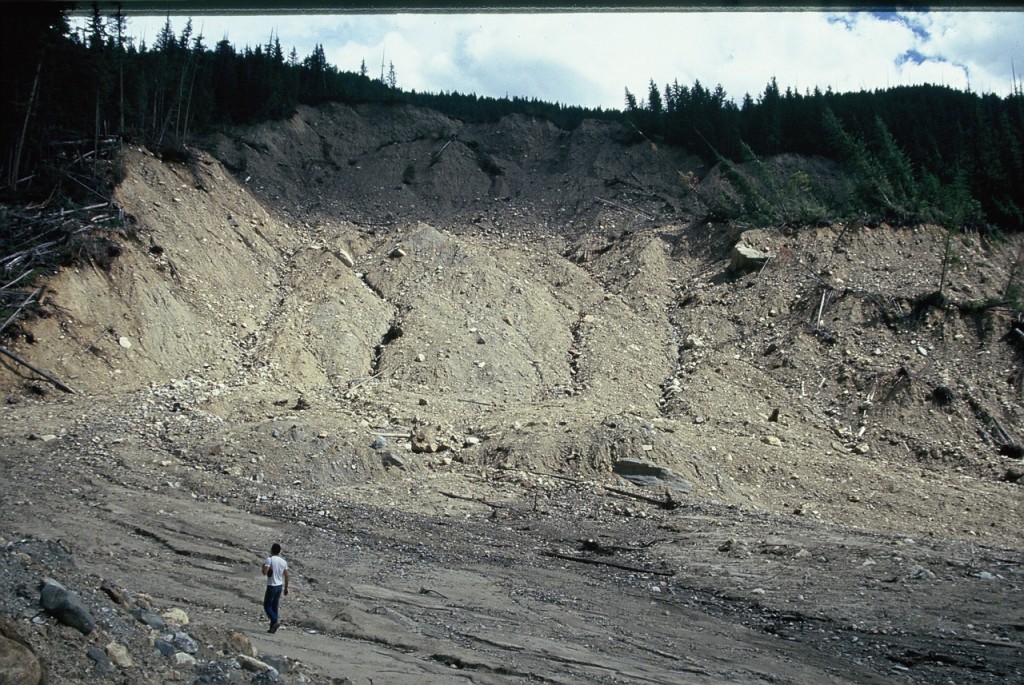 This massive slide on the Fifth Creek above the Anstey River occurred in 1990

Watershed restoration is the focus of a conference in Kamloops from November 13 to 14 at Thompson Rivers University. This meeting is to prepare for a new initiative that is slated to bring many millions of dollars to the Province for rehabilitating watersheds and forests impacted by fires, floods and damaging land use practices. The last time significant funds were invested in restoration was from 1994 until 2002 through Forest Renewal.

The conference at TRU will involve Indigenous leaders, industry experts, government representatives, academics, community officials, and conservationists from British Columbia and throughout North America. As Bev Sellers, former councillor and Chief of the Xat'sull First Nation stated, "Restoration is reconciliation,' the conference will focus on traditional knowledge and ensure that Indigenous rights are integrated into the discussions.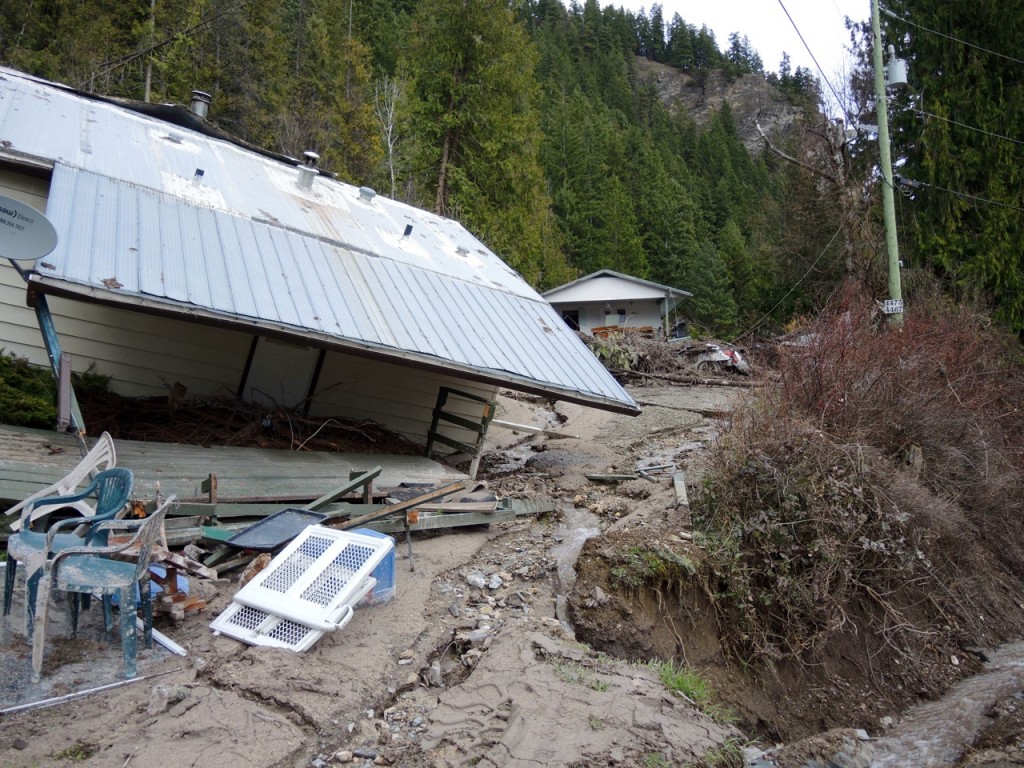 One of the slides that hit Sunnybrae in 2017
The growing need for restoration becomes apparent every year, as landslides wipe out roads and homes, logging and road building disrupts natural drainage systems, and wildfires scour the hillsides. Restoration will help keep the soil on hillsides to grow natural vegetation and provide habitat instead of washing into streams and silting up salmon spawning gravel.  If the public is involved, restoration also can help to build community spirit and fulfill the need to reconnect with nature.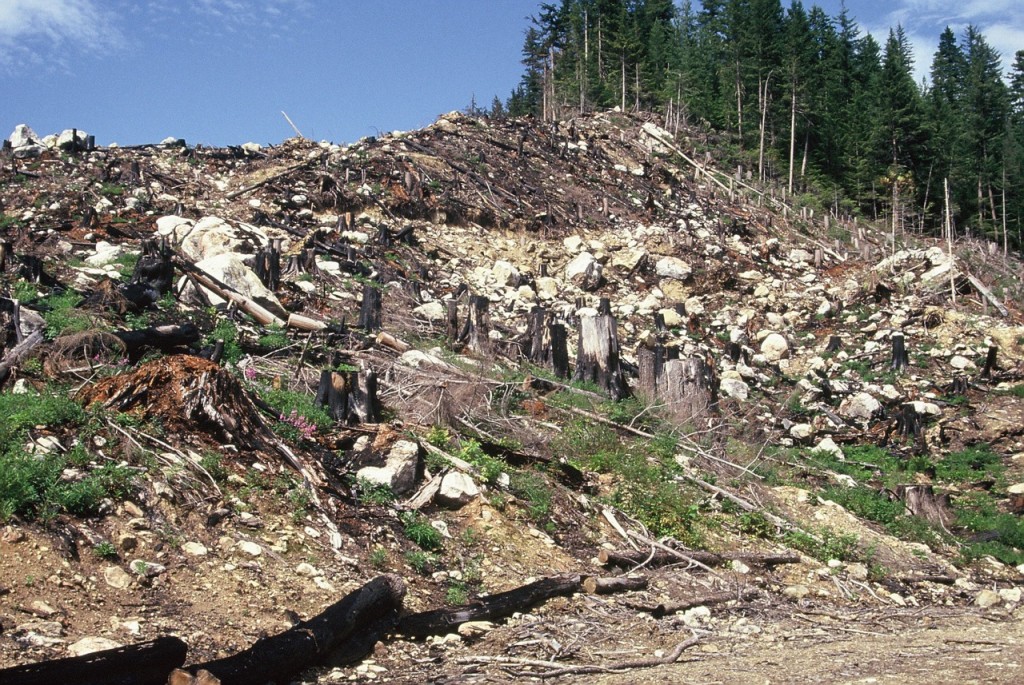 Restoration may not be possible on some sites damaged by logging
Ecological restoration is the ideal goal, because it attempts to revive natural processes. Rather than try to shorten the rotation of commercial conifer plantations by removing broadleaf trees with herbicides, the aspen and birch should be allowed to flourish. There are many hectares of skid trails, landings and unnecessary roads that need tilling to encourage vegetation regrowth. Planting natural vegetation in riparian areas adjacent to streams and rivers will lower steam temperatures and help prevent erosion.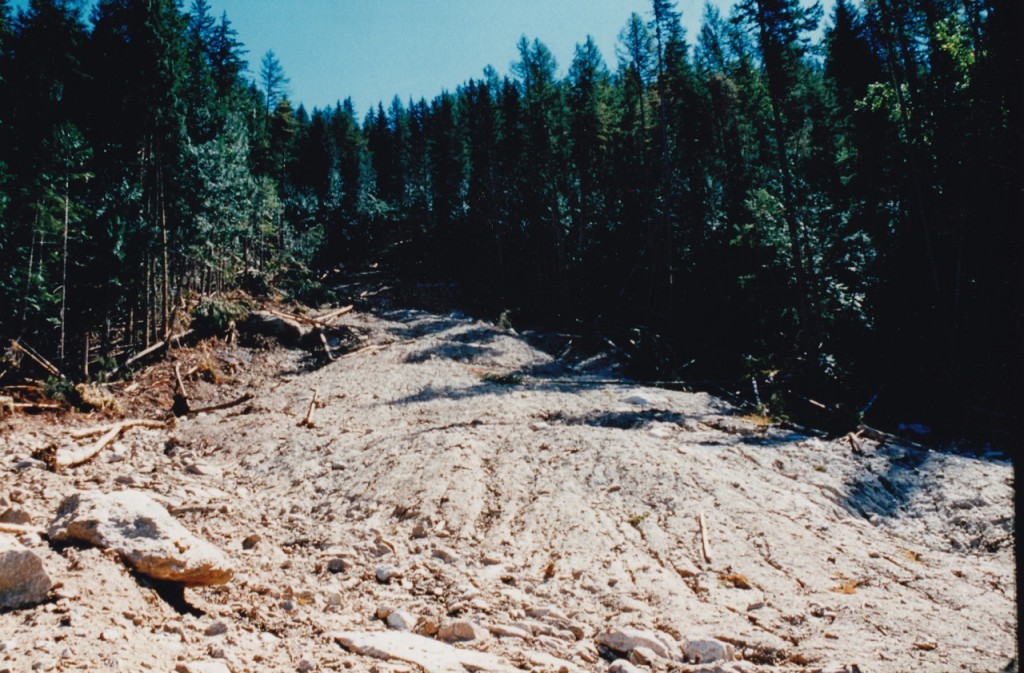 The first huge Hummingbird Creek slide above Mara Lake 
At a preliminary meeting to the conference, I was asked to identify areas in the Shuswap that need restoration. The first places that came to mind were the many landslides that occurred in the last few years. An inventory of all the slides is needed, beginning with the massive one in 1990 at fifth creek that flows into the Anstey River. The inventory should identify the slides that have the best chance to be rehabilitated.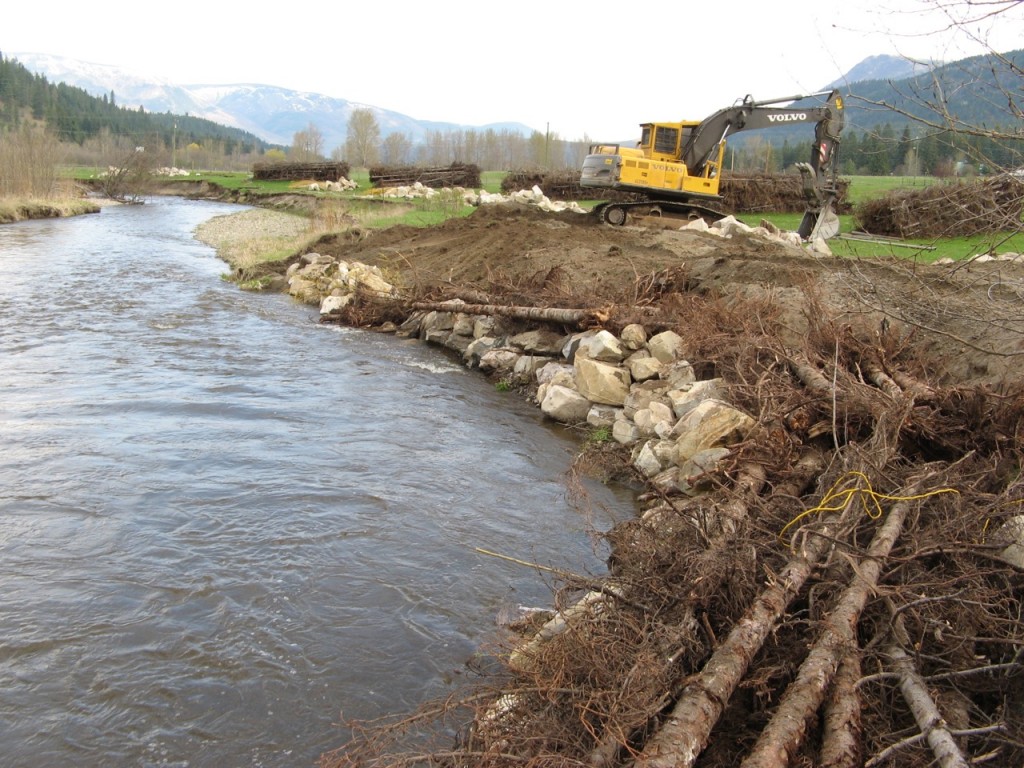 Restoration underway along the Salmon River in 2007
It is not clear if there will be funding available for work on private land. If it is, then work could continue on the Salmon River. Efforts to restore the riverbank began in 1991 under the direction of the Neskonlith Band. The Watershed Roundtable formed in 1994 and by 2014, half of the river was restored. In recent years, work has paused, but new funding could spark action to finish the project.

Wilsey Dam on the Shuswap River, photo by Clint Whitecotton
Perhaps the most long overdue restoration project in the Shuswap is to finally build the fish ladder at Wilsey Dam at Shuswap Falls near Lumby, which has blocked passage for salmon since it was built in 1928. A group of concerned citizens has been promoting the project since the 1970s. In the last two decades a committee formed that together with the Whitevalley Community Association has convinced BC Hydro to now support the project, which would provide salmon access to 40 more kilometres of good quality habitat.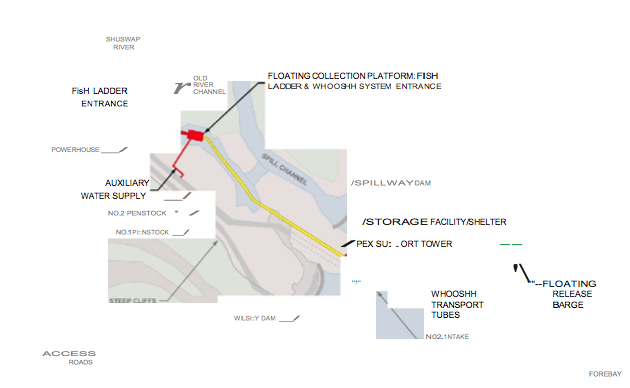 Proposed design for Wilsey Dam fish ladder
After spending $413,000 for studies, the Fish and Wildlife Compensation Program, a partnership of the Province, BC Hydro, Fisheries and Oceans Canada, First Nations and public stakeholders, has endorsed the project. The Wilsey Dam Fish Passage proposal is now in the sixth out of seven steps in the decision making process. More funding from the proposed restoration program could help finally construct the fish passage, which will increase spawning opportunities resulting in greater salmon numbers.
While increasing restoration activities is a worthwhile goal, more efforts are needed to avert more negative impacts from resource development. Fixing the mistakes of the past will only become a repeat of the myth of Sisyphus unless the rules and enforcement are toughened to prevent logging, mining and fossil fuel companies from further damaging the environment.
POSTSCRIPT
Here is some information about the upcoming conference:
Fraser Watershed Initiative Watershed Restoration Conference 2018
September 13, 2018  |   The Green Gazette
The Fraser River is the most productive salmon producing watershed on the planet and one of the most biologically diverse in North America. It covers one quarter of British Columbia and has been the unceded, untreatied home to almost 100 Indigenous nations for over 12,000 years. Despite the watershed's significance to communities, industry, and cultures, there is an ecological and economic crisis in BC's interior forests. This summer we have seen this crisis surface again in catastrophic wildfires, with smoke from BC making its way across the continent. These fires, along with climate change, development, and other ecological impacts, are exacerbating the stresses on salmon and myriad terrestrial and riverine species, such as moose, caribou, and other species at risk, impacting cultural practices, recreational activities, and employment in local communities.
The Fraser Watershed Initiative's Watershed Restoration Conference 2018 will be a two-day event at Thompson Rivers University Conference Centre in Kamloops, BC on November 13-14, 2018. The conference will bring together Indigenous leaders, industry experts, government representatives, academics, community officials, and conservationists from British Columbia and across North America who are interested in advancing watershed restoration and reconciliation with Indigenous nations throughout the watershed. The conference has been designed with Indigenous participation and insight to ensure traditional knowledge and Indigenous rights are integrated into all focus areas.
"Restoration is reconciliation" –  Bev Sellers, former Councillor and Chief of the Xat'sull (Soda Creek) First Nation, Williams Lake, BC
Indigenous people have been guardians of the Fraser Watershed for thousands of years, maintaining ecosystem health for generations. Over the past 150 years, Indigenous people within the Fraser Watershed have been alienated from their territories and their traditional role as guardians.
As Bev Sellers, former councillor and chief of the Xat'sull First Nation states, "Restoration is reconciliation".
Restoration of land and waterways within the Fraser Watershed is necessary for reconciliation. Reconciliation means, in part, the honourable resolution of land claims and the return of vast tracks of the Fraser Watershed to the sovereignty of Indigenous governments. The governments of Canada and British Columbia have committed to advancing reconciliation and pursuing government-to-government land useplanning as a vehicle to advance these negotiations.
"The Fraser Watershed Initiative has a broad and daring goal, to 'heal and protect' the entire Fraser River, its tributaries, and the land, wildlife and people it supports." – Fin Donnelly, MP for Port Moody-Coquitlam and Chair of the Rivershed Society of BC
Fin Donnelly, MP for Port Moody-Coquitlam and chair of the Rivershed Society of BC, explains, "The Fraser Watershed Initiative has a broad and daring goal, to 'heal and protect' the entire Fraser River, its tributaries, and the land, wildlife, and people it supports. We are working toward a future where salmon flourish in rivers, communities have job opportunities that align with their values, and important ecological and cultural spaces are preserved throughout the Fraser Watershed."
This will be achieved by bringing together Indigenous and non-Indigenous decision-makers, local community, and conservation and philanthropic leaders in a dialogue around watershed restoration, collaborative government-to-government land-use planning, fire-hardening of local communities, and conservation of critical habitats and cultural treasures.
Watershed Restoration Conference 2018 is the beginning of an exciting watershed-wide initiative that will conserve, protect, and restore the Fraser Watershed.
The conference will include presentations and panel discussions envisioning landscape-scale watershed restoration projects that offer the potential to:
• Advance Indigenous reconciliation
• Provide short-term employment relief
• Develop mid- and long-term sustainable employment strategies
• Aid in the recovery of forests and habitats of species at risk, including salmon, steelhead, caribou, etc.
• Fire-harden at-risk forest communities
• Make a contribution to climate change adaptation and mitigation, and
• Enable a future forest industry.
These presentations will be stepping stones to action, as now is the time to heal and protect the mighty Fraser River and its watersheds.
"We all want a healthy community and environment, but we are at a time where the cumulative impacts of our actions are threatening this desire," says Jacinda Mack from the Secwepemc and Naxalk Nations. "We must come together and take action to protect these lands for future generations. The Fraser River is our lifeline, as it is for the salmon, eagles, bears, and all the other species we share this land with."
Indigenous leaders, industry experts, government representatives, academics, community officials, and conservationists from British Columbia and across North America who are interested in advancing watershed restoration and reconciliation with Indigenous Nations throughout the watershed can register to attend, or learn more at restorationconference2018.com