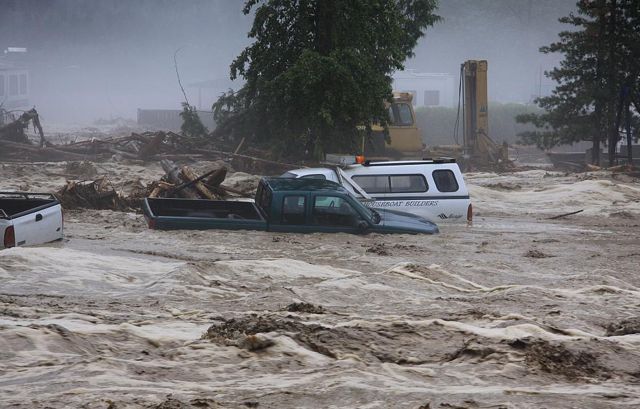 It has been a tough year across the globe, as the impacts of climate change have continued to intensify. The litany of weather related disasters include torrential rains, wildfires, intense storms, flooding, droughts, intense heat and last month Hurricane Sandy that resulted in over 100 deaths and $71-billion dollars of damage in just New York and New Jersey. The Shuswap was also heavily hit, with flooding, intense rainstorms and massive slides at Sicamous Creek and Swansea Point.
The science is clear about why we are experiencing these impacts, as the concentration of CO2 in the atmosphere has continued to increase despite efforts to curb emissions.  Atmospheric CO2 is now close to 400 parts per million which traps solar heat as in a greenhouse. As a result, this year the ice sheets melted at record levels and the average temperature will likely set a new record high.  It is no wonder that so many groups, even including the conservative World Bank are calling for a sharp reduction in emissions to avert a global catastrophe.
Science tells us that climate change will mean increased variability of climate, with more extreme weather events. Also the forecasts indicate that Shuswap winters will be warmer and wetter with more rainfall at lower elevations, as well as an increased likelihood of drought in the summer. And 200-year flood events, which last occurred in 1894, could become far more frequent.
There is an urgent need for all levels of government to adopt adaptation measures that will lessen the vulnerability of communities to the impacts of climate change. This was the message provided to the Columbia-Shuswap Regional District at a Shuswap Environmental Action Society presentation on December 7th. Some of the suggested actions include protecting shorelines and floodplains from development to reduce risks from damages associated with floods and erosion and protect water quality; improving stormwater management; improving community plans to reduce risks from flooding and landslides; and minimizing risks from wildfires with hazard analysis, planning and forest fuel removal.
Of particular concern is the need to determine which floodplains are most at risk, to improve drainage systems to handle larger flows and to develop a warning system for residents. The B.C. Real Estate Association shares these concerns and in a recent newsletter, explained that most floodplain maps are now 25 years old, despite the fact that experts have indicated these should be updated every 10 years. The Association is planning a meeting of stakeholders in March 2013 to determine how these maps can be updated and made available to the public to improve flood protection in the province.
This year the water level in Shuswap Lake nearly reached the last major peak, which was in 1972. Flooding was extensive in many low-lying areas adjacent to the lake, especially in Sicamous. The flooding may indeed be indicative of a trend, as increased temperatures create more evaporation thus causing greater precipitation. We may need to get used to higher lake levels and the data shows the peaks are occurring later in the season and for a longer time period.
To protect fish habitat, foreshore development is currently governed by regulations that stipulate a 30 metre setback from the one in five year high level which was recently increased to 348.7 metres above sea level. However, there may indeed be a need to increase this level again, as the lake has peaked higher than 348.7 m six times in the last 16 years, which is closer to one in three years.
Sunset Cove Marina and Grill in Blind Bay (Septic tank lid in the centre)
Another major concern is the flooding of septic systems. This year, a number of septic systems were under water in Blind Bay and at Lee Creek and water quality was likely impacted. Compounding the problems is that the new sewage regulations do not address the need to prevent the installation of sewage infrastructure close to the lake. As well, Interior Health only responds when there is above ground leakage as leaching into the lake is not within their jurisdiction.
Cottonwood Campground
The CSRD fortunately rejected a few proposed foreshore developments, such as the West Beach Village near the mouth of the Adams River, because when the lake floods like it did this year these foreshore areas are under water. Hopefully the CSRD will realize that these areas are not suitable for development, despite the promises that developers sometimes make.
POSTSCRIPT:
This article is a concise version of a presentation given to the Columbia-Shuswap Regional District Board on December 7, 2012. You can download the presentation complete with graphs and photos by clicking this link.