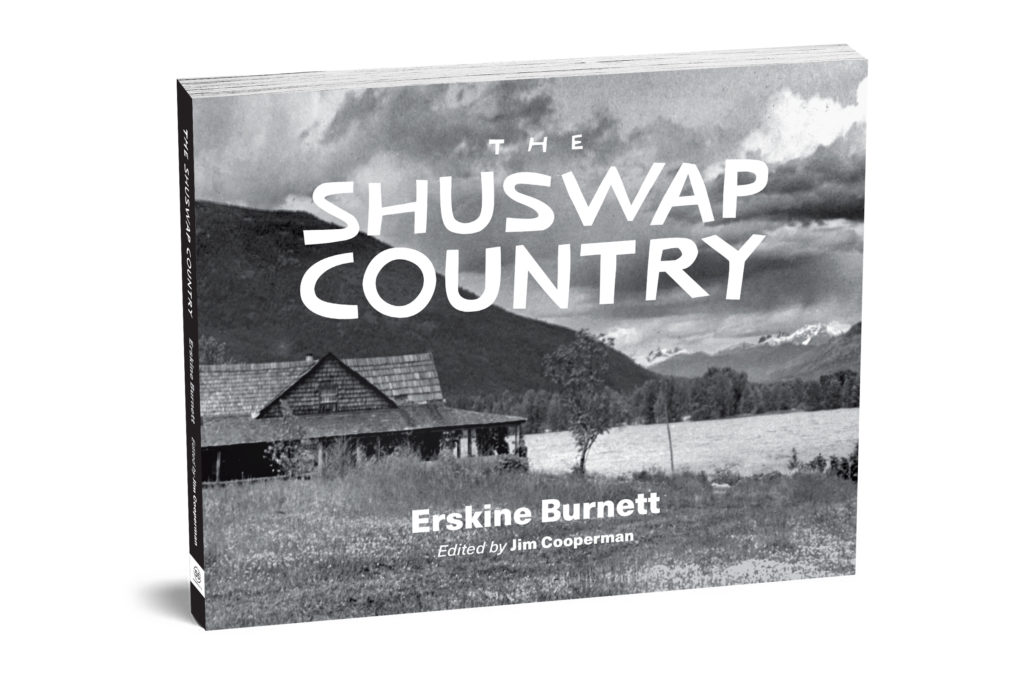 ABOUT THE SHUSWAP COUNTRY
The Shuswap Country by Erskine Burnett
FOREWORD by Mark Forseyth, author and former CBC Almanac host
Treasures come in assorted shapes and sizes. They might be a grandmother's beaded purse, or an old apple basket like one resting atop my bookshelf that transports me to the family farm, with voices shouting from treetops as we pluck Macs and Golden Delicious. A personal scrapbook can also be an unexpected treasure, and The Shuswap Country by Erskine Burnett is just that. 
A transplanted Scotsman, Erskine was smitten by the Shuswap where he tended a fruit orchard and with his wife Alice, raised a family. Over the decades he explored every nook and cranny, with the keen eye of a newcomer. He motored, camped and trekked, following every conceivable route in the 1930s and 1940s.
The Shuswap Country is his travelogue of observations, characters, anecdotes, puns, tall tales with a smattering of corny humour. It's also bursting with crisp, clear photographs snapped by the author, making this a priceless document of pioneers, community halls, "auto camps," train stations, sawmills, Main streets and pristine mountain meadows. Some of those meadows are now preserved inside provincial park boundaries like the Monashee.
Erskine had the heart of a poet. He was captured by the shifting quality of light as it tracked across the landscape, or the "sombre green" of fir trees contrasted against the "bright green of birch." A storm moving down Adams Lake, "has its own moods like temperamental humans." He revels in flora and fauna – lupines, swallowtail butterflies, or a porcupine that made the mistake of munching into a packsack.
His hand-drawn map at the beginning of the book is handy to help understand where we're travelling next over these twelve journeys. Whether it's high in the mountains to chat up sheep herders, or down into lush valleys with sweet alfalfa and Herefords dotting the countryside. A gregarious traveller, Erskine was usually certain to make a new friend, or break bread with an old one. He travelled on a road network that was still under development. "The best thing that can be said for the roads at present is there is room for improvement," he sputters while motoring in the Eagle Valley near Malakwa.
He loved to fish the region's lakes and streams, with dreams of landing a trout for dinner. "A Sugar Lake trout cooked alfresco over a campfire is something to be remembered." He seems to know every fishing lodge intimately, and where to buy worms at 10 cents a dozen. One is startled to read that canned "red" salmon was so plentiful that local people grew tired of it. Today, as we watch sockeye stocks crash it's shocking to think that a bounty that has sustained Indigenous peoples for thousands of years can no longer be counted on. A devastation that has occurred within two or three lifetimes.
The Shuswap Country might hook you into exploring this underappreciated region, it's much more than a rest stop on the way to elsewhere.  There is an honouring and celebration of the rural existence that is now mostly a memory. We should all visit and take Erskine's scrapbook along to help see what's been lost, and what may still be found.
"The Shuswap Country is a pleasure to read and ponder upon. Not only are we privileged to travel vicariously through the landscape as it was so long ago with an intimacy that might well elude us in the present day, it is a go-to-guide for those of us considering a visit to this wondrous region."
"Jim Cooperman deserves huge thanks for bringing to light Erskine Burnett's marvellous travelogues. As a sensitive pairing of insightful writings with vivid photographs focussed on life and industry in the Shuswap and Okanagan in the 1930s and 40s, it fills a major gap in the region's historiography. This book is a must-read!"
"A visceral and richly detailed travelogue of a geography on the cusp of dramatic change, seen through the nostalgic bias of 1930s and 40s colonialism. Framed by Cooperman's keen research and critique, this fascinating book is a valuable reference for a comparison between then and now in the shadow of truth, reconciliation, and climate action."
To get your copy, please fill out the form to the right and we will get back to you.
Copies are available at $25.00 each plus $5.00 shipping.
Also note – Books can be purchased at R.J. Haney Heritage Village, Hidden Gems Books, Bookingham Palace, Sorrento Lucky Dollar, Scotch Creek Market, Scotch Creek Eco-Treats, Ross Creek Country Store and at other Shuswap museums