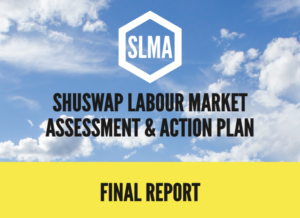 It is a tall order. Other than by providing loan, tax, land or re-zoning incentives, it is a major challenge for local governments to improve local economies. Given that the success or failure of new and old businesses can be due to so many diverse factors, the role of governments and organizations in the equation can be elusive. Nonetheless, these efforts continue, including the recently completed Labour Market Assessment Project under the leadership of Community Futures Shuswap that had a goal to create action plans to stimulate growth in our communities.
The Assessment Project focused on six communities, Salmon Arm, CSRD Area C and the four First Nation Bands; Neskonlith, Adams Lake, Little Shuswap Lake and Splatsin. Surveys were conducted and a series of four meetings were held in each community; 2 presentations of data, a brainstorming strategy session, and the final building an action plan workshop. The outcome is an over 500-page report that provides details about the data collected, the results of the research, the strategies considered and the community action plans developed.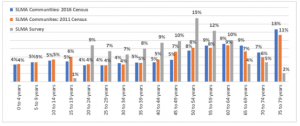 Much of the data presented was dated, but still relevant census information that shows how the Shuswap population is aging, the growth rate is low in comparison to the province, incomes are lower, and housing costs and access are major concerns. Although the results predict a potential future labour shortage due to the aging population, the survey results also show that the shortage of jobs is the most significant barrier to employment.

A number of themes emerged from the assessment process. Reconciliation efforts need to continue to reduce the disparity between the Indigenous communities and the community at large. There is a growing need for affordable housing, as in order to attract new businesses there must be more places for employees to live. As well, evidence indicates both a projected growth in labour market demand and a decline in supply.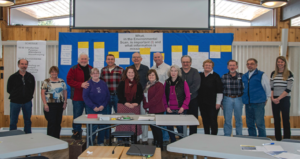 There were only a small number of volunteers, including business and community leaders, who participated in the process.  When it was time to develop action plans during the final meeting, the results were limited because some groups expressed a need to be able to review the report before they could create a plan. In Area C, proposed strategies included marketing Shuswap lifestyle, offering seasonal business incentives, developing a housing plan, and creating a labour market support system for sub-trades and businesses.
The success of the project remains to be seen, as we wait to see what the community action teams will accomplish. Another way to approach the goal of economic development would be to examine the existing economy to determine where there are successes and where there are failures and then focus on promoting what is working. As well, it would be key to have a better understanding of trends in order to better predict what could work best in the future.
Over the last century, the major economic drivers in the Shuswap have shifted from agriculture, to forestry, to tourism and to lifestyle. The greatest source of income flowing into local communities now comes from pensions and investment revenues. As the population ages, there are more jobs for the service industries, retail businesses, and lifestyle companies. Twenty years ago it would have been rare to find even one yoga studio, whereas today there are many, as well as countless spas and alternative health practitioners.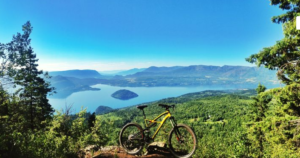 The number of online, digital businesses run from homes has skyrocketed. Recreational pursuits that did not exist a few decades ago such as downhill mountain biking and paddle boarding continue to gain in popularity. Automation has already transformed the work place and artificial intelligence is now posed to radically change our lives. With marijuana soon to be legalized, many communities are seeking production facilities.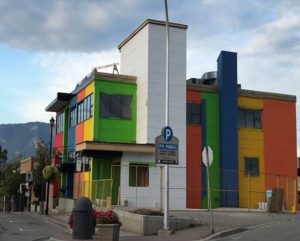 Monarch Building Innovation Centre
Old models of how the economy works need to be thrown out, as communities need to embrace how the new economy will work. The new innovation centre in Salmon Arm is one key step in looking towards the future. Another step would be to do a better job of attracting the rapidly growing number of retirees and young families who can now no longer afford to live in the lower mainland. After all, the Shuswap has all the rewards that many people desire: clean air and water; no crowds or traffic; fabulous four season, recreational opportunities; superb arts and culture; wilderness to explore and stunningly scenic, lakeside and riverside living.

POSTSCRIPT
It boggles the mind as to why people are still flocking to Kelowna to live or retire, as the traffic is horrendous and the viewscapes from the malls are not very inspiring. The Shuswap has so much more to offer and it should become the most sought after destination to retire or work in. Of course, there is more development needed to help with promoting our region as one of the best places to live. A new cultural centre in Salmon Arm (perhaps a better term to use than performing arts centre) would certainly help. The centre in Kelowna can serve as a model because in addition to performing spaces, there are studios for local artists to use and a bar/bistro with a stage.
There is also a need for a bistro/nightclub/dance floor facility in Salmon Arm, as there is not much of a night life in the town. The community is becoming well known for hosting the Roots and Blues Festival, but this reputation should be extended throughout the year.
Another mantra that remains only at the idea stage, is more affordable housing. We cannot expect to attract new businesses and manufacturing facilities if there are not enough places for people to live. The vacancy rate is likely less than 1 percent and costs for housing continue to rise. Other ideas to expand housing opportunities also need to be implemented, such as expanding opportunities for secondary suites and lane way houses.
Sometime ago there was a push for a new, larger college to be built and to have it focus on agriculture. Given the benefits that the new Thompson Rivers University has had in Kamloops, the economic benefits of expanding post-secondary education opportunities in the Shuswap would be fantastic.As well, a focus on sustainable agriculture could be a boon for the Salmon Arm community, where so much farmland is within city limits. Efforts should be expanded to help young farmers purchase or lease farmland that is not being adequately used. As well, efforts are needed to allow for housing on farmland for young people who want to help farm, as well as work in town.
Tourism has long been a key part of the local economy, but the benefits are limited to only 2 or 3 months a year. Efforts are needed to expand the shoulder seasons and the winter. The Shuswap Trail Alliance needs more support to build more trails and more effort is needed to promote outdoor recreation on these trails, as well as paddling on lakes and rivers. The new rail trail has the potential to attract many more tourists . In addition to expediting the work needed to surface the trail, efforts are also needed to devise ways to both promote it and  capitalize on the expected onrush of hikers and bikers from around the world who will come to experience it.
Of course improving the economy does not always require growth, but it certainly helps. If growth does begin to boom, we need to make sure it is smart growth that fits sustainability goals. Improving the economy does not always have to mean more of everything, as quality is also desired. A key component of the economy also includes money that is recirculated within a community, so improvements should also include promoting "buy local" as well as promoting locally made and grown products.