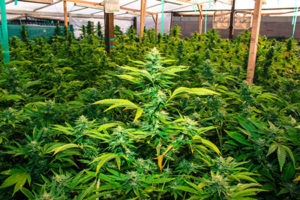 Cannabis production has been a fixture in the local economy for nearly four decades, although until recently the benefits were largely underground. Much like alcohol during prohibition, fortunes were made with some of the money going to create or support local businesses and hundreds of people made good wages tending plants and clipping buds for the underground market. Soon there will be three, large scale production facilities in the Shuswap producing legal cannabis for medicine, pets and recreational use.
 young cloned cuttings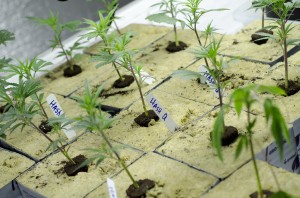 During the 1970s, only the weak sativa strain from Mexico was cultivated, with pounds of leaf worth only $100 and sales were limited. In the 1980s, the first crops of stronger indica bud were grown, likely using seeds from Thai sticks. Prices quickly shot up to as high as $3,000 a pound, with some of the harvest exported to the United States. Growers began using a technique called cloning, where clippings taken from mature female plants are propagated into plants for harvest.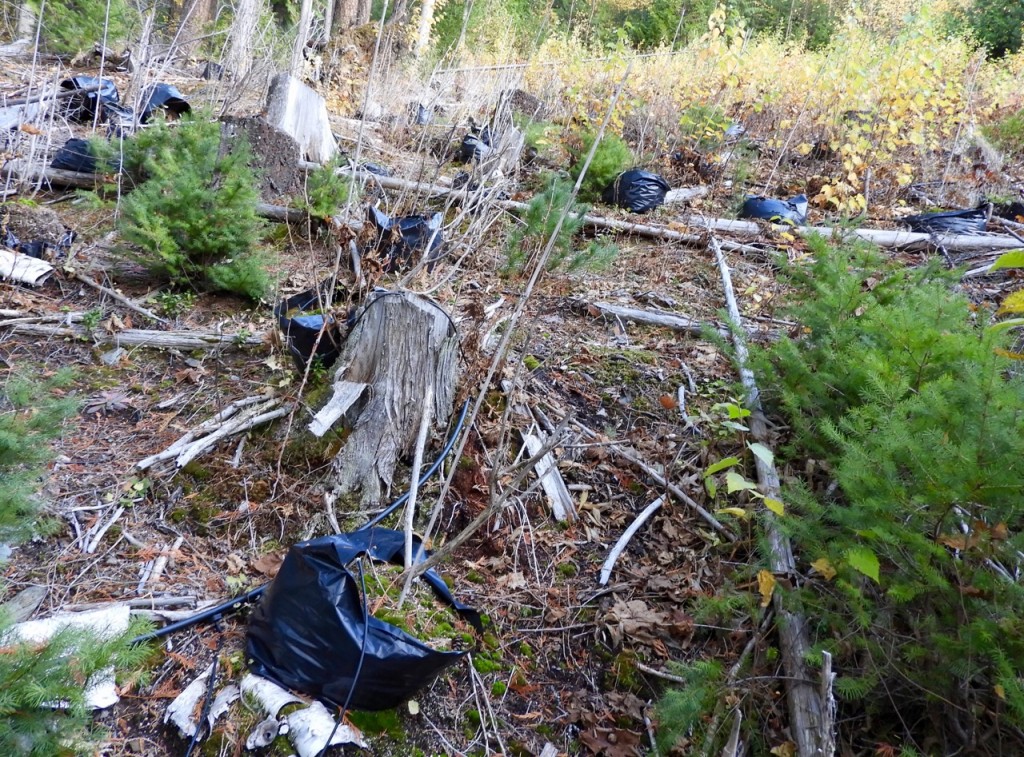 an abandoned outdoor grow-up
Cloning required growing plants indoors through the winter under lights and beginning in the late 1980s, some growers began to operate year round indoors under controlled conditions. Indoor production resulted in the creation of new, more powerful strains and soon BC bud became famous. Outdoor growing persisted until recently and today one can find countless abandoned grow sites in forestry plantations where there are hundreds of feet of plastic pipes and bags filled with pro mix soil.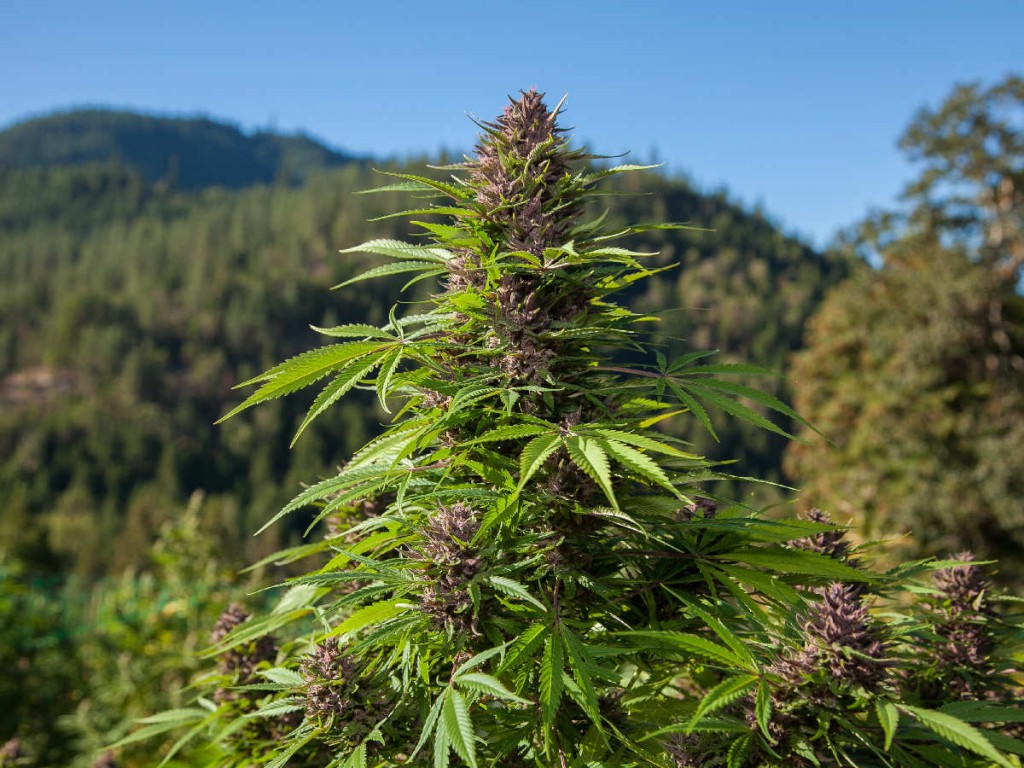 It was the health benefits of marijuana that eventually began to remove the stigmas and begin the move towards legalization. Prior to criminalization in 1923, there were some 200 medicinal cannabis products sold in North America, as its ability to treat pain and disease had been likely known for centuries, if not millennia. After medicinal marijuana was legalized in 2001, some local growers obtained licenses and were able to market their product, including the highly beneficial cannabidiol (CBD) to dispensaries.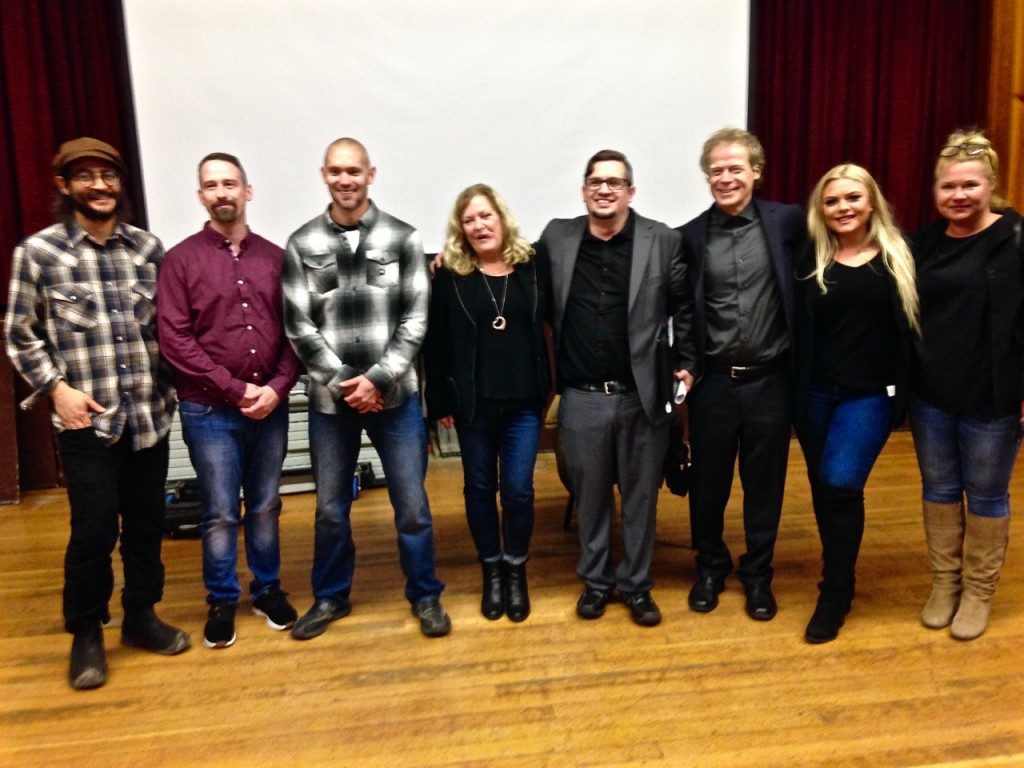 Liht directors and advisors at the Celista Hall
It was standing room only at the Celista Hall on November 17th, when representatives from Liht gave a public presentation about their large production facility currently under construction on Garland Road. This will be not be a typical legal grow-op, as it will utilize state-of-the art technology developed by NASA to produce the highest quality medical cannabis. The plants will be organically cultivated in soil and monitored continuously by computers that will assess their status to optimize the growing conditions and prevent problems from pathogens, molds and mites.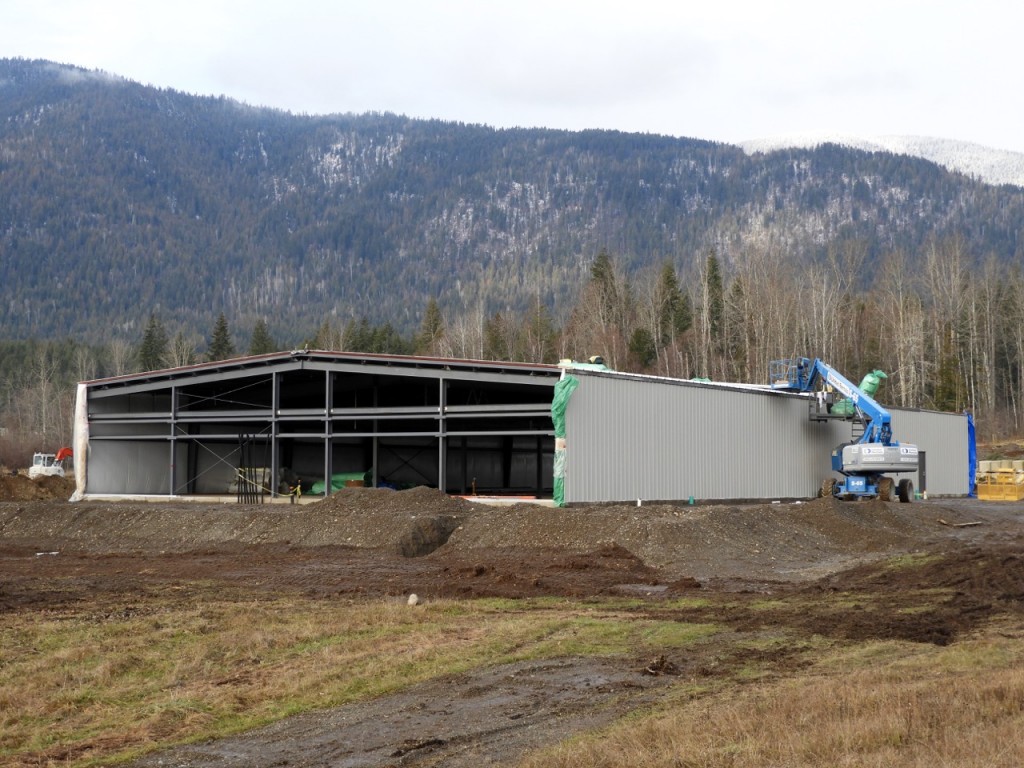 Liht's production facility near Celista under construction
Eventually, there will be 100,000 sq. feet of semi-automated, indoor growing area in ten buildings, with low energy LED lighting. The facility plans to produce its own power from thermal oxidation using wood waste, with the left over ash converted to carbon and minerals that will be sold. Specialized strains of plants will be fertilized with compost made at the site using local manure and worms. There will be 100 percent containment of all emissions, all wastes will be reused and 80 percent of the water will be recycled. Although there was much applause at the public meeting, some locals voiced concerns about the loss of good farmland, increased traffic and noise, threats to water supply, and reduced property values in their rural neighbourhood.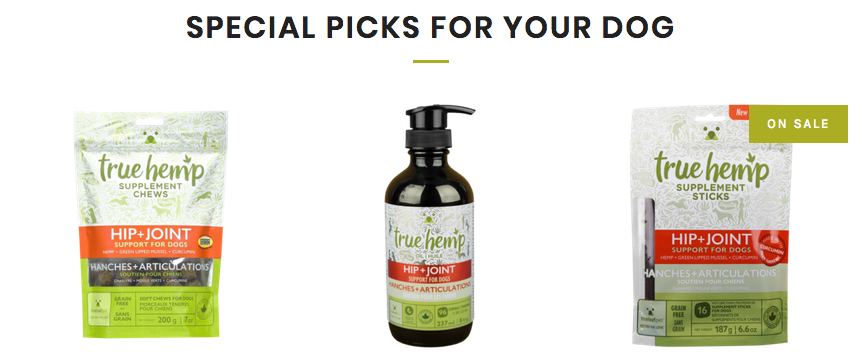 True Leaf, now chaired by former premier Mike Harcourt, is an established company founded in 2013 that currently produces hemp-seed based products for pets. It is in the last stages of building a 16,000 sq. foot facility in Lumby where it plans to cultivate high quality cannabis for pets, as well as for medicinal and recreational products.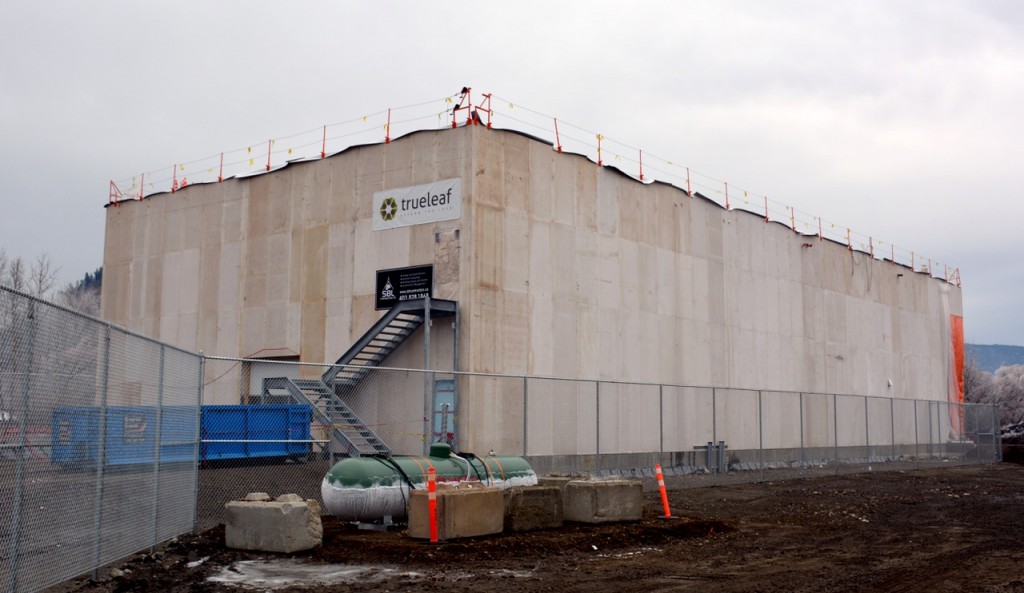 True Life facility construction nearly finished, photo by Clint Whitecotton
Given this unique company has a head start in producing and marketing medicinal products for pets, it has the potential to become a leader in this field once the regulations allow CBD use for dogs and cats.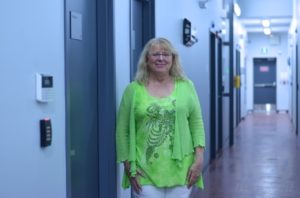 Founder and CEO of PhyeinMed Debra Senger inside the Falkland facility.
(CHARLOTTE HELSTON – REPORTER / iNFOnews.ca)
Close to Falkland, PhyeinMed has re-purposed a former cabinetry workshop into a 15,500 sq. foot cannabis production facility where it plans to eventually produce 4,000 kilograms of high-grade bud for sale in government-run stores.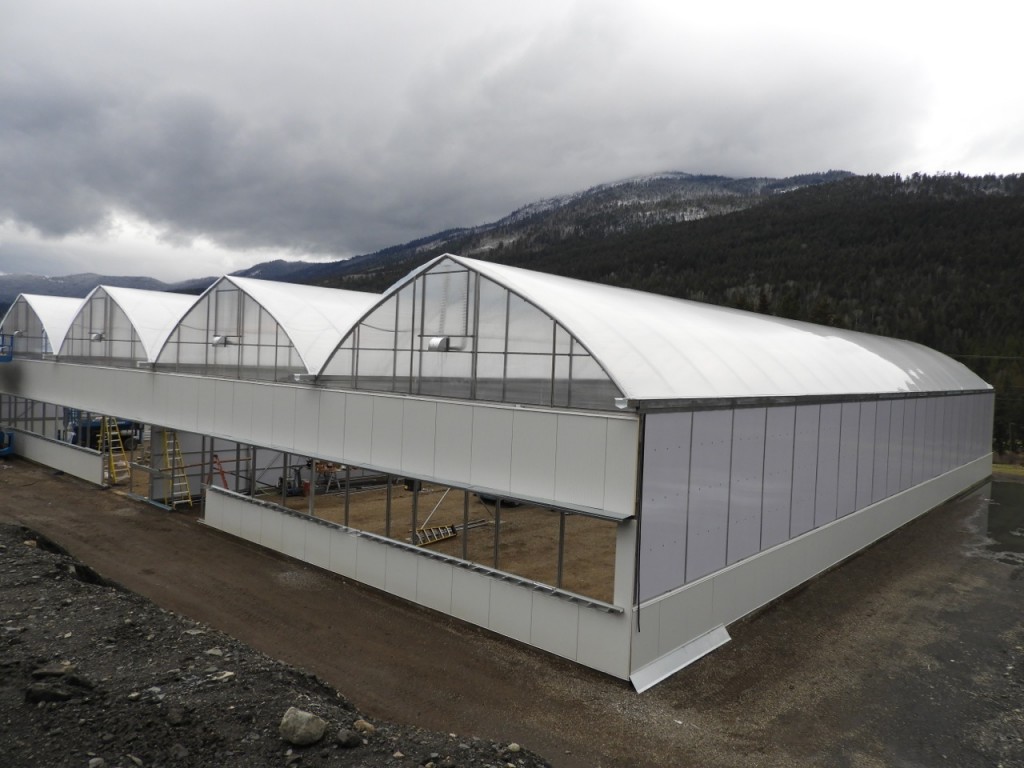 The PhyeinMed greenhouses are adjacent to the highway in Falkland's "Industrial Park"
Plants will begin cultivation indoors and then moved to outdoor greenhouses. The company, which is partnered with Heritage Cannabis Holdings, received its license in July after years of navigating the intensive process.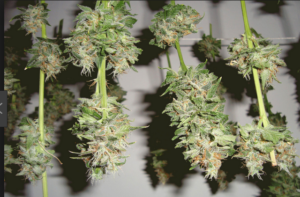 trimmed bud
Legal cannabis production will soon be part of the ever-changing local economy that has transitioned from primarily forestry based to a diversity of sectors, including tourism, construction, manufacturing and various services. The 80 to 100 jobs in the North Shuswap, 20 jobs in Falkland and 18 jobs in Lumby will be well appreciated, however employment in these legal operations will never match the many hundreds of people that were once employed in the underground cannabis industry during the heydays of the 1980s and 1990s, when a clipper could earn upwards of $60 an hour.
POSTSCRIPT
One only needs to visit the province's only B.C. cannabis store in Kamloops to understand both how bizarre and ironic it is that our government is now a dealer. Inside the fancy, clinical-like store you will find nearly 50 types of buds that can be smelled, each with a label that identifies the percentage of THC and CBD, the strain (indica, sativa or a blend), the producer (there are 60 licensed growers now) and the price per gram. As well, you can purchase pre-rolled joints and there are papers, bongs and pipes!
While the underground cannabis industry in the Shuswap was dominated by enterprising individuals, mom and pop operations, or much larger extended families, there were some criminal elements with rare instances of violence and ties to gangs and hard drugs. A case in point was the infamous local grower who expanded by smuggling bud into the U.S. with helicopters and returning with cocaine to sell in Canada. He is now in prison in the U.S. and one of his partners apparently committed suicide.
The few rare instances of crime and violence that has surrounded the business of pot do not even come close to the massive problems connected with opioids, the legal pharmaceuticals that have made fortunes for the drug companies and have laid to waste thousands of people who became hooked and have died.
The three companies planning to strike it rich in the cannabis business here in the Shuswap are up against some major competition from much larger companies who have a head start in other provinces. It remains to be seen whether there will be as large a demand for recreational cannabis as estimated.
The largest demand will eventually come from the medicinal market, as CBD (and CBG) can treat upwards of 400 diseases and conditions. The industry  is taking a gamble that one day soon, the government will approve edibles, as that will initially be the only way for people to treat themselves with cannabis. Currently, the only legal supply of CBD is the government and the store in Kamloops sells out its limited supply whenever it comes in. The primary way to obtain CBD now is online, as most dispensaries have closed.
The black market supply of CBD could never be fully trusted, as it was not inspected and could have contained contaminants. There are various ways to make CBD, such as with ethanol, CO2 or simply by soaking the buds in oil. The government was wise to include CBD oil in the cannabis legislation, to ensure that it is of the highest quality, once it becomes more available.
There will not be regulated CBD medicines until they are approved by Health Canada, which will take in-depth, peer-reviewed studies and acceptance by doctors. Research has been done in other countries, but there is still a great deal of resistance to its use by Canadian doctors. CBD infused edibles will be managed like vitamins and supplements in health food stores, with labels that can only claim their value for supporting healing, rather than curing.
Pharmaceutical companies are getting worried and there are rumours of lawsuits and estimates that they stand to lose billions of dollars. Pain management is likely the major benefit of CBD, which is not addictive and has no serious side effects, unlike opioids. Products including creams and sprays made with CBD do an amazing job at relieving joint and muscle pain.
While Canadians wait for the federal government to approve medicinal cannabis, products, citizens in the U.S. can obtain CBD in every state and there are many products available in those states where it is legal. There are even products available for pets.
This converted cabinet shop will soon be producing PhyeinMed cannabis
It was health issues that prompted the formation of the two Shuswap medicinal cannabis companies. Debra Senger was inspired to start a cannabis company after her husband used CBD to shrink the tumors in his liver. She found the location in Falkland and teamed up with a major company to build the facility.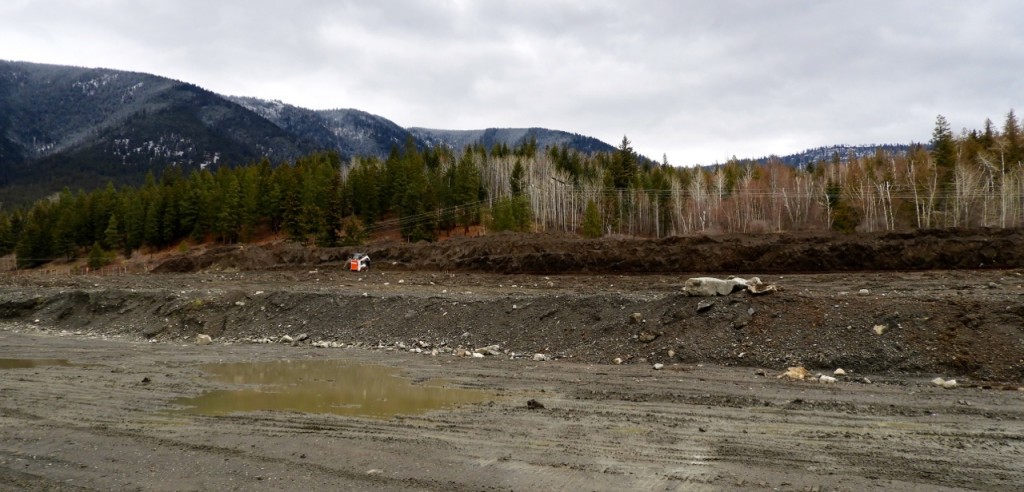 More greenhouses will be built on this cleared land for PhyeinMed
Members of Liht's team suffered serious accidents and used CBD to help them recover. Their goal is to produce the highest quality possible cannabis using organic methods. The plants will be grown in soil, using compost prepared at the site. They hope to produce more compost than they need so they can provide a supply for local gardeners and farmers.
True Leaf's founder, Darcy Bomford, first owned his own successful premium dog treat company in Vernon called Darford and operated it for 30 years. He sold Darford in 2012 and created True Leaf, the only Canadian company that uses hemp seed oil. Once CBD is approved by the Canadian Veterinary Association, his company will be poised to be the leader in producing products that help pets manage the pain from arthritis and other conditions. Already, there are vets that are pushing for this approval to take place and the company has a veterinarian on its team.
It will likely take decades before cannabis becomes a staple in our society. As an intoxicant, it is far less dangerous than alcohol or other drugs. Our medical system is filled with people dealing with conditions and diseases caused by booze and tobacco. Over-consumption of alcohol causes mayhem on the highways and families are torn apart by job loss and violence caused by alcohol over-consumption. In comparison, cannabis is mostly benign, as it often results in happiness and laughter and can inspire creativity and social cohesiveness. Its medical value is just in the beginning stages of being understood, and one day it could replace many pain medications, help cure cancer and relieve other symptoms and conditions. Companies now setting up in the Shuswap will also one day help transform society and provide relief for patients.