January 27, 2012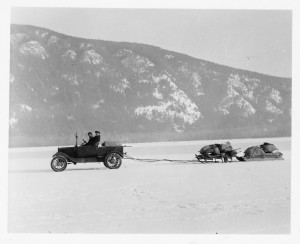 As climate change intensifies and winters continue to become warmer, whenever we do manage to get some cold weather and snow it is amazing to hear some people complain. Too often many of us forget how the pioneers endured far more severe weather, without the technological advancements used to keep us warm today. This picture, recently found in a box of archival photos, provides us with much to reflect upon when it comes to winters in the Shuswap.
The rule of thumb for Shuswap Lake, was that it froze solid three winters out of four up until approximately the 1970s. The last time I remember that the lake froze solid between Lee Creek and Sorrento was in the mid to late 1980s, when we crossed it on skis.  However, in 1993, Ted Bacilagupo remembers ice-skating around Copper Island. Nonetheless, it has been nearly two decades since the entire lake has frozen solid, although there was a layer of ice for a brief time in 2005.
Shuswap pioneers utilized the lake for transportation, as settlement began long before roads were built. Once the lake froze, there was no way to transport goods and mail via the sternwheelers, launches or rowboats. These early settlers either walked, used a horse and sleigh, a horse team and a wagon or even a dog team to cross the lake for mail and supplies.  After the 1920s, vehicles crossed the lake, including early logging trucks in the 1940s.
The photo is labeled "delivering the mail from Sicamous to Seymour Arm" and from the background it looks like it was taken close to Sicamous. The truck is a Model T Ford, likely built around 1920, so the photo was most likely taken in the 1920s. There is more than just mail being delivered, as the load includes supplies such a bags of grain likely destined for the logging camps. Another photo of this rig from 1930 identifies the driver as Captain John Joseph Smith, who was a renowned sternwheeler and tugboat captain on the lake.
Cap Smith, as he was known, and the passenger, who may be his son Frank, appear to have a rather flippant regard for potential dangers, such as a storm, mechanical problems or a section of thin ice. With no hands on the steering wheel, it is obvious they stopped to have their photo taken and one wonders who the photographer was and whether he or she was on foot, on skis, on horseback, or also in a vehicle. This very truck was called Lizzie and sometime early in the 1930s it did plunge through the ice, but luckily Cap Smith survived. Divers have taken photos of the truck, which rests at the bottom of Sicamous Bay.
Smith began his career first as the Captain of the S.S. Andover and then the C.R. Lamb, both famous Shuswap Lake sternwheelers. In 1928, he and Mr. Whitehead built a screw-driven steamer with a barge like hull they named the Whitesmith, which was also equipped to break ice. It was used to deliver goods to Seymour Arm and to the logging camps. It went out of service sometime in 1933 and while tied to a dock about one half mile to the west of the CPR Hotel in Sicamous it broke free in a storm and sank.  It now serves as a favourite destination for divers. Cap Smith went on to pilot tugboats, but eventually he went down with his boat near Cinnemousun Narrows, where a cairn was built to honour his memory.
Former Sicamous mayor and ferry captain, Gordon Mackie also has a few stories about transportation across the ice. He, along with others, have used snowmobiles to transport goods to Seymour Arm. But when his ferry was ice bound, he often used an iceboat on three steel runners powered by a 150 horsepower aircraft engine that ran the rear-mounted propeller.  In those days before Gortex, he wore a pair of lined coveralls to help keep warm during the trip that took just 42 minutes one way and occasionally he brought along a brave passenger or two. He also remembers using his tugboat to break the ice all the way to the Lee Creek log dump so that the logs could be towed to the Canoe mill. When the new Sicamous museum opens at the end of February, there will be photos on display of Cap Smith, the many famous Shuswap vessels and perhaps even Mackie's iceboat.
Postscript:
I can remember working on a roof of a house in Sorrento next to the lake in early January of 1972 or 73. The lake was calm and flat and the weather was very cold. By quitting time, the lake had a layer of ice all the way across to the North Shuswap. How rare such an experience has become!
The Shuswap Chronicles contain some recollections of the frozen lake. In volume 5, the famed Reverend Grice-Hutchinson recounts the winter of 1922 when the lake froze solid on January 31st, some ten days later that usual. He describes the uncertainty of crossing the lake in a boat prior to complete freeze up, when ice just a half inch think could act like a saw and cut through the hull.  On another year, just prior to the war (likely WWI), the ice was 18 inches thick and he drove a team of horses across with a ton of hay. In extreme cold, the lake could boom like thunder. And there was always worry about cracks and thin ice when crossing on foot or with skates.
In volume 2, Evelyn Glover writes about her father Bill Hudson who crossed the frozen lake from Anglemont to Sorrento for groceries, a 20 mile round trip. On his return during the very cold night (-18C) he suddenly thought he heard birds singing and though it was a lovely spring day. Luckily he managed to rouse himself from sleep and make it home before he froze!